*I only recommend products I would use myself and all opinions expressed here are my own. This post may contain affiliate links that earn me a small commission, at no additional cost to you. Read our full site disclaimer HERE.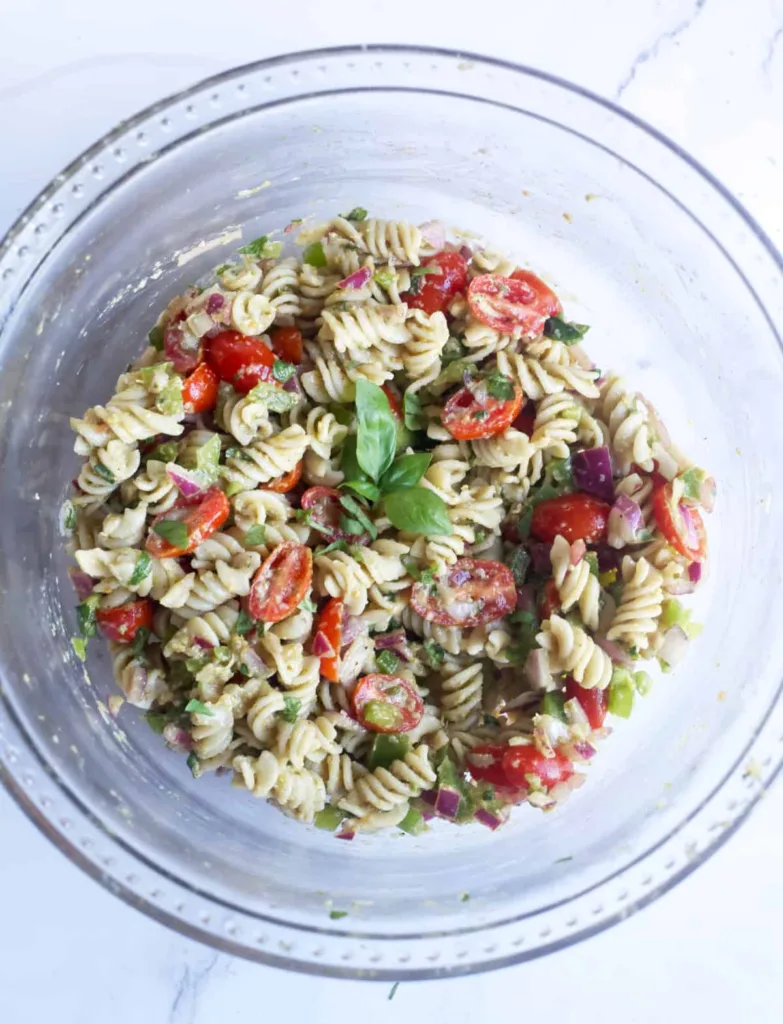 Summer has arrived! That means time for all the backyard barbeque sides. Pesto pasta salad is a must for any summer gathering. Every bite is vibrant, mouthwatering, and has a good crunch. Whether you are looking for a side to add to your grilled burgers or were asked to bring a dish to an outdoor event, you're in the right place.
My version is gluten-free and vegetarian.
This refreshing dish has gained popularity for its irresistible combination of flavors and its versatility in catering to various tastes and dietary preferences.
Not to mention it's crazy easy to throw together and a fantastic dish to meal prep ahead of time!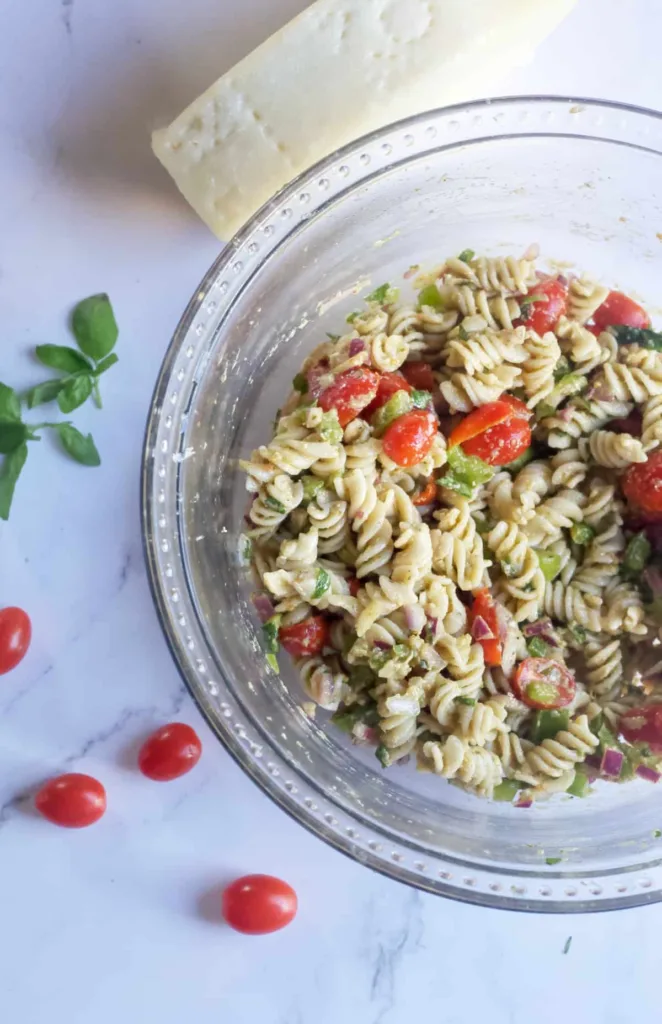 Tips for Making the Best Pesto Pasta Salad
SALT YOUR PASTA WATER. This is the most important. If you don't salt your pasta water, forget about eating a delicious pasta salad. (slightly kidding, but also not.) You need at least a tablespoon in your water. This is the only opportunity to give the pasta noodles any flavor. Essential.
If you can, use homemade pesto. It will definitely make your pasta salad superior. But if you cannot, use a high-quality store-bought pesto. Often, the pesto in the refrigerated section is fresher and better tasting than others. New York Times has a great Basic Pesto recipe.
Chill and Marinate: For maximum flavor infusion, allow your pesto pasta salad to chill and marinate in the refrigerator for at least an hour before serving. This will give the flavors time to meld together, resulting in a more delicious and cohesive dish.
If you are making it ahead of time, before serving add more pesto or some olive oil to keep it from drying out!
Ingredients & Substitutions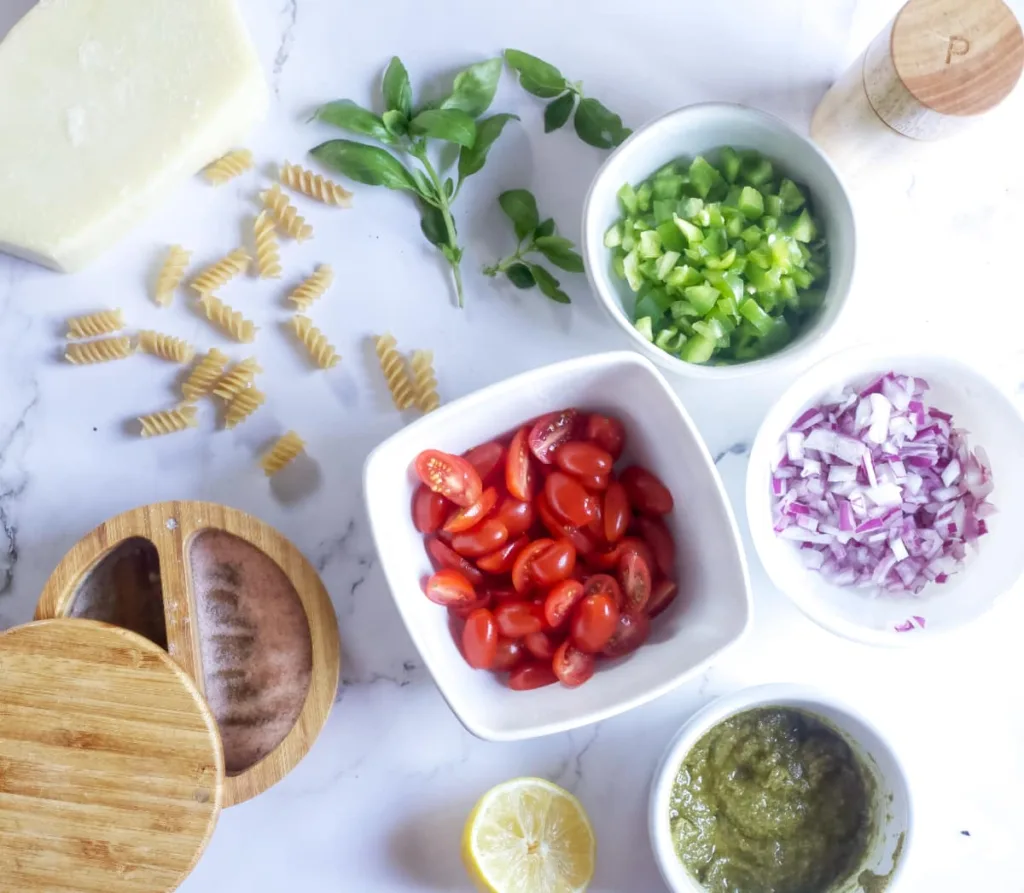 pasta noodles- I love the Fusili style in this recipe, but feel free to play around with different shapes and sizes! If you are gluten-free, be sure the pasta is gluten-free. The best tasting and texture gluten-free pasta is always brown rice pasta in my opinion. I love Jovial's brown rice pasta.
fine grain sea salt & pepper- Salt is so important in this recipe. Don't skimp on it!! Also, taste and adjust to your preferences. Everyone's pasta tastes a little different, so trust your instincts and season with your heart. 😉
cherry tomatoes– The tomatoes give this a nice crunch and pair perfectly with pesto. You could also swap for olives or chopped cucumbers.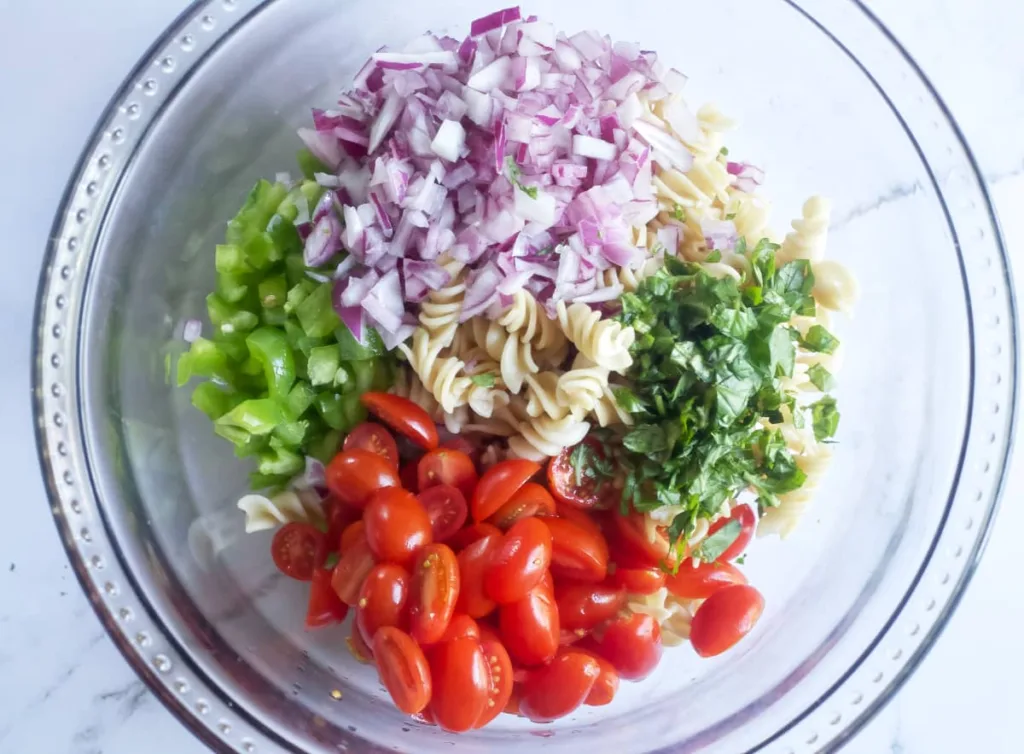 red onion– Gives this a nice punch and great flavor. If you don't like red onions, you could also do finely diced yellow onions or even green onions! Be sure to taste and adjust to your liking.
green bell pepper– For a fresh, crunchy bite and some color. You can use any colored bell pepper you like.
parmesan Cheese- Freshly grated is always best, but you can also use store-bought shredded. Also, if you can get your hands on Pecorino Romano, that works wonderfully as well. (I actually prefer it to Parmesan).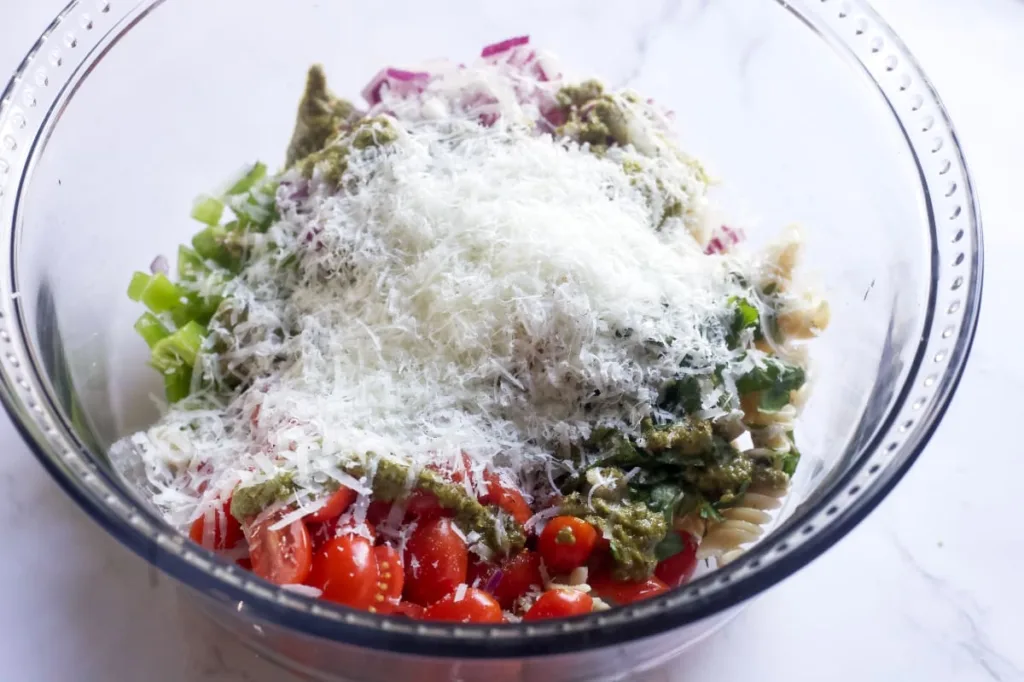 fresh Basil- This is especially necessary if you are using a store-bought pesto to give a really bright fresh flavor to the dish.
pesto- Homemade is best, but a high-quality store-bought pesto works as well, which is what I used. The refrigerated pesto usually tastes better than the one on the shelves at the store.
lemon juice– Always use freshly squeezed. This adds brightness and acidity to the dish. It also brings out all the flavors.
What to serve pasta salad with
Grilled Meats: Pasta salad makes a fantastic side dish to accompany grilled meats such as chicken, beef, pork, or even grilled seafood like shrimp or salmon. The freshness and lightness of the salad provide a perfect balance to the heartiness of the grilled protein.
Barbecue or Picnic Spread: If you're hosting a barbecue or picnic, pasta salad fits right in. Serve it alongside other classic barbecue fare like burgers, hot dogs, grilled vegetables, and corn on the cob. It adds a refreshing element to the meal and complements the smoky flavors. Try it with my :
Sandwiches and Wraps: Pasta salad can be a great accompaniment to sandwiches and wraps. Whether it's a classic deli sandwich, a grilled panini, or a refreshing wrap, the pasta salad adds a nice contrast in textures and flavors. It can also be used as a filling in a sandwich or wrap for an extra burst of flavor.
If you want another really great fresh summer dish, try my healthy paleo chicken salad recipe.
Let's whip up this beautiful summer pesto pasta salad!!
Please leave a review below if you make this recipe!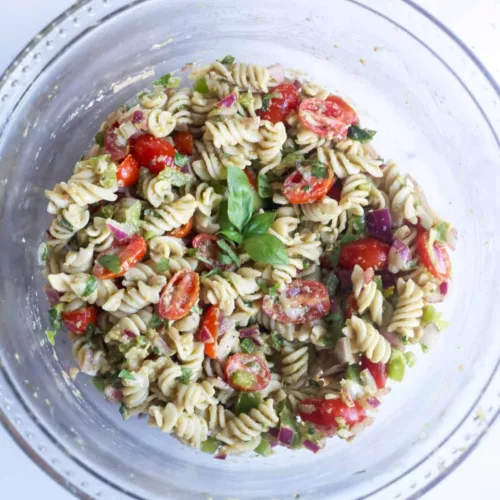 Easy Pesto Pasta Salad
Combining al dente pasta with a vibrant basil-based pesto sauce, resulting in a refreshing and versatile dish that's perfect for picnics, barbecues, or as a side dish for grilled meats.
Ingredients
4

cups

dry gluten-free fusilli pasta

see post above for favorite brand

1

tablespoon

sea salt

for the pasta water only

2

cups (1 pint)

cherry tomatoes, halved

1

cup

pesto

store-bought or homemade preferably!

1

small red onion, finely diced

1

green bell pepper, finely chopped

1/2

cup

grated parmesan cheese

2

cups(loosely packed in a measuring cup)

fresh basil, chopped

1

lemon

squeezed

1

teaspoon

sea salt

1/2

teaspoon

freshly cracked black pepper
Instructions
Cook the pasta according to the instructions on the box, along with 1 TABLESPOON (yes, tablespoon) of sea salt. If there are "al-dente" directions, cook until that time! Drain, and set aside to allow to cool. You can use a drizzle of olive oil to prevent the pasta from sticking together too much.

In a large mixing bowl, combine the rest of the ingredients (the cooked and cooled pasta, tomatoes, green pepper, red onion, grated parmesan cheese, fresh basil, salt and pepper, fresh lemon juice) together until the pasta is fully coated with all the ingredients. Taste (most important) and add more salt/pepper/pesto to your liking!! ENJOY!!
Notes
Storage: This will last for 3-5 days in an airtight container in the fridge.
Want Quality Groceries Shipped to Your Front Door at an Unbelievably Great Price?
Thrive Market offers a wide variety of high-quality, non-toxic, and organic products at wholesale prices. By becoming a member, you can save up to 50% off traditional retail prices on everything from pantry staples to beauty and personal care items. Additionally, Thrive Market offers a 30-day risk-free trial, so you can try it out and see the savings for yourself. Signing up for Thrive Market also supports their mission to make healthy living accessible to everyone, including their commitment to providing free memberships to low-income individuals and families. With Thrive Market, you can save money and make a positive impact, all while getting the healthy products you need.
---