*I only recommend products I would use myself and all opinions expressed here are my own. This post may contain affiliate links that earn me a small commission, at no additional cost to you. Read our full site disclaimer HERE.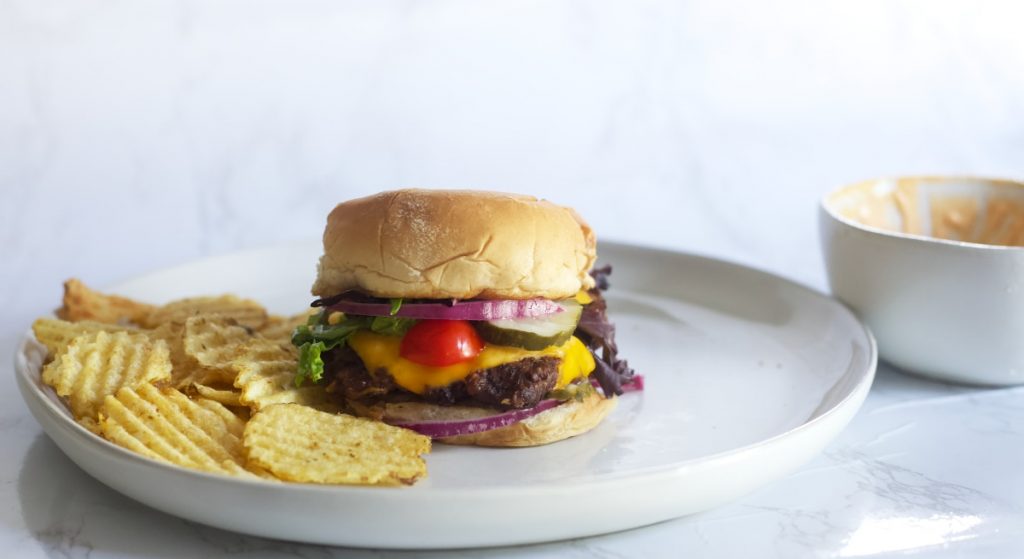 The perfect, classic American cheeseburger. It takes just a few ingredients and some technique to make the perfect, juicy, mouthwatering burger! This burger patty recipe is gluten-free and dairy-free.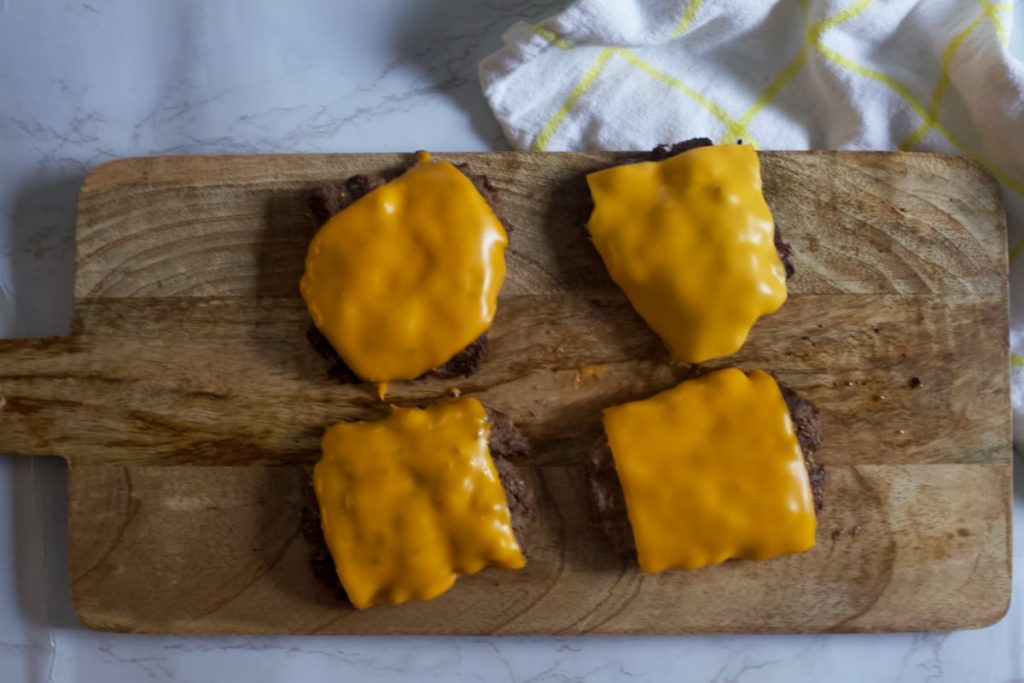 The star ingredient is: beef. A highly debated topic is how to prepare a classic burger. It has been said that adding ingredients to the beef makes meatloaf instead of a burger. So, to let a burger reach its full potential, it should stand on its own.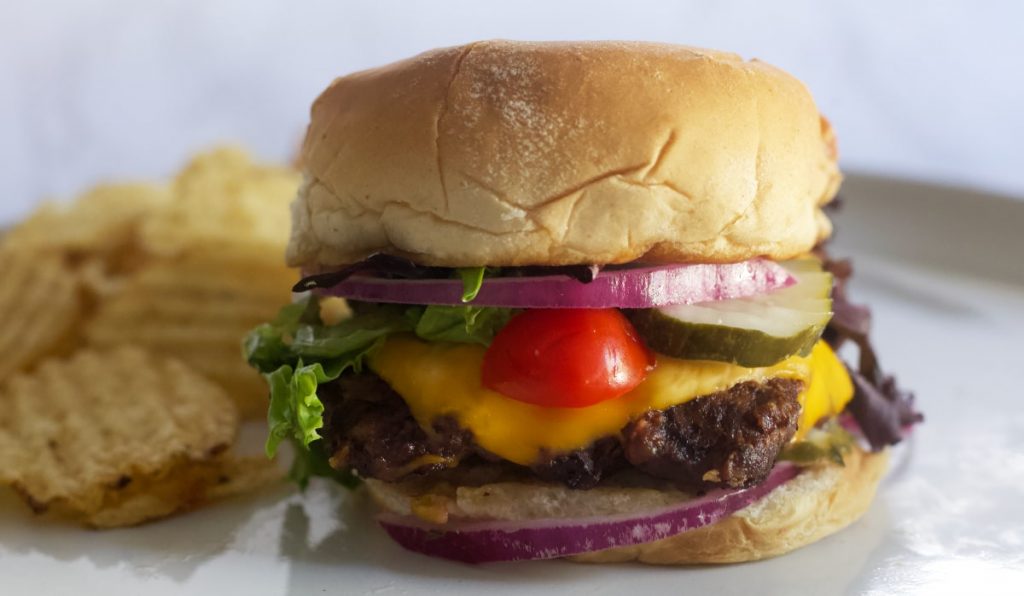 With high-quality meat, making a juicy, flavorful burger is no problem. I love buying 100% grass-fed, organic ground beef. Bonus points for freshly ground if you have access to a butcher. I do not, so I buy the highest quality I can find at the store.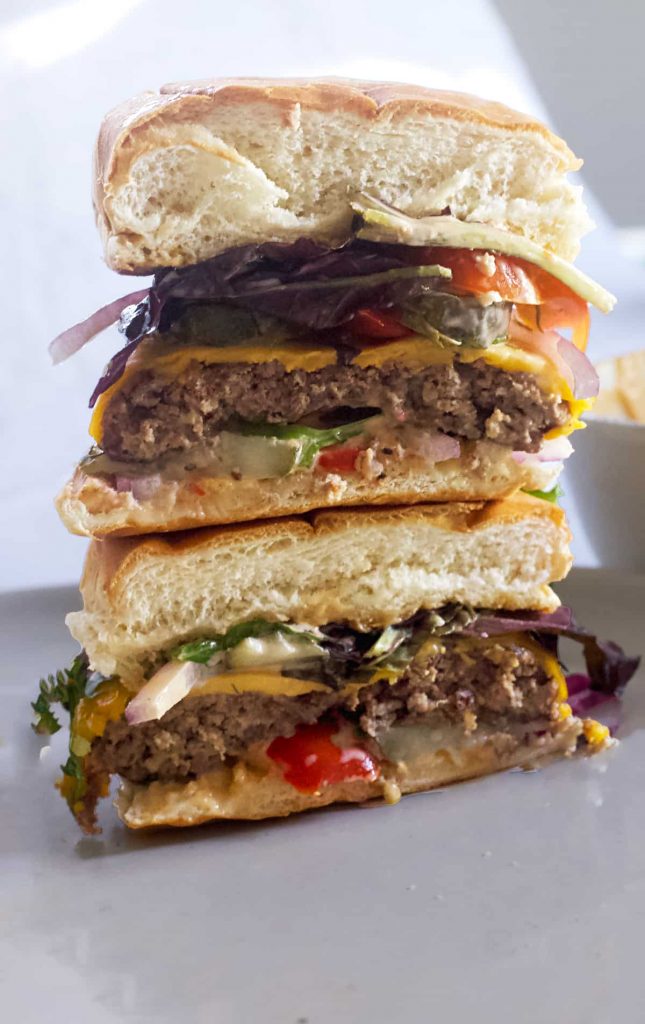 With high-quality meat, all you need is salt and pepper to bring out the flavor!
To avoid adding unnecessary ingredients, which can also cause over mixing (leading to a tough burger), I love rubbing an onion against the grill grates for flavor and to prevent the burger from sticking!
Here are some of my favorite techniques for a perfect beef Burger: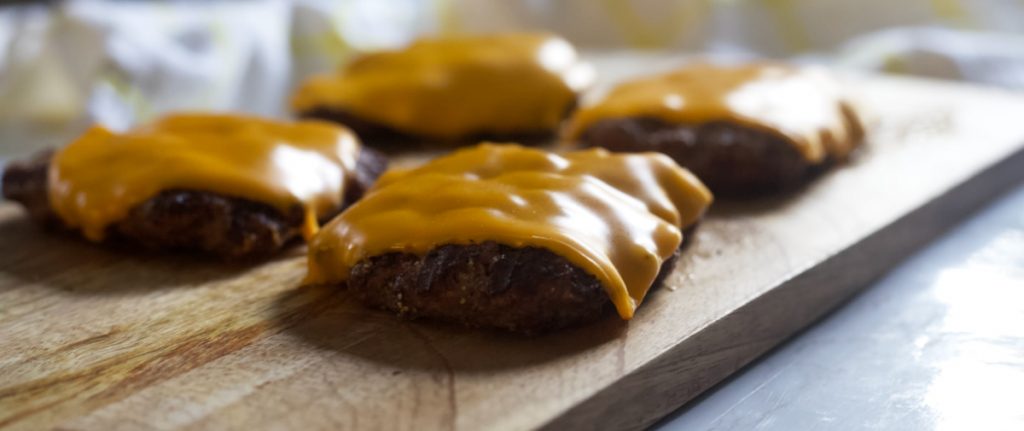 Tips for the perfect burger!
Less is more. This applies to the whole process. The less you touch the meat, add to the meat, etc, the better! Beef has amazing flavor on its own, so simple salt and pepper is all you need. Also, the less mixing you do with your hands, the more fat will remain in the patty, rather than melting into your hands. Fat=flavor!
Reach for 80/20 fat content at the least. A leaner meat will not be as juicy and flavorful as the classic burger you love. Bonus points if you can find freshly ground beef that is not pre-packaged, as it will be handled less and will be a lot more tender.
Indent the middle. This is very important for a beef burger! When grilling, burgers can easily turn into footballs instead of patties if you don't thin them out enough and indent the middle with your thumb.
Season patties IMMEDIATELY before grilling. As soon as salt lands on the meat, it begins to dissolve some of the meat protein. For the perfect texture, it's important to salt and pepper the burgers right before they hit the grill or pan.
Rub an onion on the grill grates. This is such a great tip to prevent sticking, but also to add a little flavor to the burgers since we are only using salt and pepper on the burgers.
If you follow these simple techniques and the recipe below, you will have a tender, juicy, flavorful burger the whole family will love!
---
Gluten-free bun options: I love Schar gluten-free buns (affiliate link) and "Unbun" buns. Butter lettuce has a wonderful crunch and is another great low-carb choice to wrap around your burger and holds all your toppings in place.
---
Let me know your tried-and-true methods for perfect burgers or if you try this recipe in the comments below!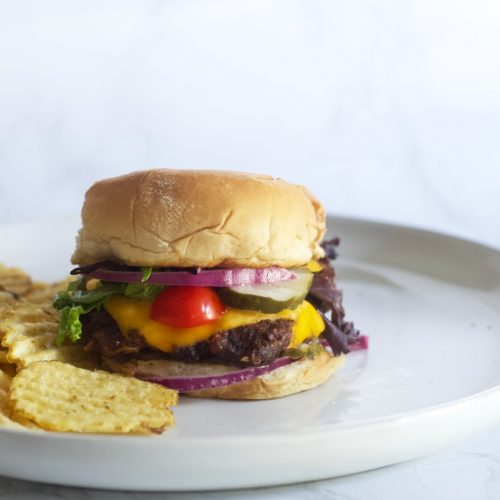 Classic Beef Burger
The perfect, classic American cheeseburger. It takes just a few ingredients and some technique to make this juicy, mouthwatering burger!
Ingredients
Beef Patty
1

lb

80/20 ground beef

1

tsp

sea salt

1/2

tsp

pepepr

1

halved

onion

for seasoning grill
Sriracha Mayo Sauce (optional)
1/4

cup

mayonnaise

2

tsp

siracha

2

tbsp

finely diced white onion
Instructions
Remove ground beef from package and gently, but quickly form into thin, even patties. It's very important to not over mix. Press thumb in the middle of the patty to make an indent. Do not season patties yet.

Place formed patties into fridge until the grill is heated and ready. Heat the grill to medium-high heat.

Once grill is ready, season the grill with half of an onion. Use tongs to hold the onion and run it up and down on the grill grates with the flat side of the cut onion. This will prevent sticking and also add flavor to the patties!

Remove the patties from the fridge right before placing on the grill, season generously, front and back with salt and pepper. Place on grill for about 3 minutes, until a crust forms and then flip for another 4-5 minutes until the internal temperature reaches 145 degrees for medium. If using cheese: place it on the patty for the last 2 minutes of cooking.

Remove from the grill and allow to rest for at least 5 minutes.

Mix ingredients for siracha mayo, if desired and build your burger with any other desired toppings! I love the classic, american cheese, pickles, fresh onions, and a slice of tomato!
Notes
Indoor Burger: Follow the steps above, but instead, heat 1/2 tbsp avocado oil in a cast iron skillet on medium-high heat until hot. Once the cast iron skillet is hot, season the beef patties and place in the skillet. Allow a crust to form on bottom, about 3-4 minutes. Once the patty can release without sticking, flip for another 3-4 minutes until the internal temperature reaches 145 degrees for medium. Pile with favorite toppings and enjoy!
Want Quality Groceries Shipped to Your Front Door at an Unbelievably Great Price?
Thrive Market offers a wide variety of high-quality, non-toxic, and organic products at wholesale prices. By becoming a member, you can save up to 50% off traditional retail prices on everything from pantry staples to beauty and personal care items. Additionally, Thrive Market offers a 30-day risk-free trial, so you can try it out and see the savings for yourself. Signing up for Thrive Market also supports their mission to make healthy living accessible to everyone, including their commitment to providing free memberships to low-income individuals and families. With Thrive Market, you can save money and make a positive impact, all while getting the healthy products you need.
---