*I only recommend products I would use myself and all opinions expressed here are my own. This post may contain affiliate links that earn me a small commission, at no additional cost to you. Read our full site disclaimer HERE.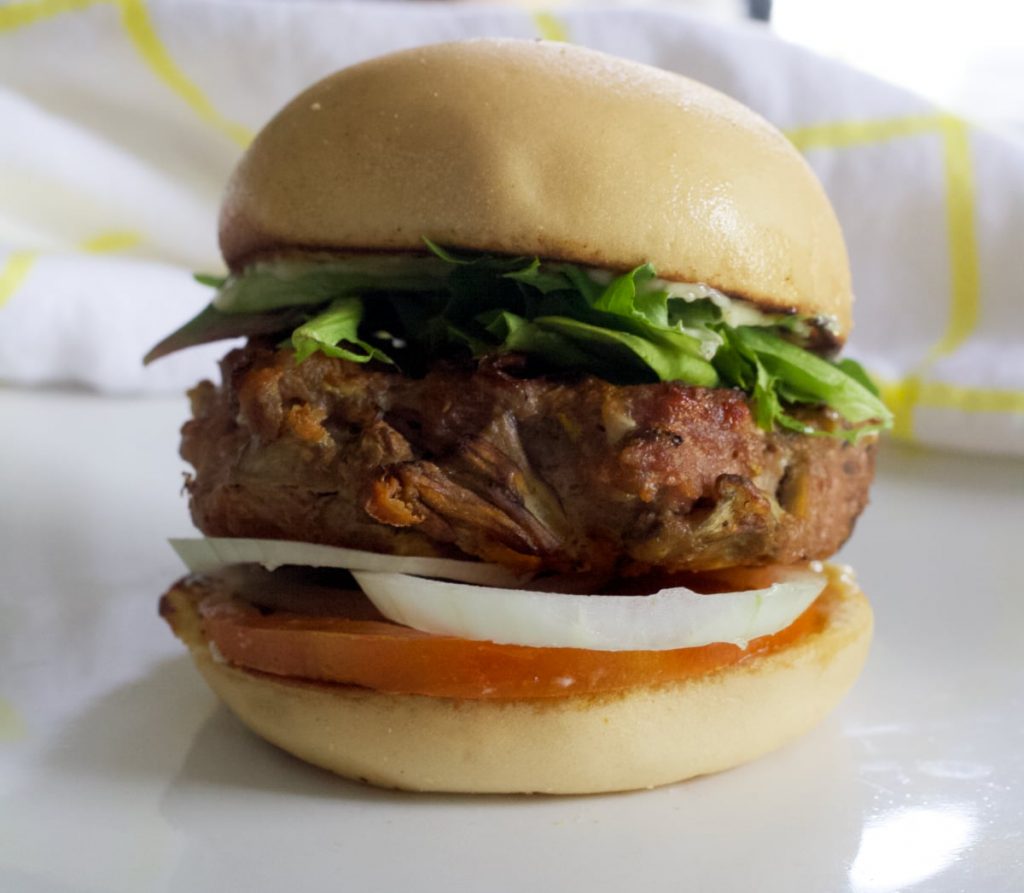 Gluten-free, dairy-free actually juicy turkey burgers patty recipe!
Turkey burgers are always the inferior burger. Turkey meat is very lean, easily dries out, and can be quite flavorless.
These turkey burgers, on the other hand, are juicy and packed with flavor to make up for the characteristically lean cut of meat. This recipe packs in a few secret ingredients and tips to make them delicious and juicy!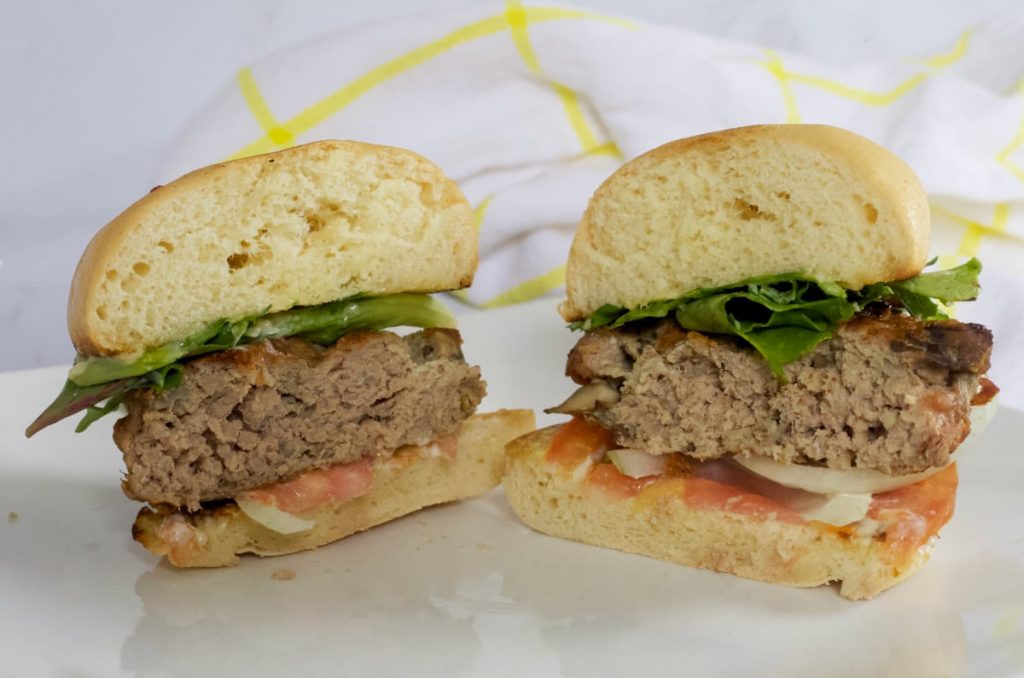 Not to mention, this is a simple, quick, throw-together recipe. Perfect for grilling, or a great indoor weeknight dinner! The leftovers taste fantastic on a salad for lunch or in a lettuce wrap.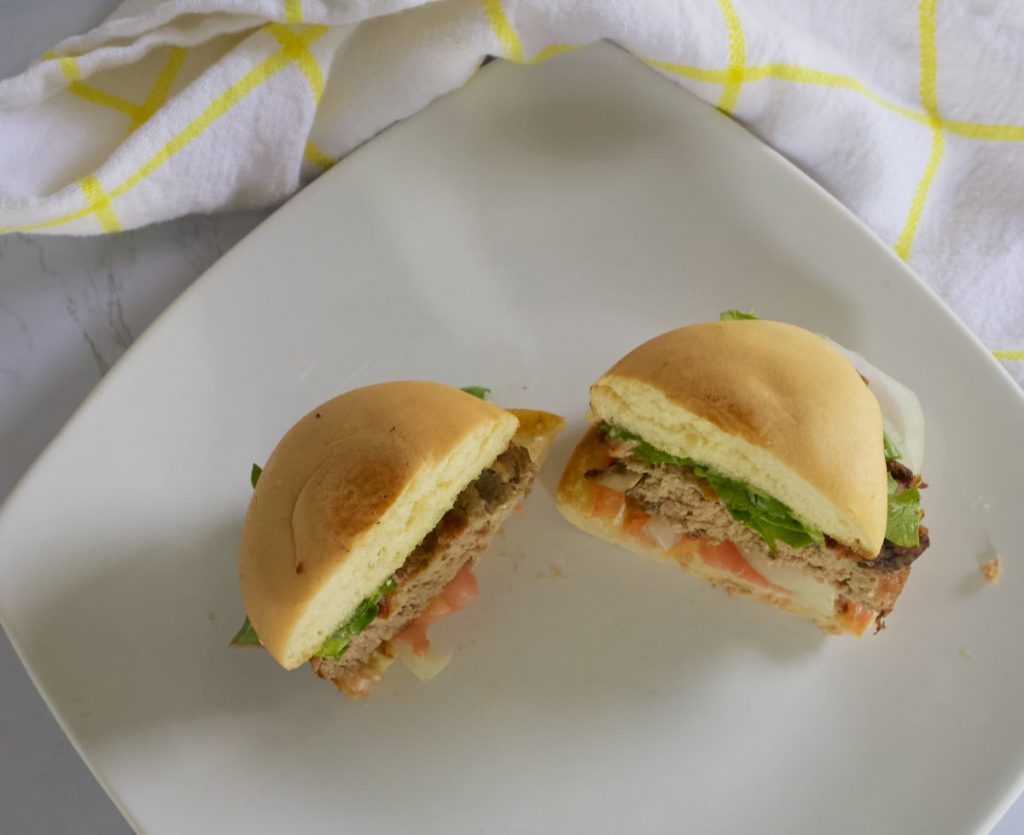 Gluten-free bun options: I used Schar Gluten-free buns, which taste crazy similar to an original fluffy white bun. I also love butter lettuce smothered with mayo, wrapped around the patty to act as a low-carb, gluten-free "bun".
Schar Gluten-free buns can be purchased from Thrive Market!
Tips for juicy (not dry) turkey burgers:
Mushrooms. Not only do mushrooms work wonders for the moistness of the burgers but they add a great depth of flavor to the burgers that turkey lacks when compared to beef burgers. Any kind of mushroom that you love should work fine. I used a Chef's Sampler mix that had a combination of Clamshell, Maitake Frondos, Trumpet Royale, Grey Oyster, and Velvet Piopini.
Mayo. My favorite is avocado oil-based: primal kitchen, sir kensington's, and chosen foods.
Don't over-mix the meat mixture! This will result in a dry, tough, and flat turkey burger
Indent in the middle of the patty for even cooking. Just a small press down the middle will be enough to help the burger cook evenly, so the sides aren't dry and overcooked.
Meat thermometer. (Affiliate link) The best purchase to up-level your at-home cooking! It ensures you get it right every time and no longer have over or undercooked meat. (Game changer, seriously, for all meat recipes, my favorite is linked below!)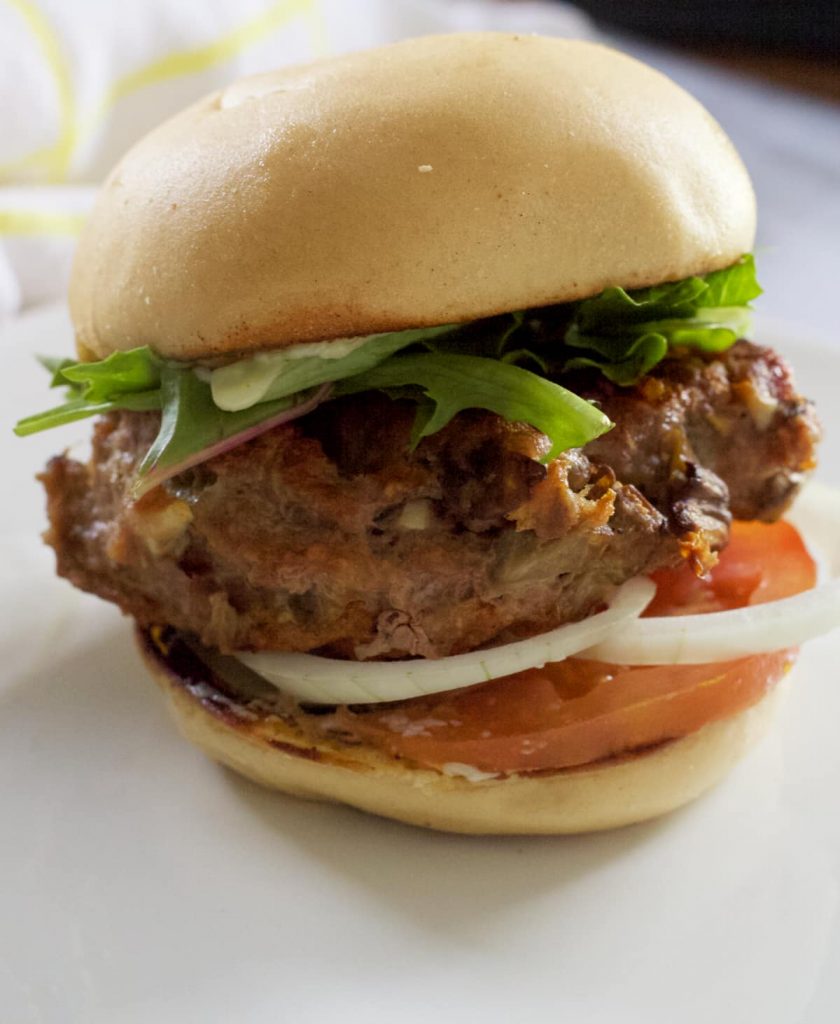 If you're a fan of burgers but looking for a healthier option, then juicy turkey burgers are the perfect solution. These burgers are leaner than beef burgers, yet still, pack a flavorful punch!
Let me know in the comments if you make these perfect juicy turkey burgers!!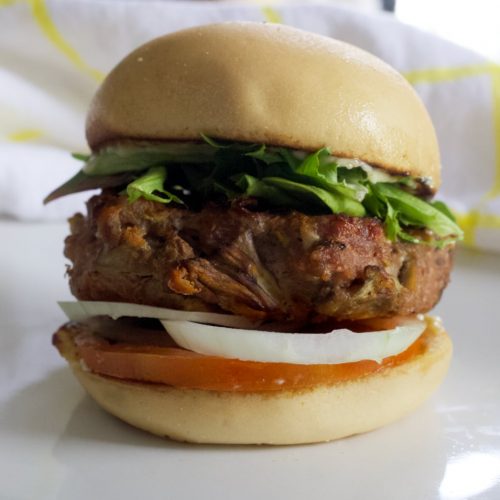 Juicy Turkey Burgers
These turkey burgers are juicy, packed with flavor, and a few secret ingredients! A simple, quick, throw-together recipe. Perfect for grilling, or a great indoor weeknight dinner!
Ingredients
1.5

pound

ground turkey meat

1/2

tsp

cumin

1

tsp

rosemary

1

tsp

sea salt

1/2

tsp

pepper

4

cloves

garlic

or 1/2 tsp garlic powder

1

egg

2

cups

finely chopped mushrooms

I used a "chef's sampler" mix

1

tbsp

mayonnaise
Instructions
Start by heating a skillet on the stove with about 1/2 tbsp avocado oil or butter.

Once the skillet is hot, place the chopped mushrooms in the skillet, mixing frequently for about 5 minutes, until the mushrooms have almost halved in size. Give a generous pinch of salt at the end once they are done cooking.

Allow the mushrooms to come to room temperature while you mix the patties. Combine the ground turkey meat, cumin, rosemary, sea salt, pepper, chopped garlic, mayonnaise and egg together in a mixing bowl. Once the mushrooms are room temperature, add them to the mixture as well. Mix gently. it's important to not over mix here, otherwise the patties will be tough. Mix until just combined.

Gently form the patties into 6 relatively even burger patty shapes. Press down the center slightly of each patty to make a small indent for even cooking.

Cook on a greased grill for around 3 -4 minutes on one side until it has a nice crust. Flip and cook for another 3 minutes until the internal temperature is 165 or the middle is no longer pink. Put the lid on for about a minute if not cooked fully in the middle. I highly recommend a meat thermometer to not overcook the meat! (Stovetop method: Heat an oiled cast iron skillet at medium-high heat and cook the patties for 5-6 minutes per side until internal temperature reached 165, or its no longer pink in the middle.)

Serve immediately with any toppings you like! I love, lettuce, tomato, mayonnaise, and onion. You could also top with sliced cheese, jalapeños, avocado or BBQ sauce. ENJOY!
Want Quality Groceries Shipped to Your Front Door at an Unbelievably Great Price?
Thrive Market offers a wide variety of high-quality, non-toxic, and organic products at wholesale prices. By becoming a member, you can save up to 50% off traditional retail prices on everything from pantry staples to beauty and personal care items. Additionally, Thrive Market offers a 30-day risk-free trial, so you can try it out and see the savings for yourself. Signing up for Thrive Market also supports their mission to make healthy living accessible to everyone, including their commitment to providing free memberships to low-income individuals and families. With Thrive Market, you can save money and make a positive impact, all while getting the healthy products you need.
---