*I only recommend products I would use myself and all opinions expressed here are my own. This post may contain affiliate links that earn me a small commission, at no additional cost to you. Read our full site disclaimer HERE.
No one likes boring chicken breasts. These quinoa-crusted chicken breasts are crispy on the outside with a moist, juicy center. This recipe is very simple, only requiring 4 ingredients (I don't count salt and pepper)!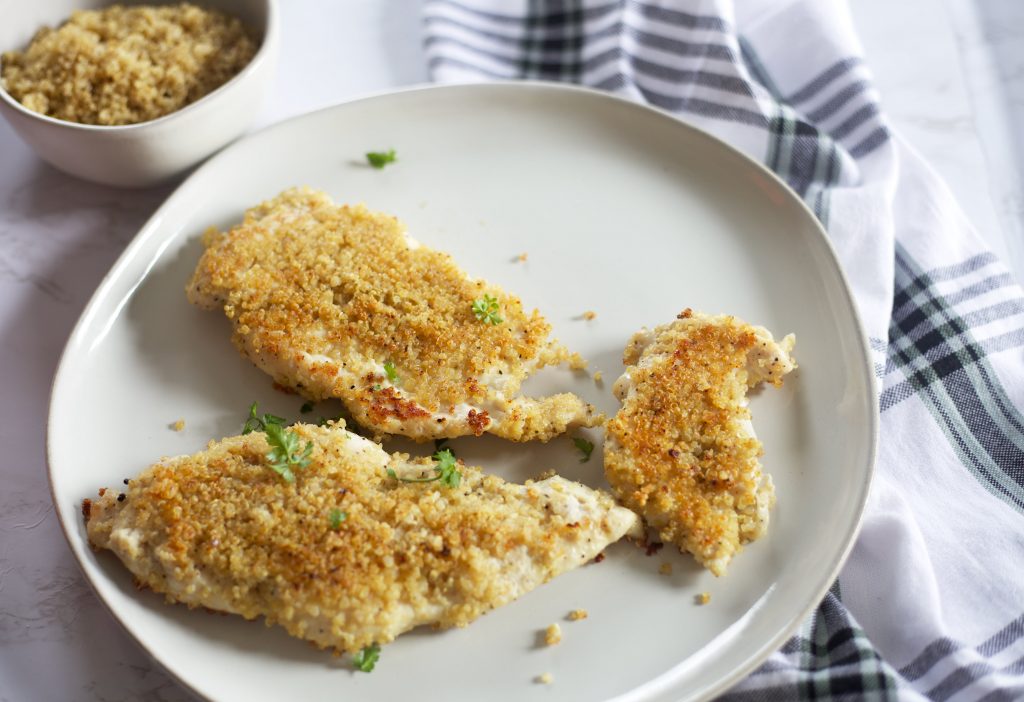 Quinoa is a great "pseudograin" that is packed with nutrients, fiber and protein. Besides the health benefits of this superfood, It creates a fantastic coating to chicken breasts. It's a great gluten-free alternative to something like bread crumbs.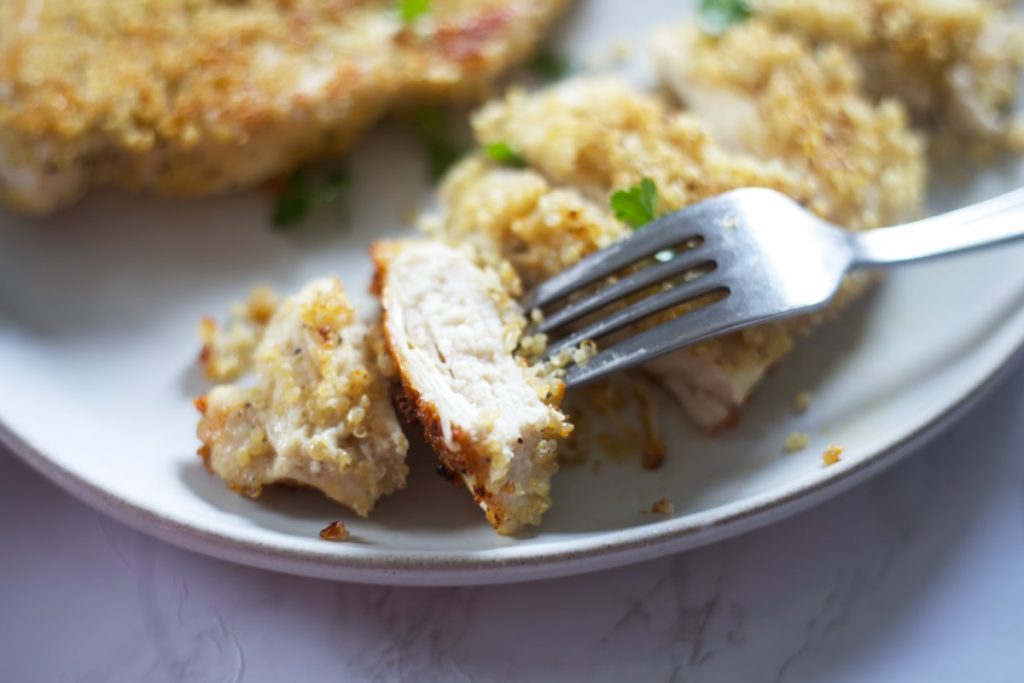 *Affiliate Link
If you are tired of the same old chicken for dinner, give this super easy recipe a try! I love pairing it with some sautéed vegetable and sweet potato fries. Feel free to dip the chicken into your favorite sauce. I love BBQ, buffalo or a honey mustard.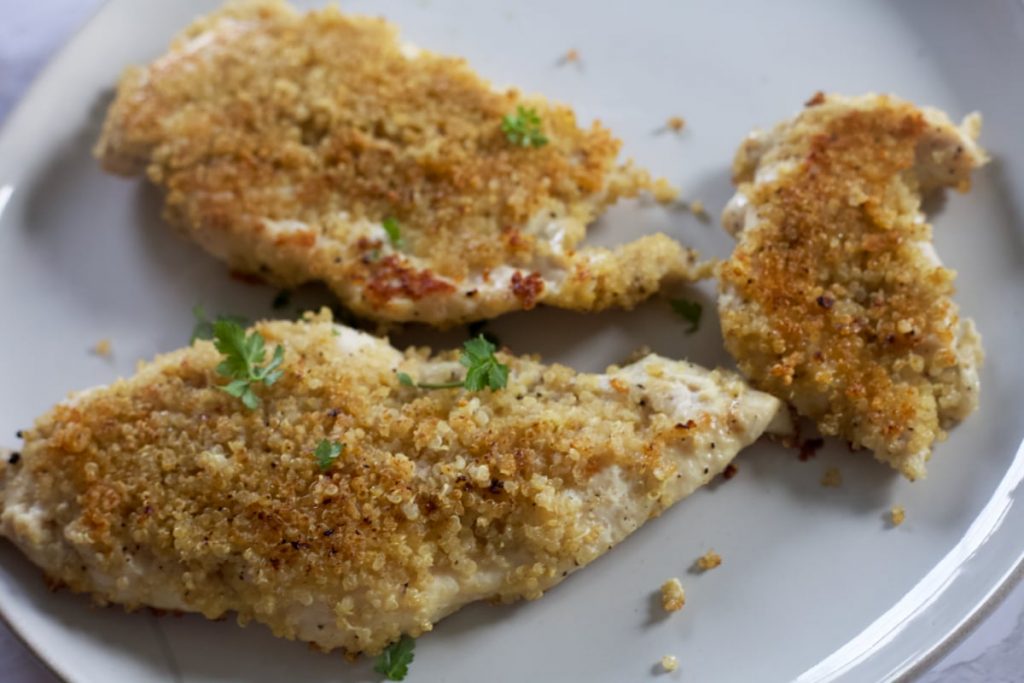 This chicken is a great, quick and easy staple for your weeknight dinner. Let's make it!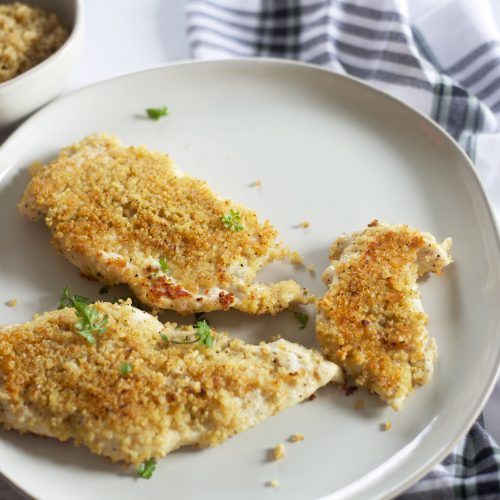 Gluten-Free Quinoa-Crusted Chicken
This quinoa-crusted chicken has a crispy outer layer and a super moist, juicy center.
Ingredients
1

cup

dry quinoa

yields 3 cups cooked

2-3

large boneless, skinless chicken breasts

1

egg

1

tsp

garlic powder

1

tsp

sea salt

1/2

tsp

pepper
Instructions
Cook the quinoa according to the packaged instructions. Fluff with a fork (not spoon) and ensure the water is completely evaporated before removing from heat. The quinoa should be dry.

While the quinoa is cooking, cut the chicken breasts into cutlets. To cut into cutlets: place chicken breast on a cutting board. Hold it flat with the palm of your non-dominant hand. With a long, sharp knife, carefully slice the chicken breast in half lengthwise into two even pieces, keeping the knife blade parallel to the surface of the cutting board and use a smooth, steady stroke. The goal is to have very thin chicken breasts!

Place a piece of plastic wrap on the cutlets and using a meat mallet, or a cast iron skillet, pound the cutlets until they are thin and an even layer. This will ensure they cook evenly and remain juicy and not tough.

Season the cutlets front and back with some salt and pepper.

Using a shallow dish, whisk the egg.

Using a seperate shallow dish mix the cooked quinoa, garlic powder, salt, and pepper until combined.

Dip one cutlet into the egg mixture , shake off excess and then dip in the quinoa mixture until well coated. Place on a paper towel lined plate until all the cutlets are coated.

Pour about 2 tablespoons of avocado oil in a cast-iron skillet and warm it on medium-high heat.

Once the oil is hot, gently place the quinoa-crusted chicken into the skillet. Cook about 3 minutes per side until it reached 165 degrees. If it is still not done, place a lid on top until it is cooked through. Try not not flip the chicken too many times, as the coating is somewhat delicate and may fall off. When it is cooked through, remove from skillet and ENJOY!
Notes
These chicken breasts will last for 3-4 days in the fridge. I like to reheat in the air fryer for the perfect leftovers.