Hi there, I'm Sarah.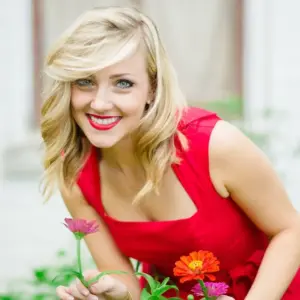 I am in love with making really good food that is good for you. You're in the right place if you have a sweet tooth but also want a really great, satisfying dinner.
I'm all about balance and eating real food without sacrificing flavor. I work very hard to make classic favorites (cookies, brownies, mac n cheese…) taste delicious without the sugar crash, brain fog, and tiredness that often comes from indulging.
I don't want to deprive myself of food I enjoy in the name of "health." Most recipes on my blog are gluten-free, refined sugar-free, and generally dairy-free. Simple, whole-food-based is my motto. I also don't want my kitchen to be a science lab full of equipment that takes up a lot of space and that I don't use often. I try to make my recipes as simple and minimal as possible unless absolutely necessary.
I have always had a huge sweet tooth and have been baking cookies my husband's family nicknamed "Sarah cookies." They are guilt-free cookies that taste heavenly. In need of a landing place for "Sarah cookies" and other recipes, I created Don't Skip the Cookie. My food philosophy is exactly that: "don't skip the cookie". You can enjoy delicious food and not feel the need to skip on anything when it's made from wholesome, simple ingredients!
I hope you fall in love with the delicious food here and it makes you feel your best!
Happy cooking! -Sarah