*I only recommend products I would use myself and all opinions expressed here are my own. This post may contain affiliate links that earn me a small commission, at no additional cost to you. Read our full site disclaimer HERE.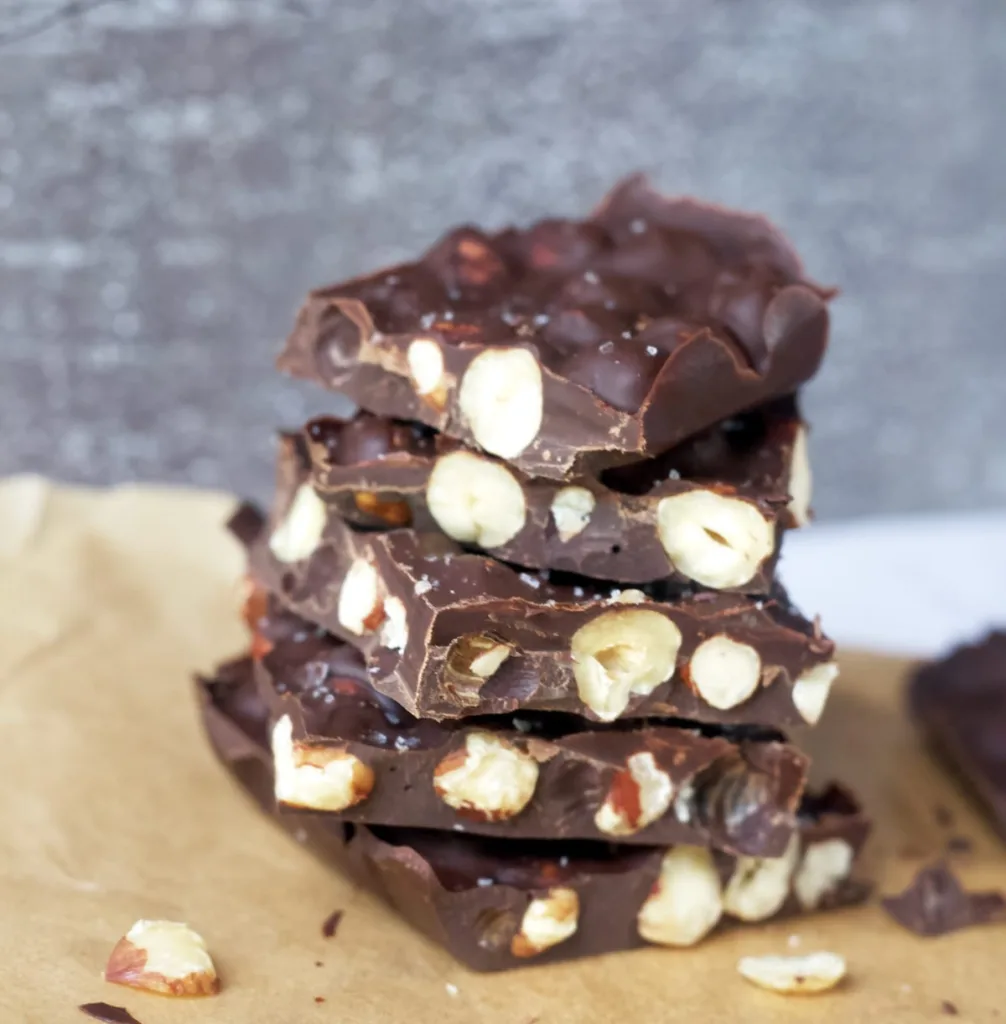 When that chocolate craving hits this is the 2 ingredient treat you need!! It's paleo, dairy-free, gluten-free, and refined sugar-free. This chocolate bar has that wonderful crunch every bar needs along with a rich hazelnut chocolate flavor.
If you love Nutella you will fall in love with this delicious chocolate bar.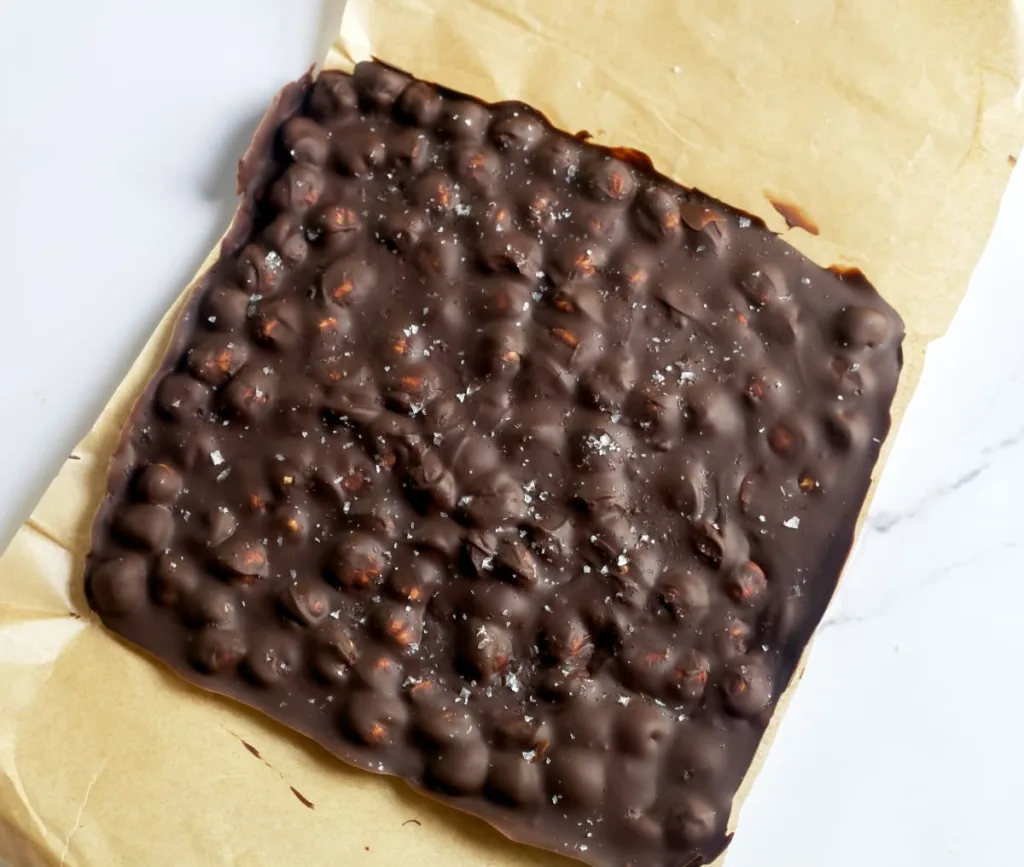 This chocolate bar is only as healthy as the chocolate chips that you use!
If you are vegan, paleo, or keto use your favorite brand of chocolate chips! I recommend dark chocolate because I think it goes best with the rich hazelnut flavor.
My Chocolate Chip Recommendations
Lily's Dark Chocolate Chips (gluten-free, dairy-free, sugar-free, gluten-free)
HU Chocolate Gems (Paleo, keto, organic, dairy-free, vegan, gluten-free)
Bake Believe Dark Chocolate Chips (Keto, sugar-free, gluten-free, vegan)
Yupik Organic Dark Chocolate Sugar-Free (Organic, vegan, sugar-free, gluten-free, dairy-free)
Health Benefits of Hazelnuts
Heart Health: Hazelnuts contain good fats that can improve heart health by lowering bad cholesterol and promoting good cholesterol levels.
Brain Support: The antioxidants in hazelnuts, like vitamin E, can protect brain cells and potentially reduce the risk of cognitive decline.
Weight Management: Despite being calorie-rich, hazelnuts' mix of healthy fats, fiber, and protein can help control appetite and support weight management.
Digestive Aid: Hazelnuts are high in fiber, which aids digestion and prevents constipation.
Less Inflammation: Hazelnuts' antioxidants and anti-inflammatory compounds can help lower overall inflammation in the body.
Skin Protection: Vitamin E in hazelnuts can shield the skin from damage caused by the sun and pollutants.
Cancer Defense: Antioxidants in hazelnuts might help lower the risk of certain cancers by combating harmful free radicals.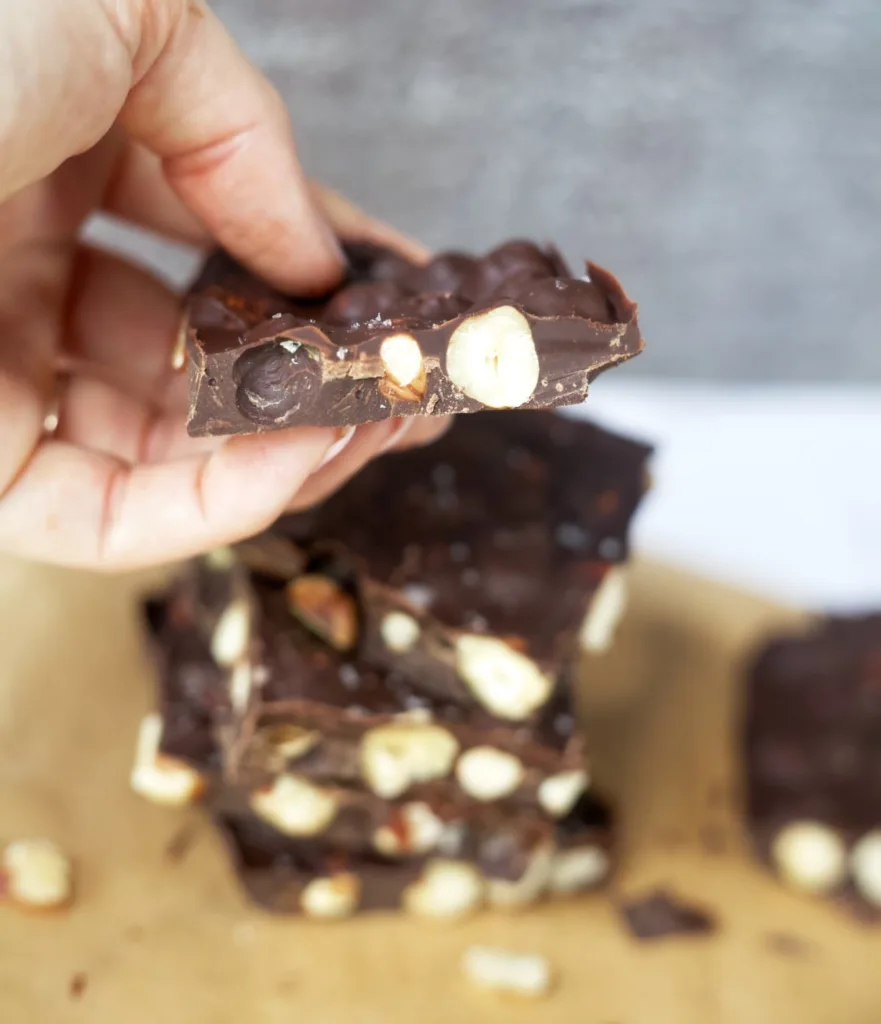 Ingredients & Substitutions
Chocolate chips– see above for recommendations
Raw Hazelnuts- You could also subsitute with any nut you love, but I personally think that hazelnuts taste best in this chocolate bar! Also, you can buy already roasted hazelnuts, they may contain inflammatory oils so I prefer to just buy them raw and roast them myself!!
I love these raw, organic hazelnuts from Amazon!
Flaky Sea Salt– For topping, optional, but not really!
Don't skip this tip!
Make sure to either buy already roasted hazelnuts or roast them yourself in my directions in the recipe below! Using them raw will not have the same wonderful flavor that roasted hazelnuts have, trust me.
Optional Add-Ins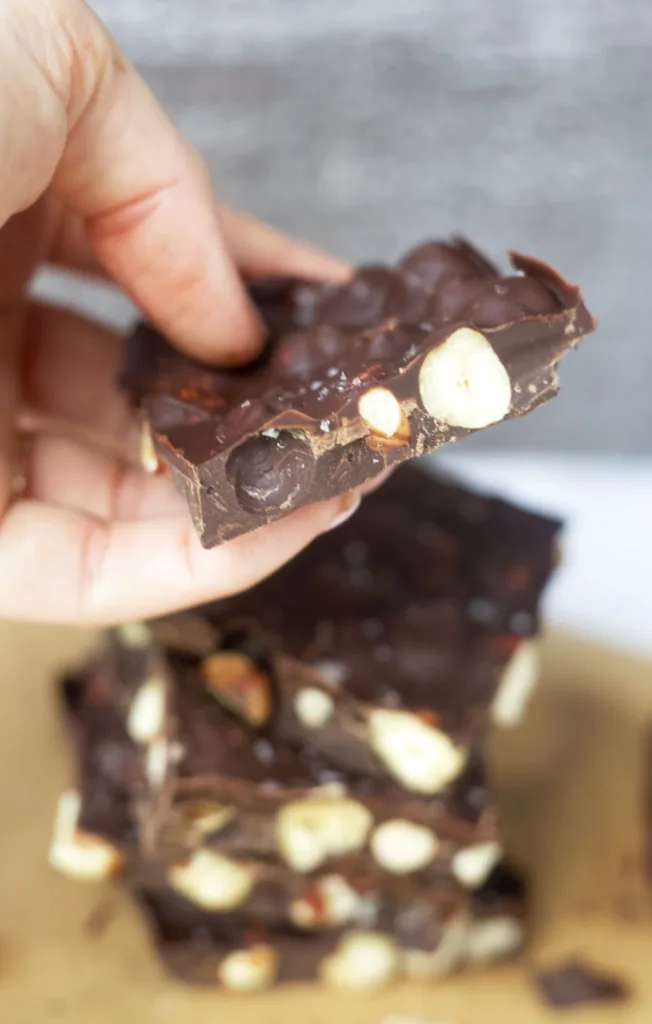 Dried Fruits: Chopped dried fruits like dried cherries, cranberries, or apricots can add a burst of sweetness and chewiness to contrast with the crunch of hazelnuts.
Coconut Flakes: Toasted coconut flakes can introduce a tropical flavor and a subtle crunch to the chocolate bar.
Nut Butter: Swirling in a layer of almond, peanut, or hazelnut butter can enrich the nutty flavor and create a creamy texture. I personally love spreading some on top of the individual bar I'm about to eat. It's so so good!!
If you love chocolate bars (who doesn't?!) Try these other healthier remakes of my favorites!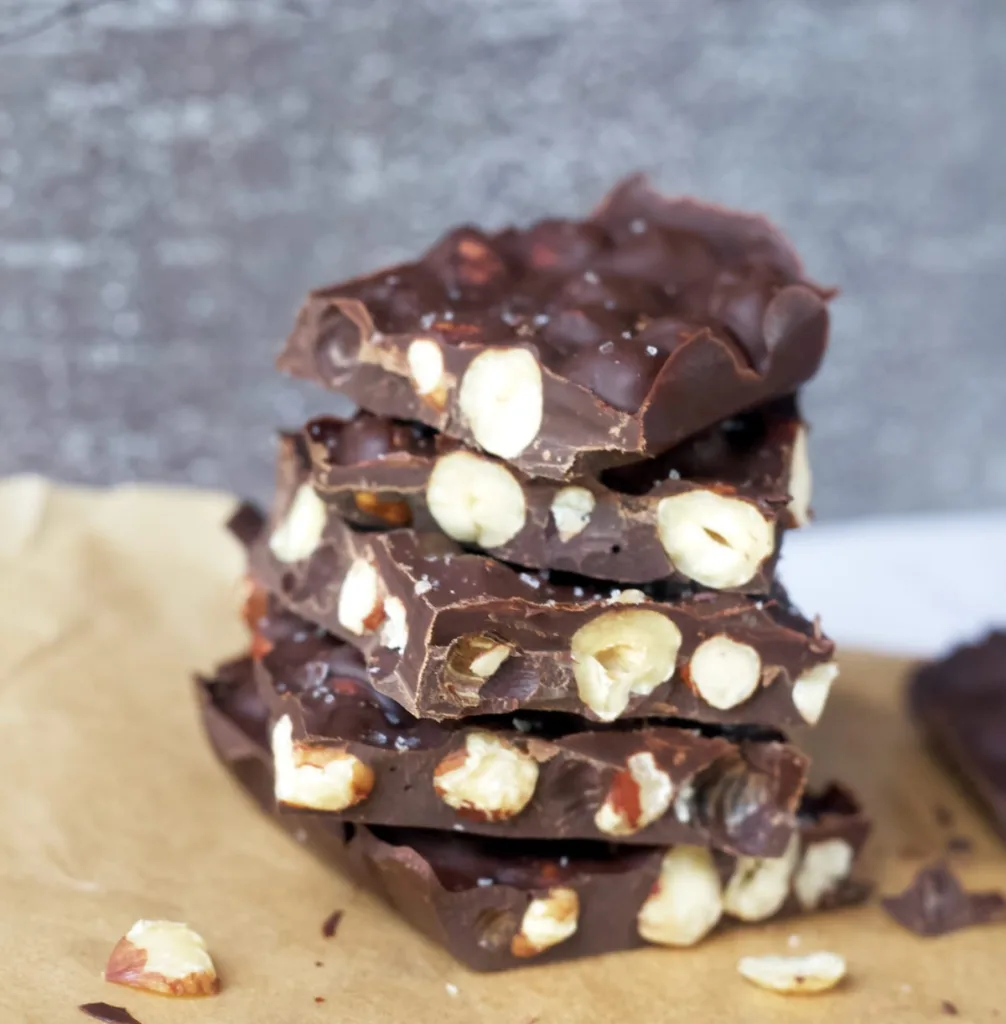 If you make this recipe please let me know how you liked it in the reviews!!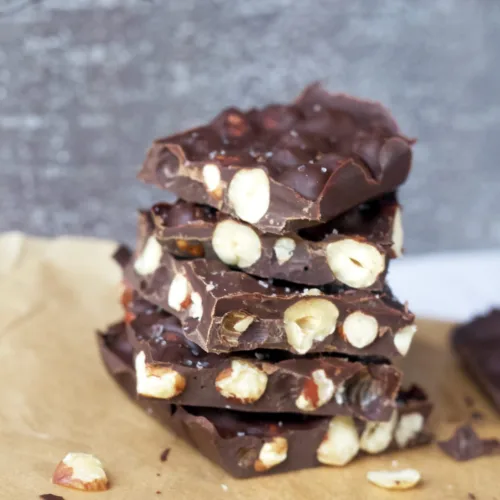 Easy 2-Ingredient Hazelnut Chocolate Bar
Crunchy, easy, paleo, dairy-free, nutty hazelnut chocolate bar!
Ingredients
2

cups

dark chocolate chips

see above for reccomendations

1

cup

raw hazelnuts

flaky sea salt

optional, for topping, but definitely recommend!!
Instructions
Start by roasting your hazelnuts. Place them on a parchment lined baking sheet and roast them in a 350 degree oven for 12 minutes.

Melt your chocolate chips with 1 tablespoon of coconut oil in 30 second increments in the microwave. Stir in between.

Add the roasted hazelnuts into the chocolate and stir until they're all fully coated in chocolate.

Line a square pan with parchment paper. Pour the hazelnuts and chocolate into the pan and top with flaky sea salt if desired. Place in the freezer until hardened, about an hour. Remove, slice and enjoy your decadent chocolate bar!!!
Notes
Storage: Store in the fridge in an airtight container for up to a week. (If it lasts that long!)
Store in the freezer for up to 2 months in an airtight container or ziploc bag, sliced and enjoy whenever your chocolate craving hits!!
Want Quality Groceries Shipped to Your Front Door at an Unbelievably Great Price?
Thrive Market offers a wide variety of high-quality, non-toxic, and organic products at wholesale prices. By becoming a member, you can save up to 50% off traditional retail prices on everything from pantry staples to beauty and personal care items. Additionally, Thrive Market offers a 30-day risk-free trial, so you can try it out and see the savings for yourself. Signing up for Thrive Market also supports their mission to make healthy living accessible to everyone, including their commitment to providing free memberships to low-income individuals and families. With Thrive Market, you can save money and make a positive impact, all while getting the healthy products you need.
---