*I only recommend products I would use myself and all opinions expressed here are my own. This post may contain affiliate links that earn me a small commission, at no additional cost to you. Read our full site disclaimer HERE.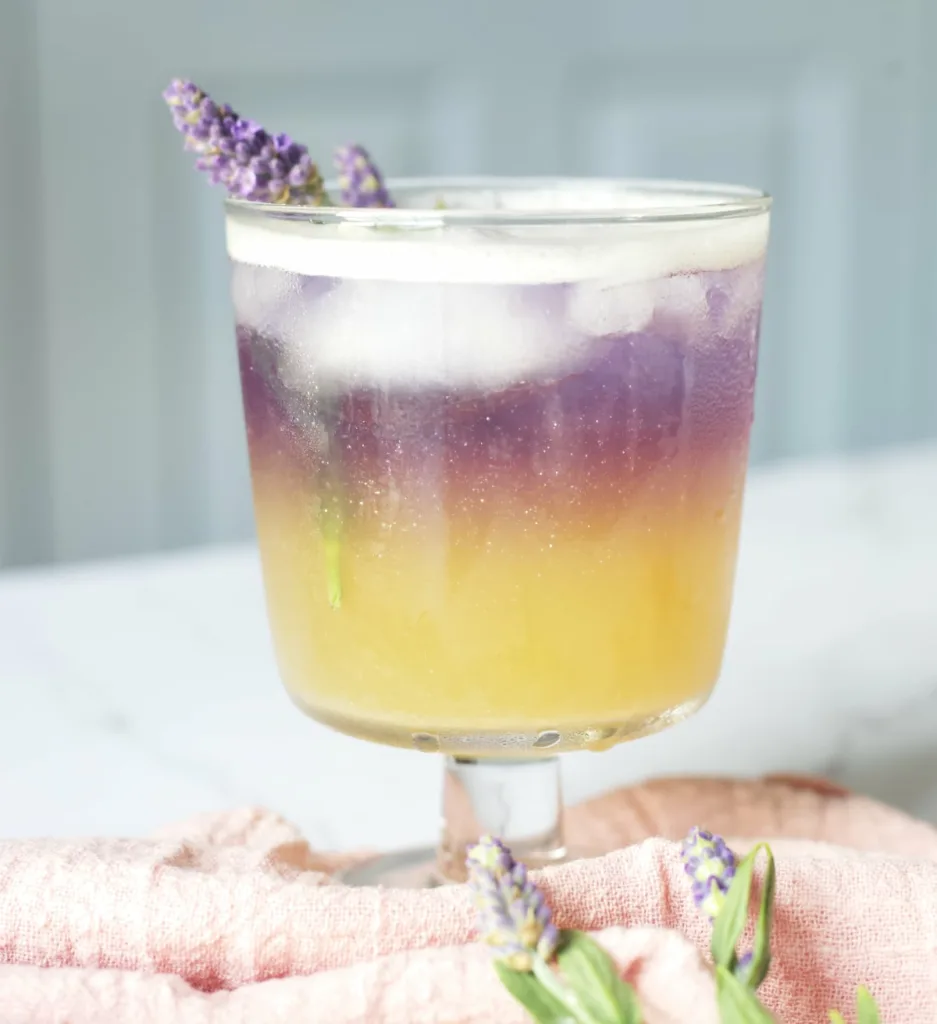 Welcome, Swifties and cocktail enthusiasts alike! I merged flavor and music to create something truly unique – a Taylor Swift-inspired drink from her hit "Lavender Haze".
As I rev up for the era's concert coming up, I am so excited to share this gorgeous and delicious cocktail with you! It's seriously the most beautiful cocktail I have laid my eyes on.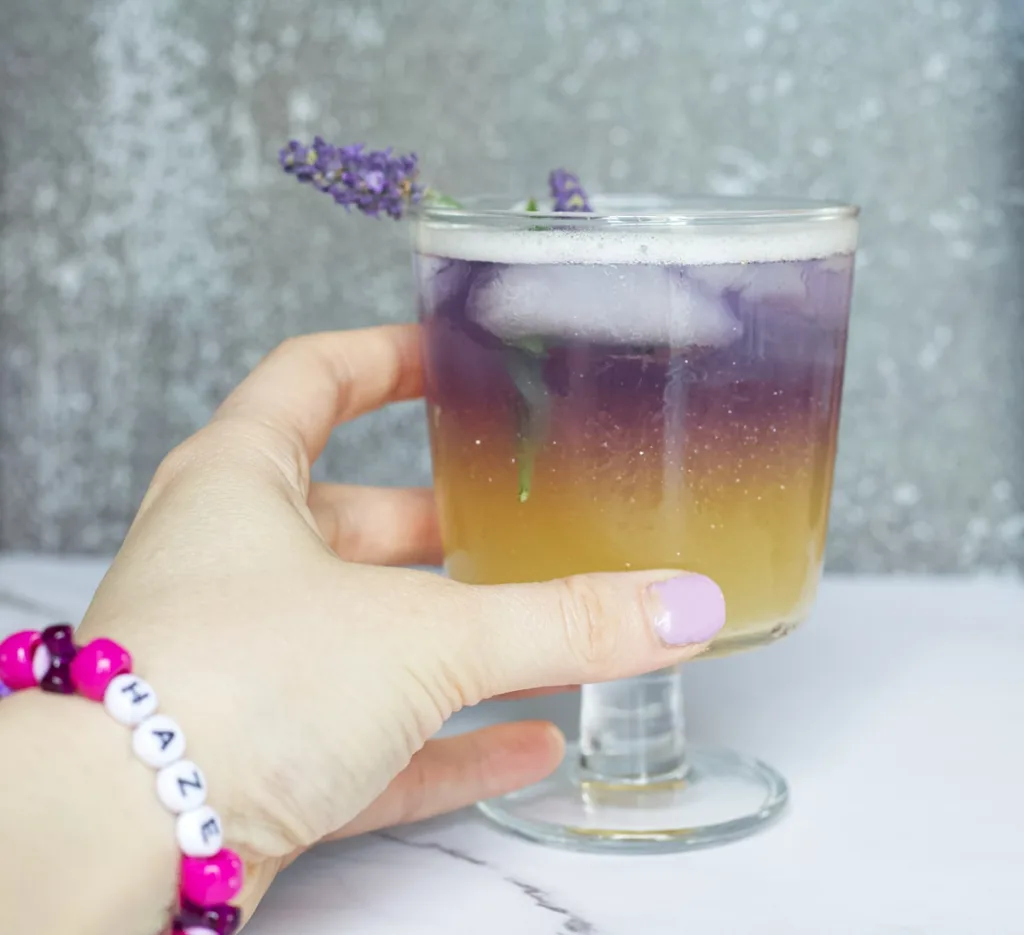 I love this drink for so many reasons. Besides the stunning color and enchanting sparkle of this drink, it's a win because it is naturally colored with Empress Gin and is sweetened with homemade honey simple syrup! Not to mention the added calming benefits that come from consuming lavender.
History and Impact of Taylor Swift's "Lavender Haze"
From the moment Taylor Swift's "Lavender Haze" debuted on her latest chart-topping album, it captured the hearts of both fans and critics alike. The song, known for its enchanting melody and heart-stirring lyrics, has become a standout track in Taylor's diverse discography.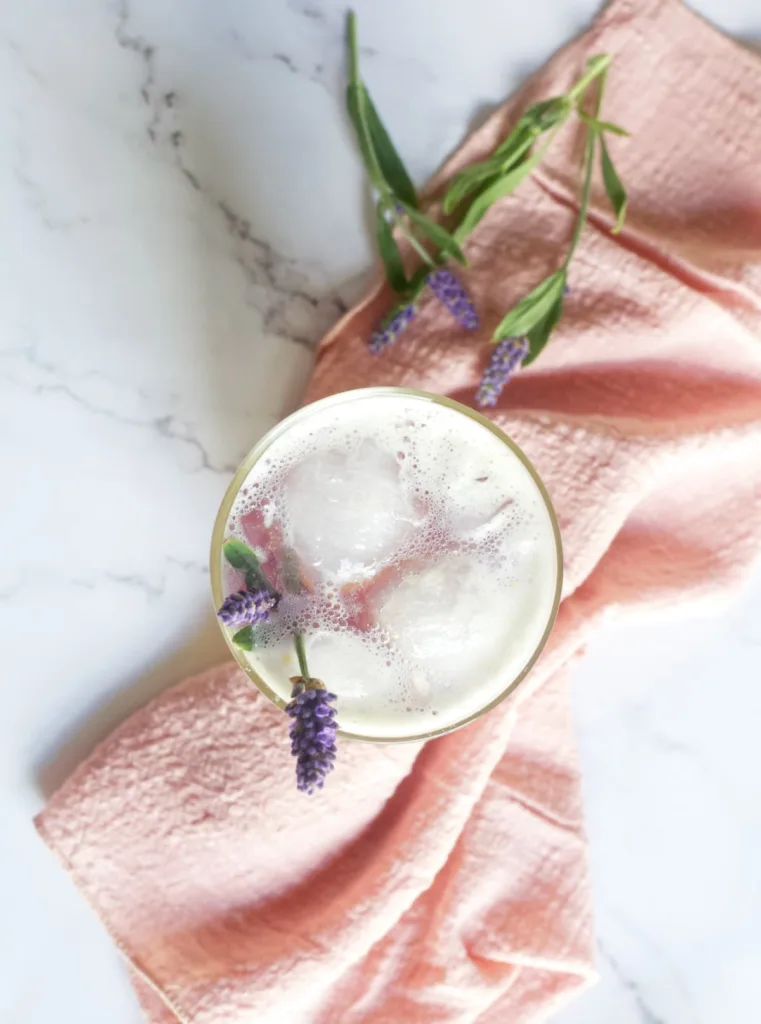 "Lavender Haze", released in 2023, immediately struck a chord with listeners around the world. With its lyrical depth and captivating melody, the song is a beautiful representation of Taylor Swift's songwriting abilities.
In terms of impact, "Lavender Haze" has left a significant mark. Soaring to the top of the charts, the song has earned a slew of awards, solidifying Taylor Swift's status as a true pop icon. Such widespread acclaim and popularity serve as the perfect testament to the song's influence.
The extraordinary reception of "Lavender Haze" and the profound emotional connection that fans have formed with it made it the ideal inspiration for this lovely cocktail recipe.
How do you make the "Lavender Haze" Drink?
Crafting the "Lavender Haze" cocktail was so fun!
It begins with the sweet floral notes of lavender, infused in a honey simple syrup. The layers unfold with a lemon citrus flavor. This is then shaken on ice with some edible glitter, for that sparkled "hazy" effect. The lemonade on the bottom adds a bright fresh color and is topped with some gorgeous Empress Gin to provide a breathtaking ombre lavender effect to the drink.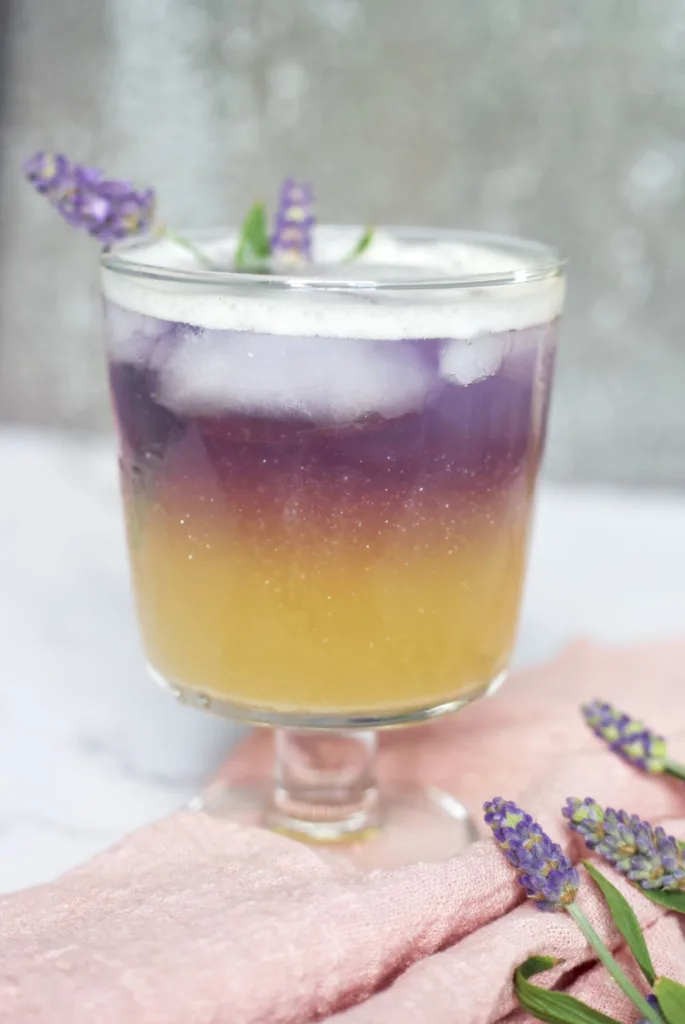 Last, we garnish with a fresh lavender sprig. *SWOON*
What does the "Lavender Haze" taste like?
The first sip hits you with the aromatic notes of lavender. The refreshing citrus undertones come through, adding a layer of complexity, combined with "pea blossom" gin for that perfect purple cocktail finish.
It's sweet, floral, and absolute perfection.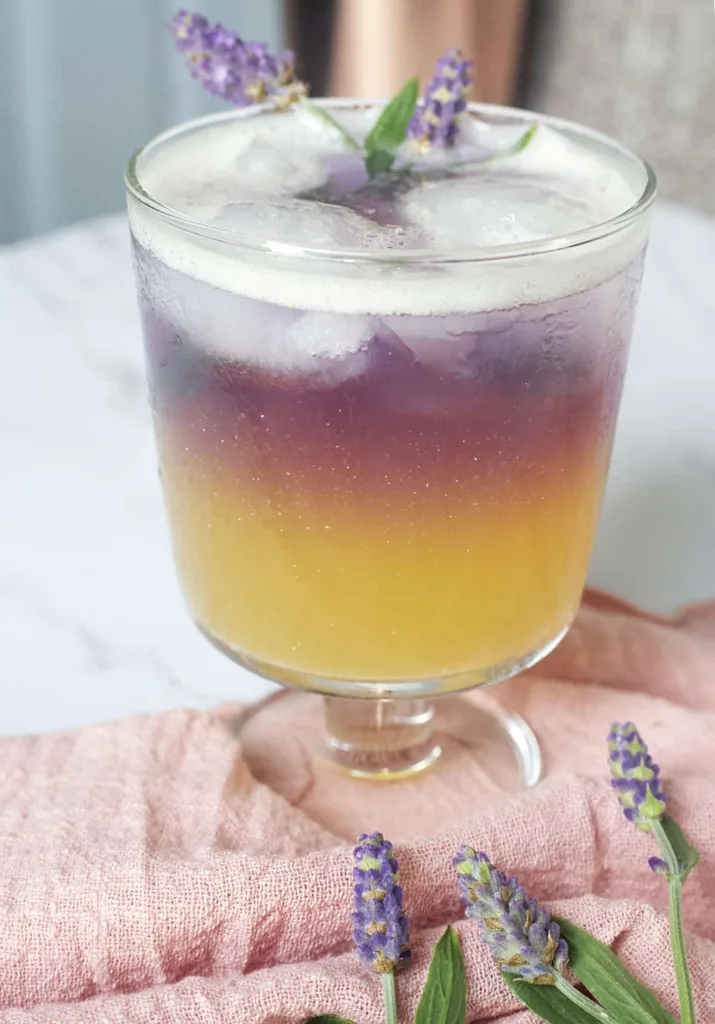 *Dont skip this tip: Please be sure to stir this drink before sipping. There will be 2 ounces of gin floating on top that you don't want to immediately be hit with on your first sip. 😉
Ingredients and Substitutions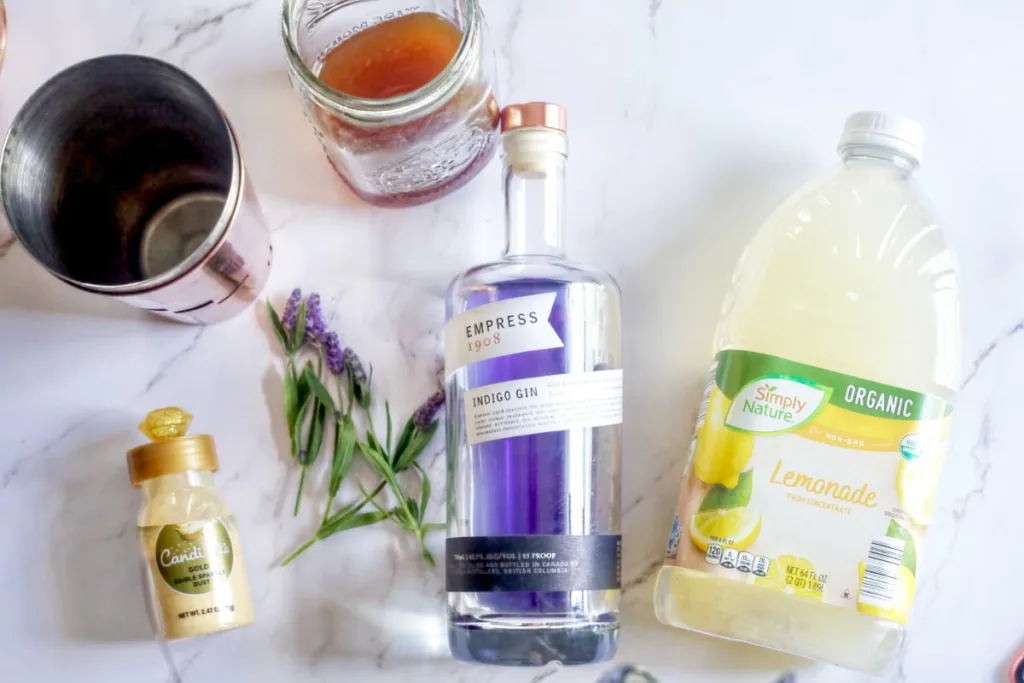 Honey – The honey is used to make a healthier simple syrup, using equal parts honey and hot water. You could also make a simple syrup with equal parts sugar and water. Stir the sugar and water until boiling and the sugar dissolves. Allow to cool before using.
Fresh lavender sprigs/flowers – I bought a lavender plant for fresh lavender sprigs, this is optional for garnishing. You could also use dried to garnish. I bought the lavender flowers from Amazon to add to infuse the honey simple syrup. You could also use lavender tea bags to infuse the syrup.
Lemonade – Store-bought or homemade works here! I used an organic store-bought lemonade.
Edible glitter – Optional, but I highly recommend if you want the gorgeous hazy "sparkle" to your drink. There are many different options you can purchase on Amazon, a little goes a long way and will last you forever.
Empress Gin – This is what makes this drink lavender! Empress 1908 Gin's unique indigo color is all-natural. It comes from the infusion of butterfly pea blossoms post-distillation. It is so delicious and adds the fun color. Empress Gin cannot be substituted for this drink.
Can this be made as a pitcher?
You can mix all these ingredients together in a pitcher and get a wonderfully delicious cocktail. Do note it will be a muted purple color and won't appear ombre like a single-serve drink, but would still be a fun addition to a party!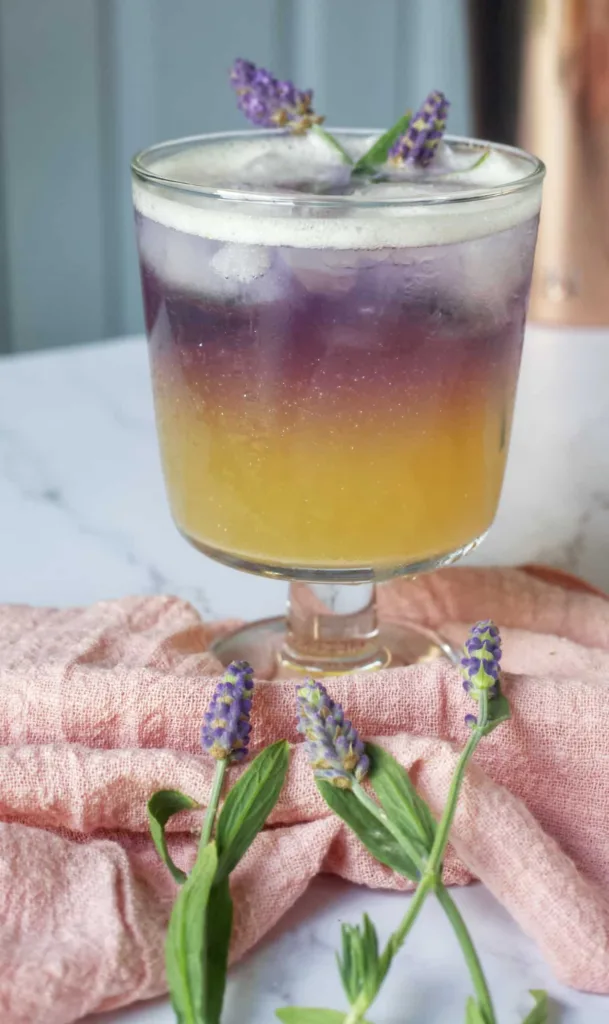 If you love lavender drinks or want a way to use up any leftover lavender simple syrup, make my favorite iced coffee recipe "Easy Lavender Iced Coffee".
Enjoy the symphony of flavors, share your experience with me, and let me know how your drink turned out. Feel free to post pictures of your "Lavender Haze" cocktail on social media and tag me. Also, leave a review below to let me know how you liked it!
So, to all the Swifties and cocktail lovers out there, I hope you relish this enchanting drink alongside jamming to her hit "Lavender Haze". ENJOY!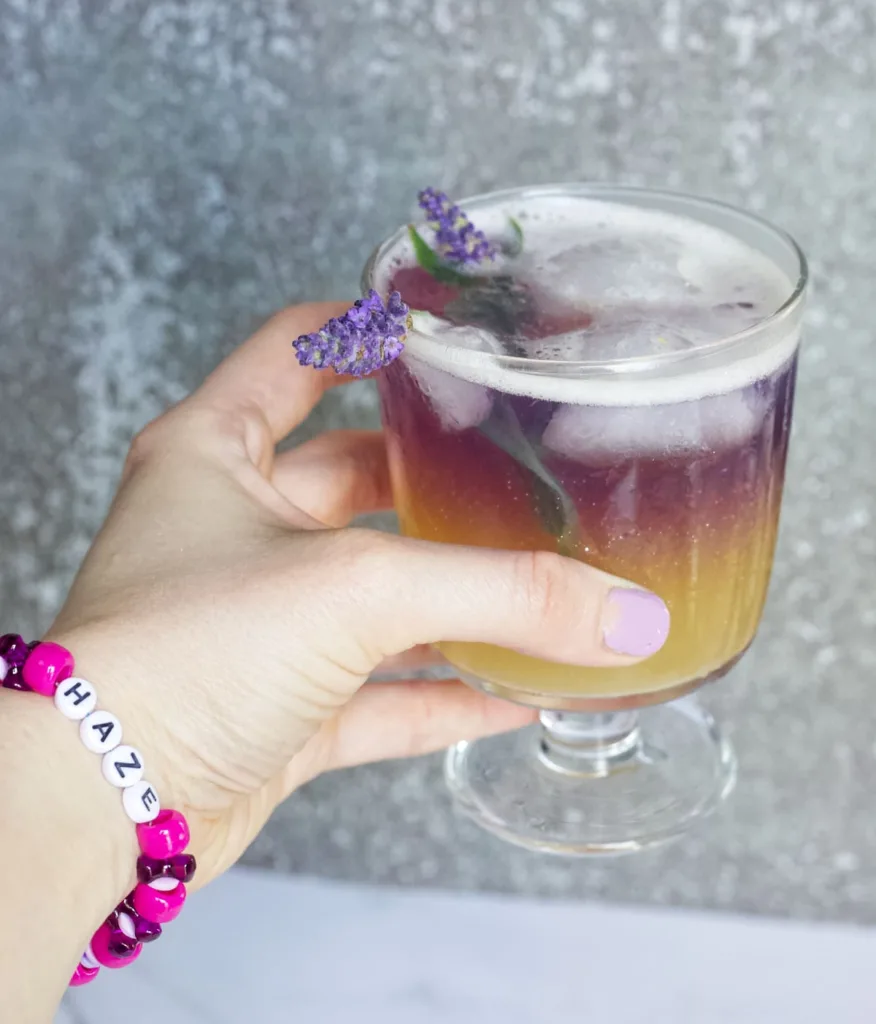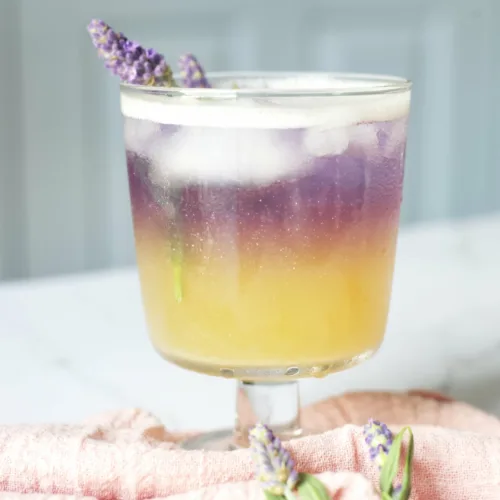 Lavender Haze – A Taylor Swift-Inspired Drink
A wonderful lavender & lemon flavored, natural purple-ombre colored cocktail inspired by Taylor Swifts song "Lavender Haze".
Ingredients
Lavender Haze
3/4

ounce

honey lavender syrup

use 1/2 ounce if you do not like your drink very sweet!

1/3

cup

lemonade

2

ounces

Empress Gin

1

shake

edible glitter

optional, but recommend!!

2 lavender sprigs

for garnish, optional
Honey Lavender Syrup
1/4

cup

water

1/4

cup

honey

1

tablespoon

dried lavender flowers

or flowers removed from about 2 fresh lavender sprigs! (see notes above for where to buy)
Instructions
Start by making your honey lavender syrup. Whisk together the water and honey in a small saucepan on the stovetop until it just starts to boil. Then add in the dried lavender flowers. Take it off the heat, cover and let sit for about 20 minutes. Filter out the lavender flowers through a strainer into a cup and set aside to cool. You can throw away the used lavender.

In a cocktail shaker add the 1/2- 3/4 ounce of honey lavender syrup, lemonade and a good shake of edible glitter. Add ice to the cocktail shaker. Shake until the cocktail shaker is very cold, a good 30 seconds or longer!!

Pour the shaken drink into a glass along with the ice. Top the drink with 2 ounces of gin and garnish with a lavender sprig. After you admire, stir lightly before you sip so you don't only consume straight gin. 😉 ENJOY!!!
Notes
*The honey lavender syrup recipe makes enough for about 4-5 drinks, so you can save it in the fridge for a later time or another round! This will last about a month in an airtight container in the fridge. 
Want Quality Groceries Shipped to Your Front Door at an Unbelievably Great Price?
Thrive Market offers a wide variety of high-quality, non-toxic, and organic products at wholesale prices. By becoming a member, you can save up to 50% off traditional retail prices on everything from pantry staples to beauty and personal care items. Additionally, Thrive Market offers a 30-day risk-free trial, so you can try it out and see the savings for yourself. Signing up for Thrive Market also supports their mission to make healthy living accessible to everyone, including their commitment to providing free memberships to low-income individuals and families. With Thrive Market, you can save money and make a positive impact, all while getting the healthy products you need.
---