*I only recommend products I would use myself and all opinions expressed here are my own. This post may contain affiliate links that earn me a small commission, at no additional cost to you. Read our full site disclaimer HERE.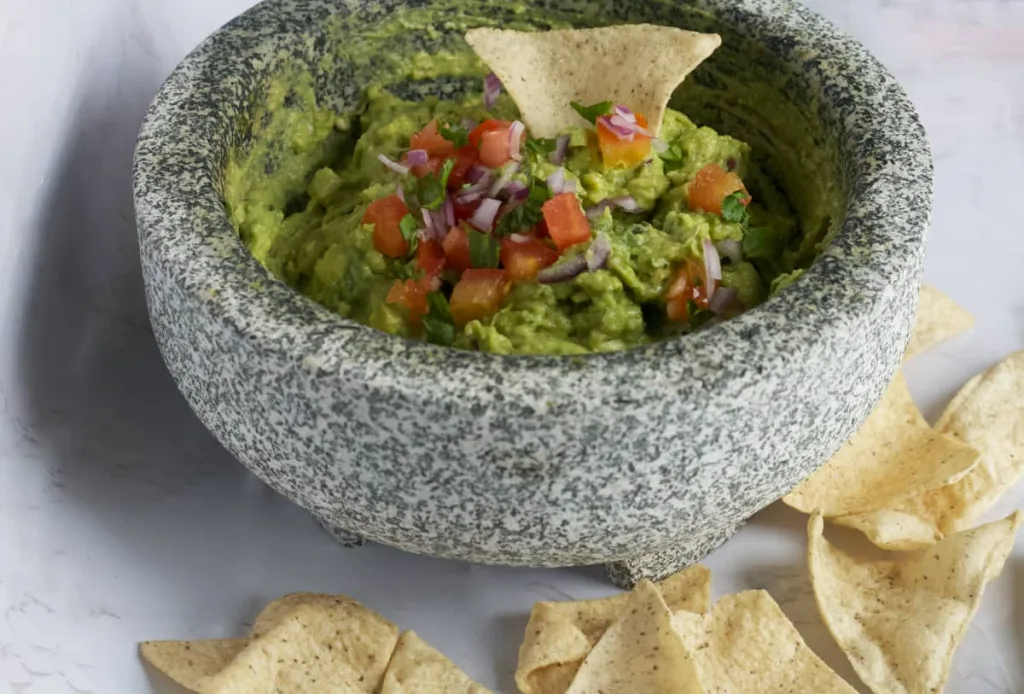 Guacamole is a classic Mexican dish that is a staple at parties and is unfortunately always extra at Chipotle ;)! Made with ripe avocados, lime juice, cilantro, and a few other ingredients, this dish is not only delicious but also healthy.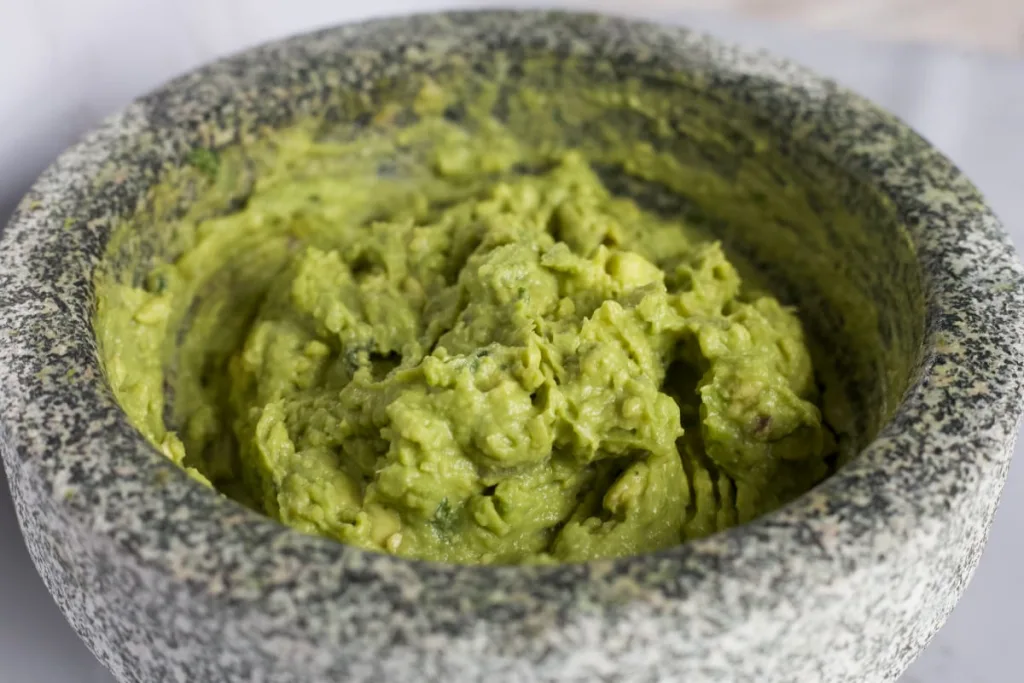 It is naturally gluten-free, dairy-free, and whole 30. Guacamole makes the best replacement for sauces and dips that are full of dairy or cheese.
How to pick ripe avocados
This is such an important skill to master at the grocery store! If the avocado is too soft you could end up with a mushy, brown, slimy avocado, too firm, and the avocado will be flavorless and too hard to mash into guacamole. The three common methods are
Skin check. Gently squeeze the skin. If it has a slight give, it is ripe. If it's too soft or mushy, it's overripe. Put it back. It isn't ripe if it feels hard and doesn't yield to any pressure.
Color. The skin should be a deep green color with no discoloration. If it is brown or black, it's overripe.
Stem check. (My personal favorite!) Remove the small stem of the avocado. It is ripe if it is easily removed, and the flesh is green underneath. Brown underneath is overripe, if it doesn't come off easily and the underneath is a very light green, it is not ripe yet.
Use a combo of these three methods to perform a perfect avocado assessment!
How to make guacamole not turn brown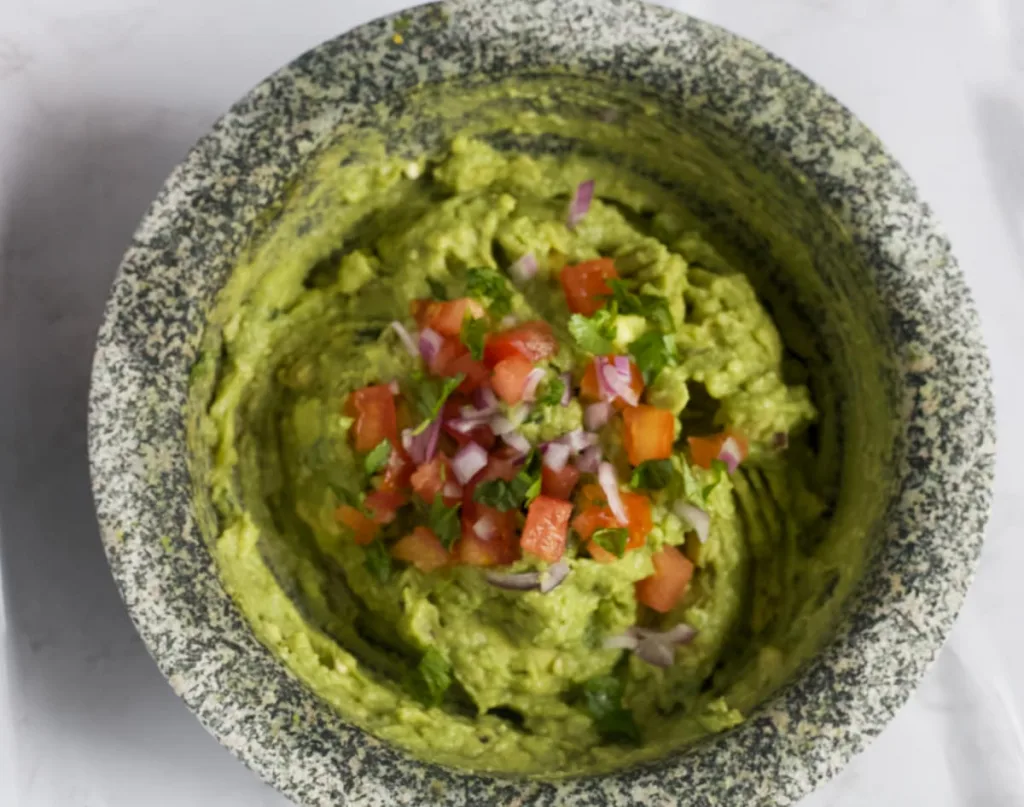 Immediately after an avocado is sliced, it's a race against the clock to keep it green and fresh. Oxidation causes the flesh to turn brown, affecting the taste and texture.
To slow down the oxidation process the best method I have found is to smooth the top layer of guacamole so it is even and smooth. Then, pour lime juice on top so it creates a thin layer of lime juice between the guacamole and air. Next, press plastic wrap so it is flush with the lime juice and guacamole. I mean really press!! Wrap it tightly around the dish so there is no air coming through to touch the guacamole. You really want it airtight. I've tested this method and it keeps for up to 5 days in my fridge!! (A true miracle)
What do I do with my guacamole?
Oh, so many wonderful things!! Put a heaping amount on tacos, I love it on top of my Healthy Paleo Salmon Tacos, Gluten-free Chicken Street Tacos, and Easy Gluten-Free Buffalo Quesadilla. You can also use it as a dip with pretzels, chips, or raw veggies (If following whole30). A recent love of mine is to use it on avocado toast with a sunny-side-up egg on top.
The options are truly endless.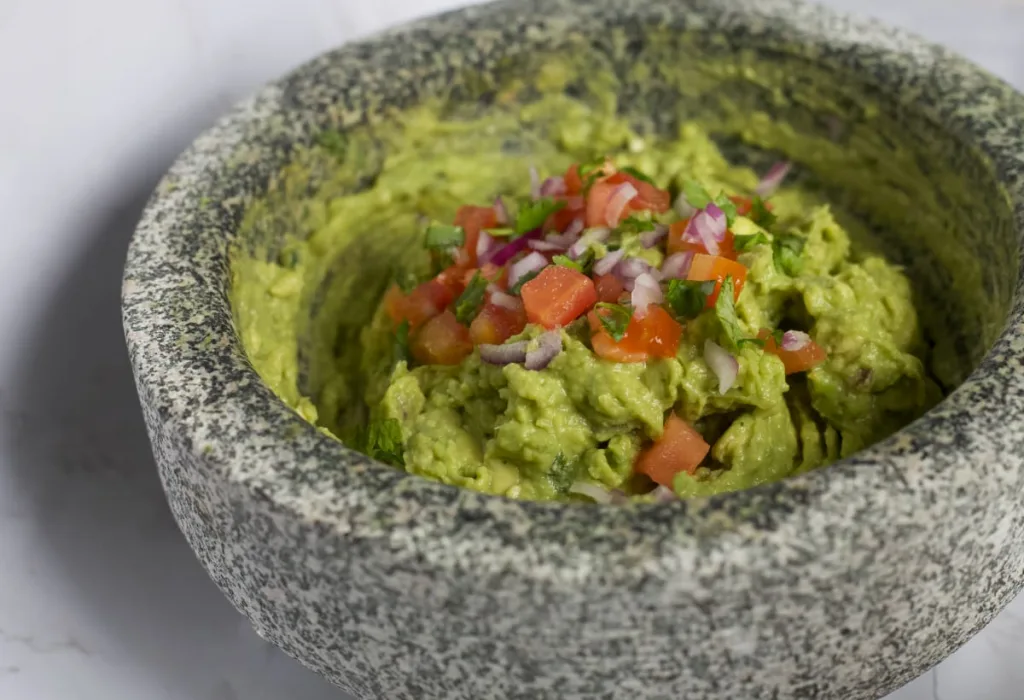 What type of avocado should I buy?
Hass avocados are a personal favorite of mine. They are generally the bigger variety and are available all year round. It has a creamy texture and a rich, nutty flavor, making it perfect for making guacamole, spreads, and dips. If you are using smaller avocados, it may be best to use 4 avocados instead of 3.
Authentic method of making guacamole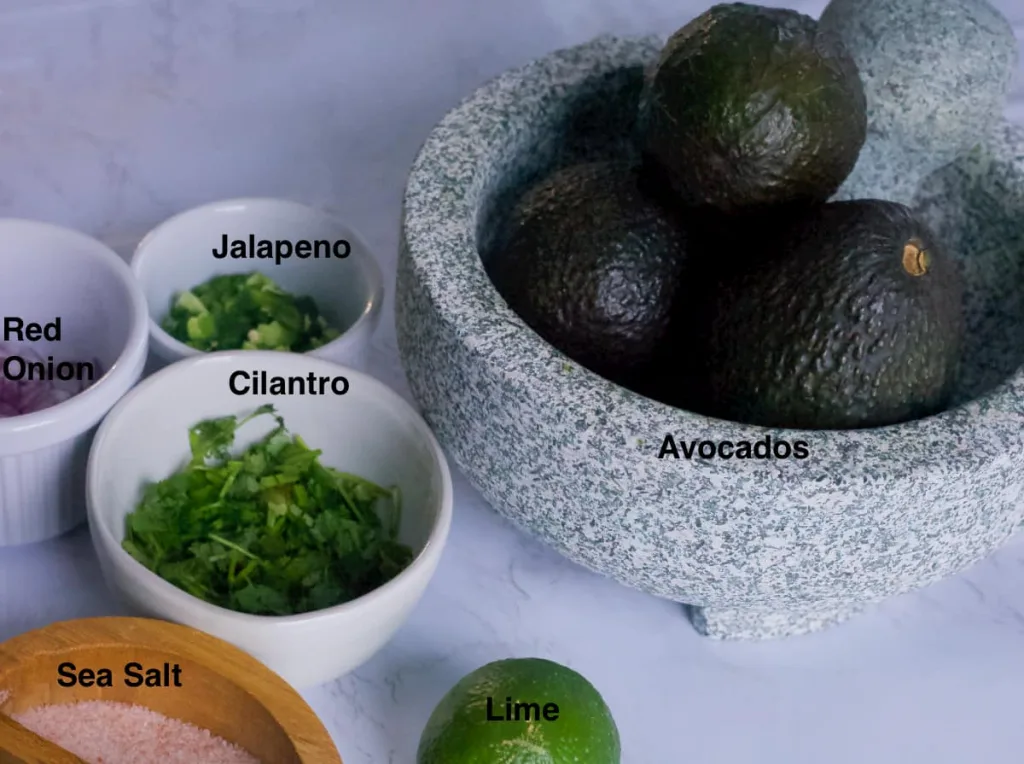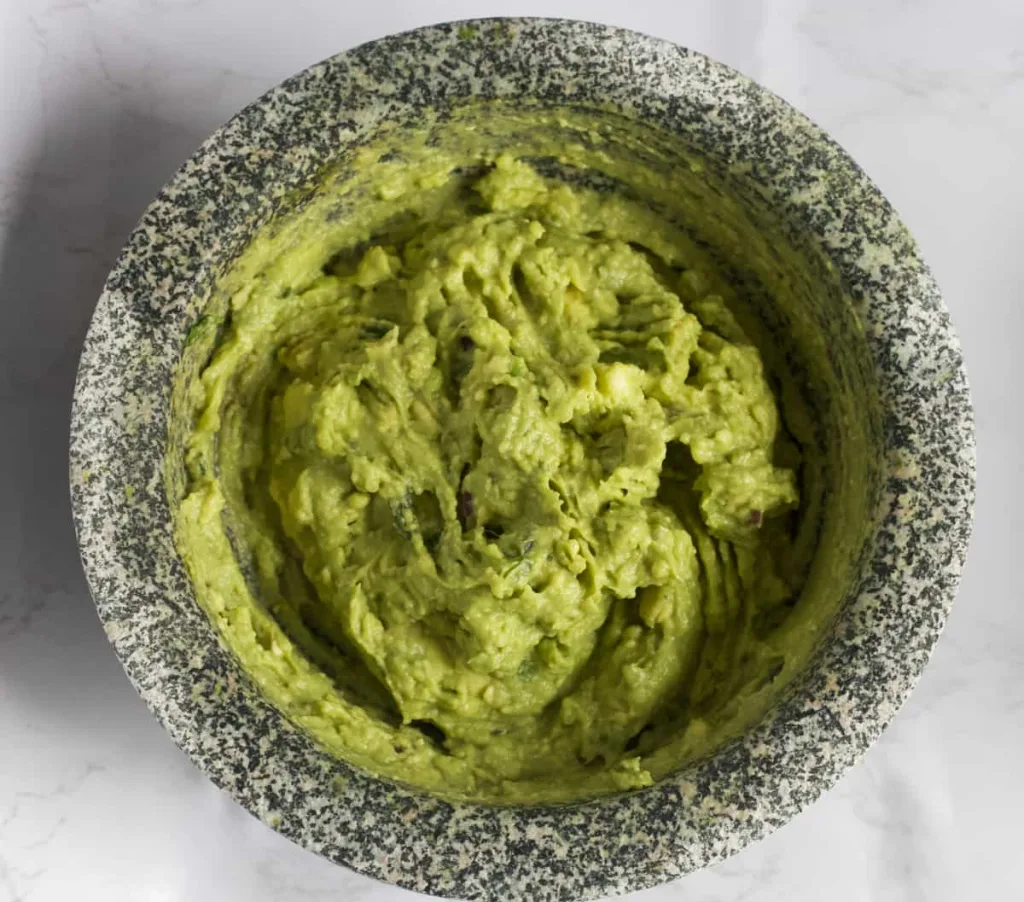 Listen, this method is *chefs kiss*. I have made guacamole hundreds of times and it wasn't until I ordered a mortar and pestle that I truly experienced guacamole in its richest form!
This is the mortar and pestle I have. I love it because it holds 4 cups and is big enough to do all my mashing and serving in one beautiful granite bowl! A lot of other mortar and pestles are tiny and are basically for only grinding spices.
*Affiliate link.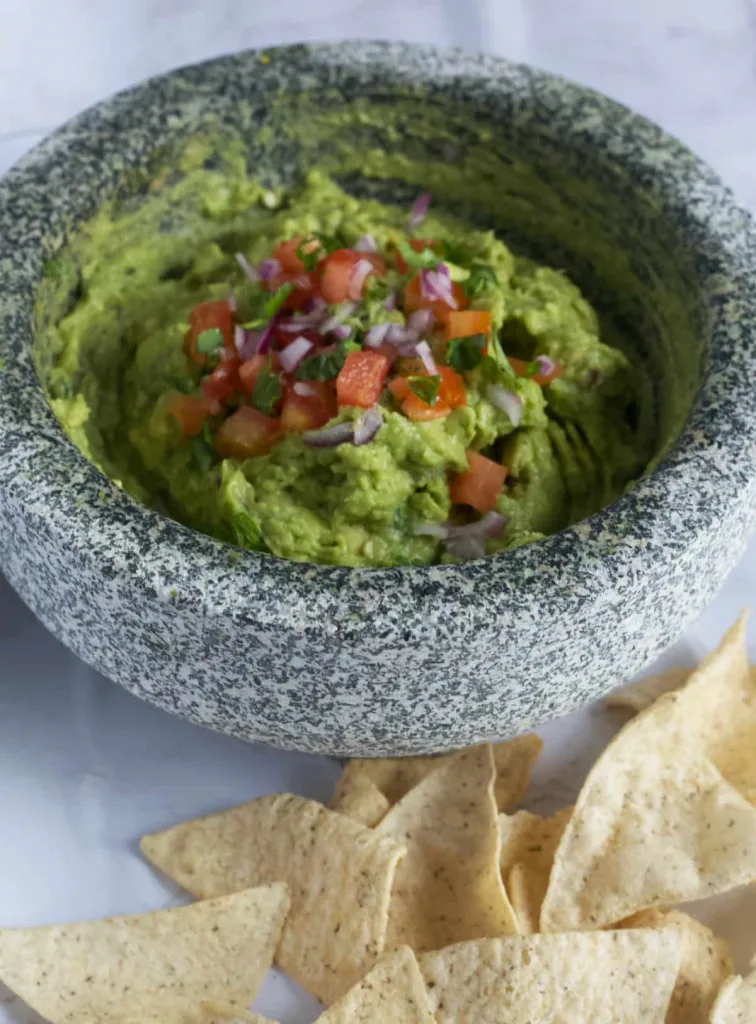 This authentic method grinds half the ingredients first until it becomes a paste.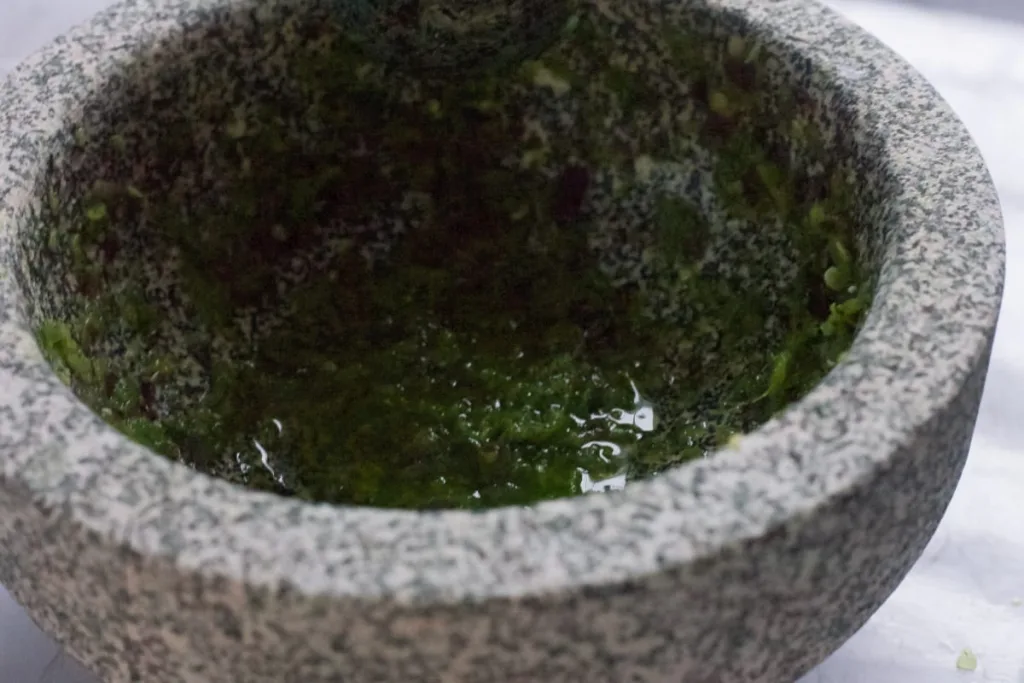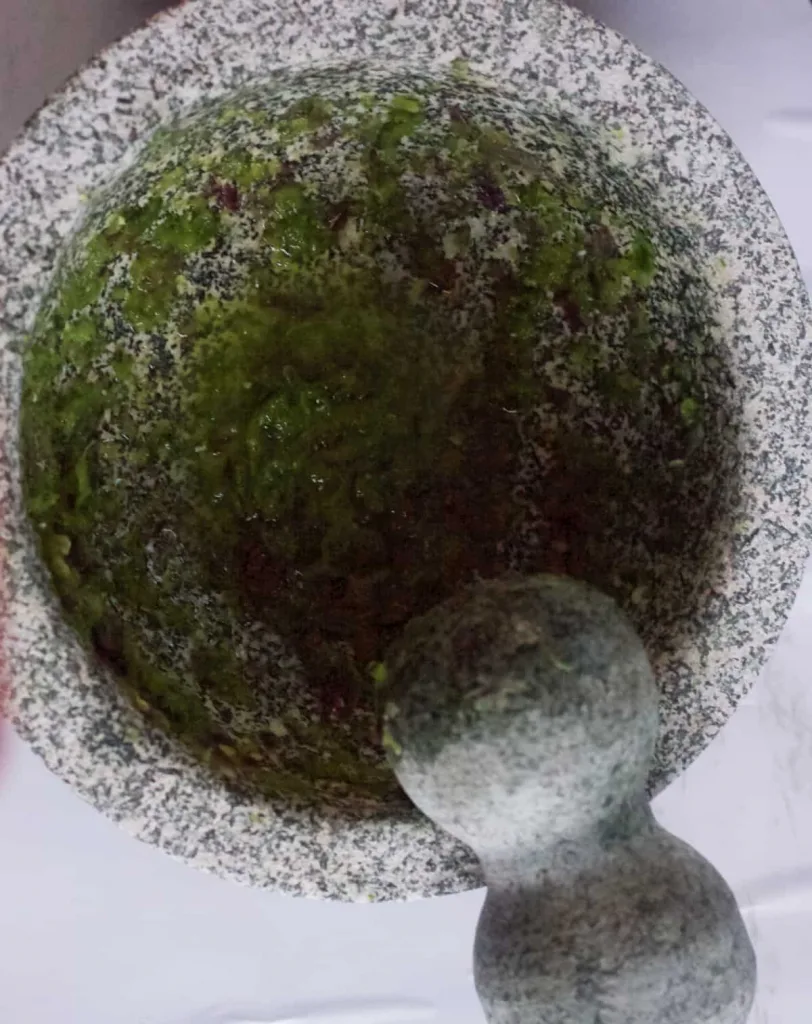 That paste is then mixed with mashed avocado and added to the rest of the chopped ingredients. Grinding the aromatics first releases the natural oils and flavors of the ingredients, resulting in a more robust and full-flavored guacamole. (Trust me!) The overall result is a smooth, flavorful guacamole that includes bites of chopped fresh ingredients, which adds an extra element of flavor and texture.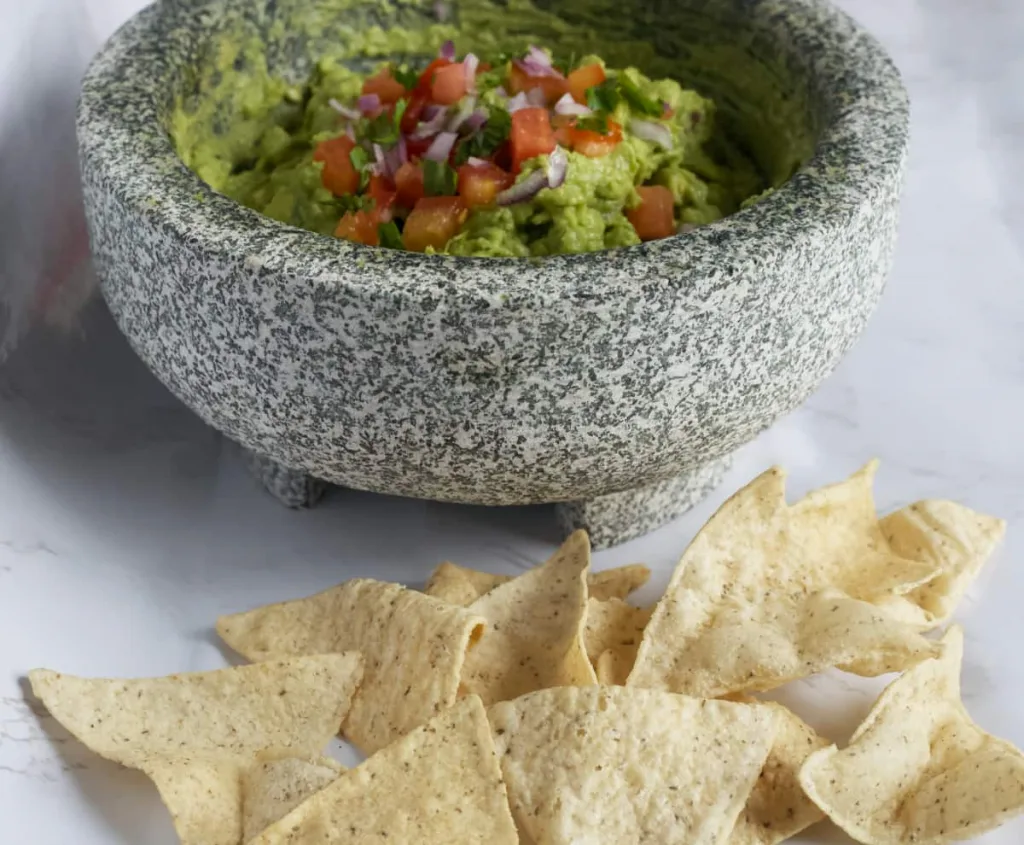 This method is absolutely optional and not at all required. Using a mortar and pestle to make guacamole is a recommended method for those who want a traditional, authentic, and flavorful dish. It also offers a hands-on and tactile cooking experience that is satisfying and so fun!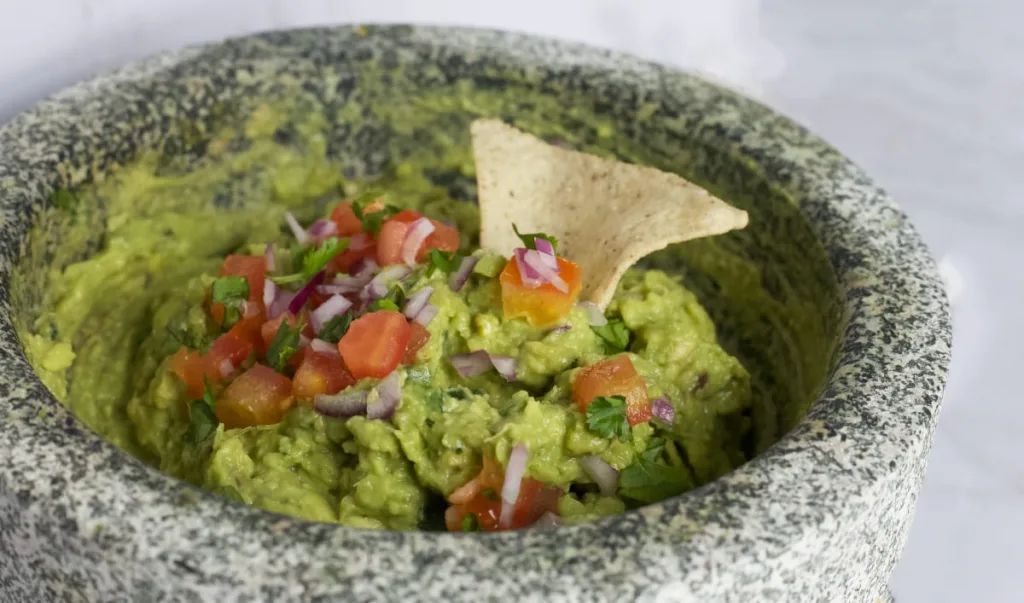 Common method
Let's be real, guacamole is great in all its forms. I promise doing it this common way with a good old fork and bowl will render wonderful results! This method couldn't be any easier than just mashing the avocados with a fork and then mixing in your chopped ingredients. That's it. Simple. Perfection.
Regardless of the method you choose, you will love your creamy guacamole, grab your ingredients, and let's get chopping!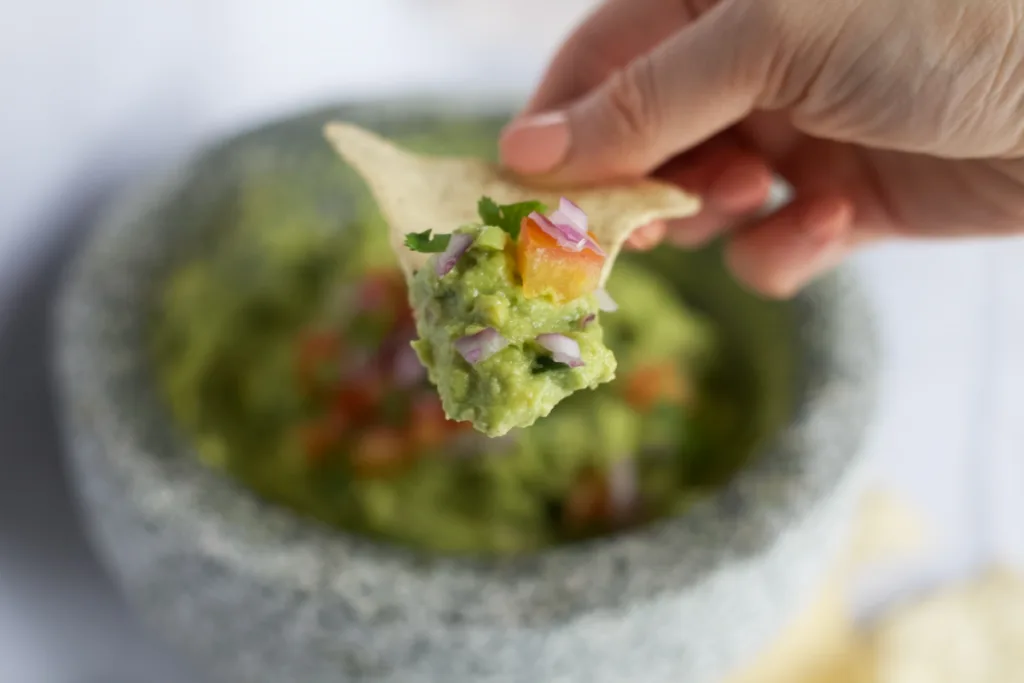 Let me know in the comments if you make this recipe!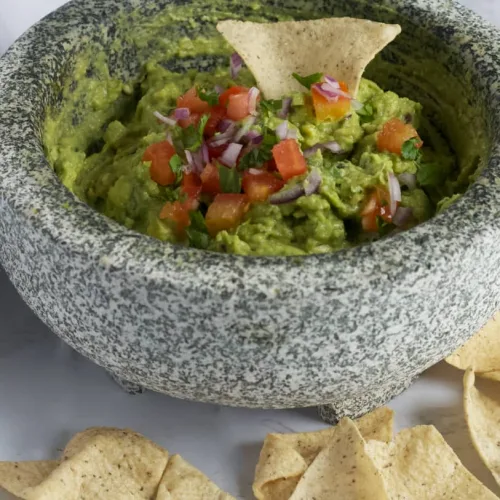 Guacamole
Simple, vibrant, fresh guacamole. Directions for the authentic mortar and pestle method and the common method.
Ingredients
3

hass avocados

if your avocados are very small, use 4.

1

lime, juiced

1/3

cup

cilantro, finely chopped

1/2

red onion, finely diced

or a white onion (I just love the flavor red onion gives!)

1

small jalepeno, finely chopped

remove the seeds if you do not want it spicy!

1/2

teaspoon

sea salt
Instructions
Molcajete (Mortar and Pestle) Method -Recommended!
Take about half of the amount of chopped cilantro, half the amount of red onion, and half the amount of jalapeno and put it into the Molcajete (Mortar).

Squeeze some lime and sprinkle some sea salt on top of the cilantro, red onion and jalapeno. Use the pestle to smash and grind the ingredients until it is a rough paste consistency. (enjoy the authentic process!)

Remove the skin and seed from the avocados and place them into the Mortar. Mash with the pestle until it is the chunky or smooth consistency you like. Add in the rest of the chopped ingredients and lime juice, using a spoon to combine everything. Taste and see if it needs more salt, lime, ect..and adjust to your preference! Serve with tortilla chips or fresh veggies and ENJOY! (see blog post above about proper storage)
Common Method
Using a large wide bowl and a fork, smash the avocados until it is the chunky or smooth consistency you prefer. Add the lime juice, chopped cilantro, chopped red onion, chopped cilantro, and sea salt. Combine everything with a spoon until it's well incorporated. Taste and adjust to your perference and add more lime, salt..ect. Serve with tortilla chips or fresh veggies and ENJOY! (See blog post about proper storage)
Want Quality Groceries Shipped to Your Front Door at an Unbelievably Great Price?
Thrive Market offers a wide variety of high-quality, non-toxic, and organic products at wholesale prices. By becoming a member, you can save up to 50% off traditional retail prices on everything from pantry staples to beauty and personal care items. Additionally, Thrive Market offers a 30-day risk-free trial, so you can try it out and see the savings for yourself. Signing up for Thrive Market also supports their mission to make healthy living accessible to everyone, including their commitment to providing free memberships to low-income individuals and families. With Thrive Market, you can save money and make a positive impact, all while getting the healthy products you need.
---