*I only recommend products I would use myself and all opinions expressed here are my own. This post may contain affiliate links that earn me a small commission, at no additional cost to you. Read our full site disclaimer HERE.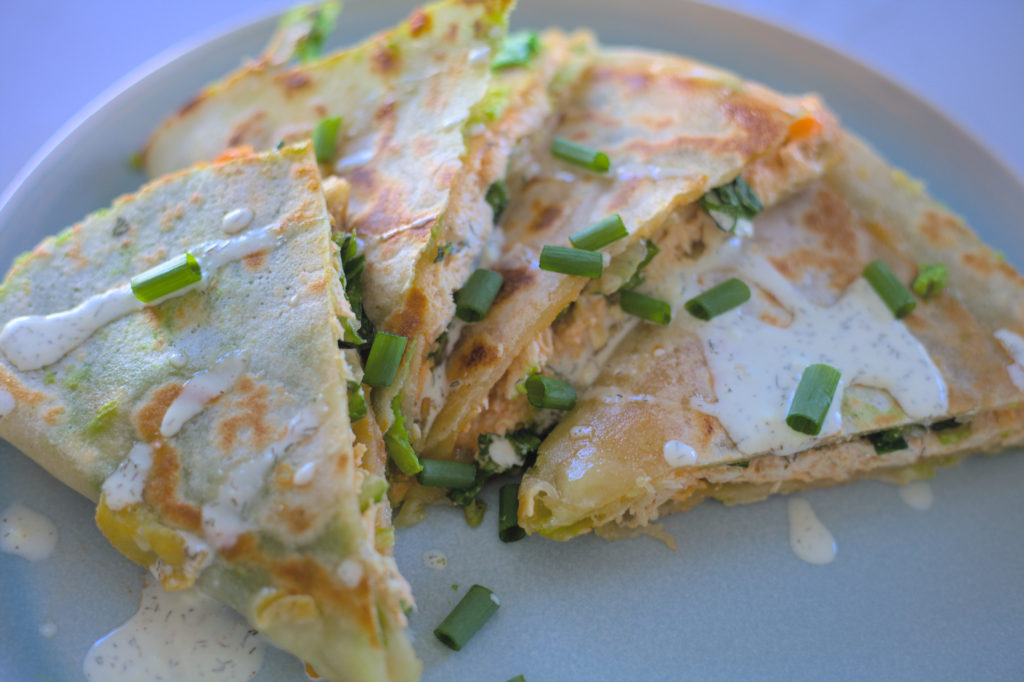 With Superbowl this weekend, there are more than enough buffalo wing recipes floating around. This quesadilla recipe makes for a different, fun appetizer for any game-day spread. It is full of buffalo spice flavor, fresh crunchy texture from the romaine lettuce, and a cheesy layer to top it off.
This also makes a delicious, quick lunch or dinner. I love to meal prep a package of chicken breasts at the beginning of the week, shred it, and toss it in buffalo sauce. Then, I have the chicken ready on hand for a quick lunch quesadilla throughout the week.
I love this recipe because it tastes like take-out, but has fresh, good-quality ingredients that I have control over.
This recipe is gluten-free and can be modified to be dairy-free with vegan cheddar cheese.
This quesadilla is best served fresh with chopped green onions on top and ranch (dairy-free, if desired) or blue cheese on the side for dipping.
I hope you love it as much as I do!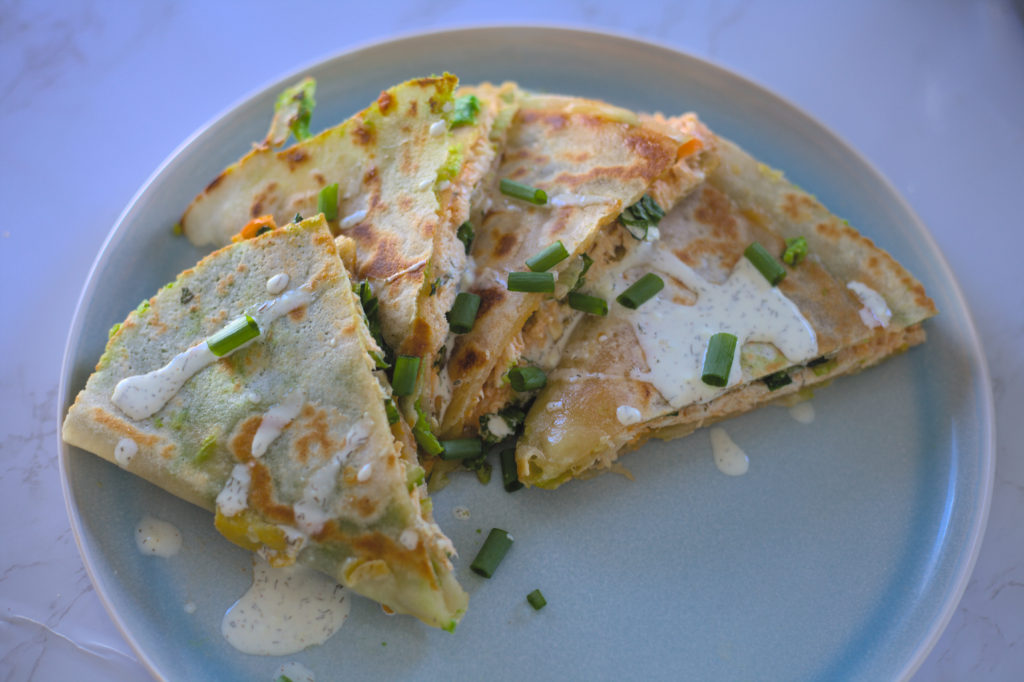 Frequently Asked Questions
What buffalo sauce do you use?
You can use any bottle of buffalo sauce you have on hand. I love Primal Kitchen Buffalo sauce (affiliate link). It has clean ingredients, is paleo, gluten-free, dairy-free, and tastes fantastic! Another option is to make your own by simply mixing mayonnaise and "Franks" red hot sauce until it's the heat preference you like.
What tortillaS do you recommend?
I used a Siete burrito-sized tortilla (affiliate link), which is gluten-free and worked perfectly. Any flour tortilla will work as well. For this style of quesadilla, you will need a "Burrito" sized tortilla so it folds properly.
Let me know if you tried this recipe in the comments!
Enjoy!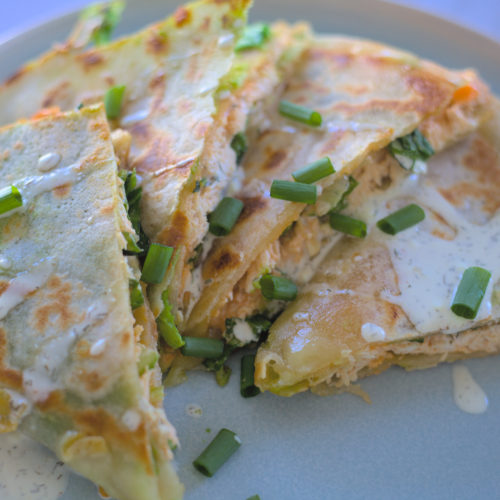 Easy Gluten-Free Buffalo Chicken Quesadilla
This easy, healthy, buffalo chicken quesadilla makes the perfect game-day appetizer or weekday lunch/dinner!
Ingredients
1/4 heaping

cup

shredded buffalo chicken

1/4

cup

shredded cheddar cheese

1/2

avocado (mashed)

1/4

cup

chopped romaine lettuce

1/4

cup

blue cheese sauce or ranch (optional: for dipping)
Instructions
Pre-heat your tortilla before filling it with toppings and folding it by heating it on a skillet for 30 seconds per side. This will help it fold without breaking. Use kitchen shears to cut a slit halfway through the middle of the tortilla. (It should look like Pac-Man with his mouth closed.)

Place the buffalo chicken on a quarter of the tortilla. Do the same with the romaine lettuce, cheese, and avocado until the tortilla is full.

Fold a quarter of the tortilla on to itself until it is completely sanwhiched into one quesadilla that is 1/4 of the original size of the tortilla. (I highly recommend watching the video attached to do it properly).

Preheat a non-stick skillet with 1 tbsp. of avocado oil over medium-high heat. Place the quesadilla on the pan and then apply pressure on top with a spatula or a pan to firmly press the quesadilla down so it is thin and crispy (about 2-3 minutes).

Gently flip and place pressure on top of the quesadilla for another 2 minutes until crispy.

Slice in half and enjoy dunked in ranch or blue cheese. Garnish with green onions if you want!
Want Quality Groceries Shipped to Your Front Door at an Unbelievably Great Price?
Thrive Market offers a wide variety of high-quality, non-toxic, and organic products at wholesale prices. By becoming a member, you can save up to 50% off traditional retail prices on everything from pantry staples to beauty and personal care items. Additionally, Thrive Market offers a 30-day risk-free trial, so you can try it out and see the savings for yourself. Signing up for Thrive Market also supports their mission to make healthy living accessible to everyone, including their commitment to providing free memberships to low-income individuals and families. With Thrive Market, you can save money and make a positive impact, all while getting the healthy products you need.
---