*I only recommend products I would use myself and all opinions expressed here are my own. This post may contain affiliate links that earn me a small commission, at no additional cost to you. Read our full site disclaimer HERE.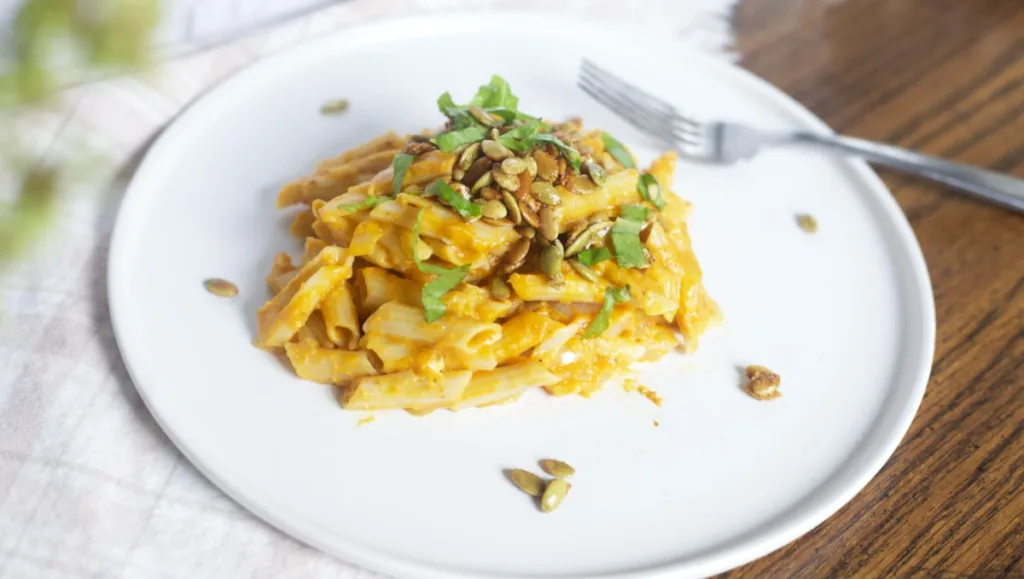 Don't throw away that last bit of pumpkin in that can! Use your leftover pumpkin puree from fall baked goods in this fantastic pumpkin pasta recipe. Let me tell you, this is definitely not a "leftover" tasting recipe. I would choose this pasta over most other pasta options in a restaurant. It's the perfect balance of savory, nutty, and slightly sweet.
Also, this rich pumpkin pasta is great for anyone who may be sensitive to tomato sauce!
It's also paleo, gluten-free, and vegan!
What goes well with pumpkin pasta sauce?
Protein: Grilled chicken, roasted turkey, Italian sausage, or crispy crumbled bacon can add a protein boost and complement the creamy pumpkin sauce.
Vegetables: Roasted or sautéed vegetables like spinach, kale, mushrooms.
Herbs and Spices: Fresh herbs like sage, thyme, or basil, along with spices such as nutmeg, cinnamon, or red pepper flakes, can enhance the sauce's flavor.
Nuts: Toasted pine nuts or chopped walnuts can add a delightful crunch and nutty flavor. I choose herby pumpkin seeds to top mine, because, obviously!
Cheese: Parmesan, pecorino, or goat cheese can be grated or crumbled on top for a cheesy finish.
Bread: Serve with crusty bread or garlic bread to mop up the delicious sauce.
Salad: A side salad with mixed greens, dried cranberries, and a vinaigrette dressing can provide a refreshing contrast.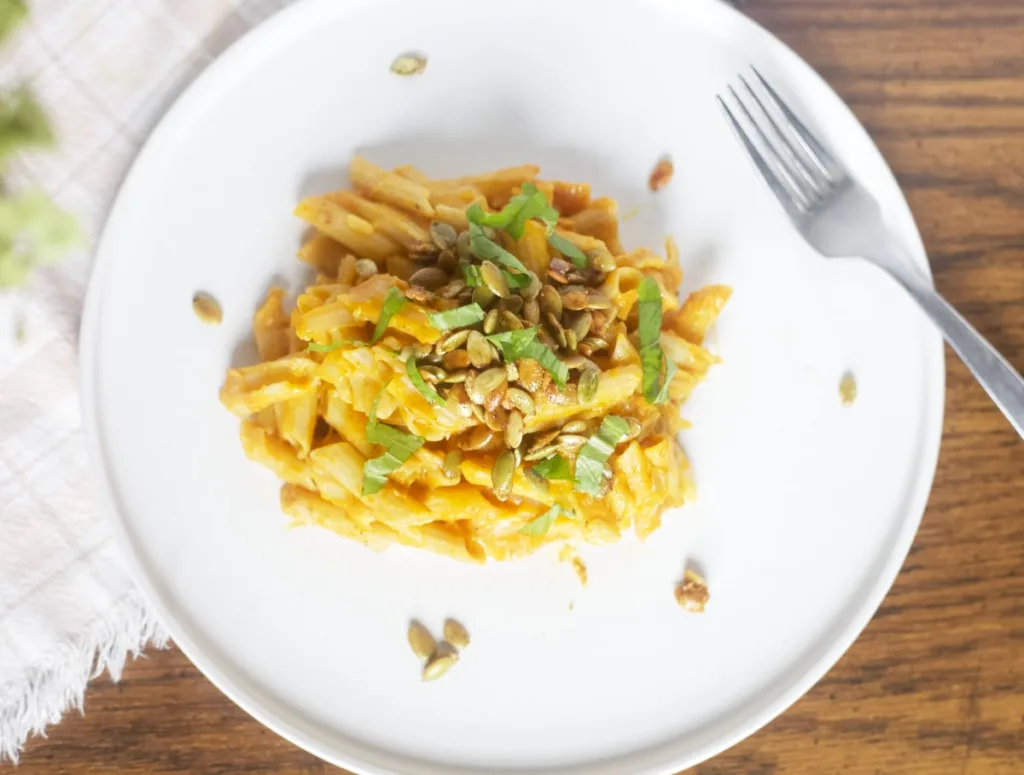 Ingredients and Substitutions for Pumpkin Pasta
Pumpkin Puree- This is NOT pumpkin pie filling!! Do not get them confused. Pumpkin puree has one ingredient: pure pumpkin! That's all we want here.
Coconut Cream: The top hardened part of a can of coconut milk. This keeps the recipe dairy-free and vegan. It will not make your pasta taste like coconut at all! You can also use normal heavy cream if you are not dairy-free.
Sea Salt
Maple Syrup: Just a touch is all you need! it really brings out all the fall flavors and adds a wonderful richness to this pasta. Alternatively, you can use honey.
Garlic Cloves
White Onion
Nutmeg: Just a pinch to make the fall flavors come to life.
Thyme
Black Pepper
Pasta Water: This is the starchy water that you boil the pasta in! Reserve some to help thin the thick pumpkin sauce.
Pasta – Choose pasta shapes that hold sauce well, such as fettuccine, penne, or rigatoni. My favorite gluten-free pasta is brown rice pasta, I think it mimics traditional pasta the best!
Brown Rice Gluten-free Pasta:
Paleo Cassava Flour Pasta:
Topping (optional)
Pumpkin Seeds: You can really use any nut or seed you love for this! But pumpkin seeds were an obvious choice for me. I love the brand below for pumpkin seeds. They are sprouted which makes them easier to digest and you absorb the nutrients better. Win-win! Also, they make the best crunchy snack on their own.
Garlic Powder
Maple Syrup- You can also use honey
Frequently Asked Questions About Pumpkin Pasta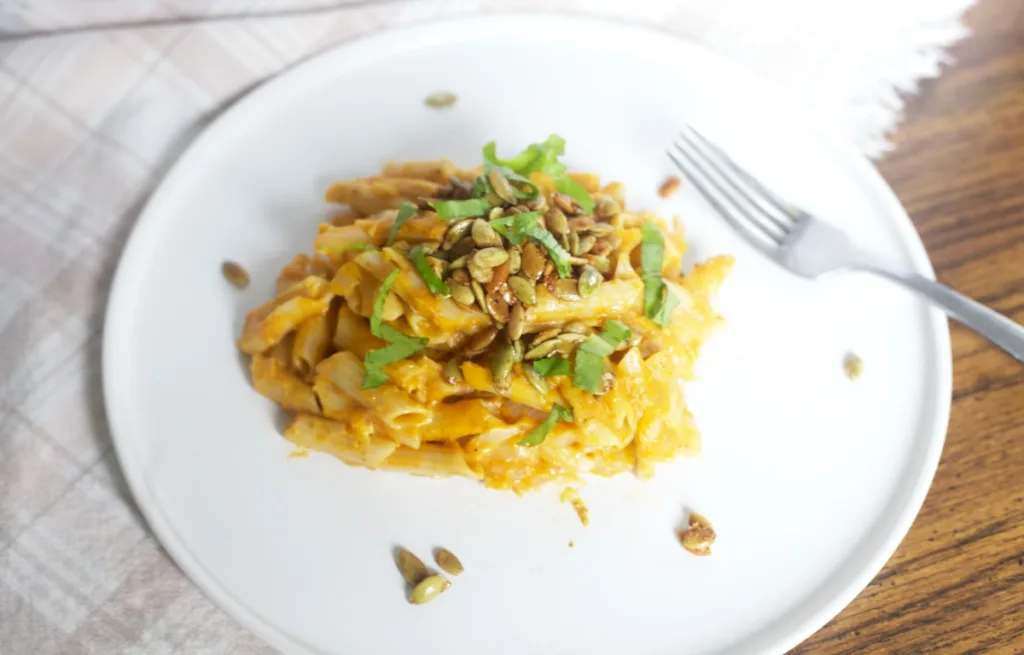 What can I use as a pasta substitute for paleo pumpkin pasta?
Common pasta substitutes for paleo pumpkin pasta include spiralized zucchini (zoodles), sweet potato noodles, butternut squash noodles, or spaghetti squash.
Can I add meat to paleo pumpkin pasta?
Yes, you can add grilled chicken, turkey, or ground beef to enhance the dish's protein content. I LOVE adding crumbled bacon instead of/with the herby pumpkin seeds!
Can I meal prep paleo pumpkin pasta?
Yes, you can prepare paleo pumpkin pasta in advance and store it in the refrigerator for a few days. However, it's best to keep the pasta separate until serving to prevent it from becoming mushy.
If you love pumpkin recipes try my: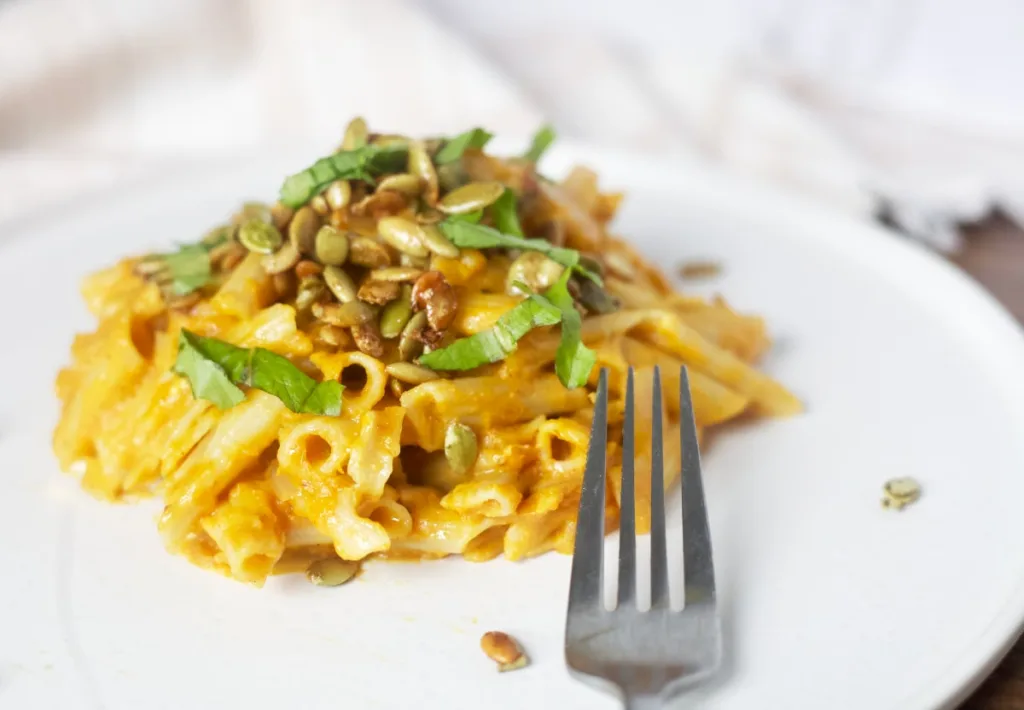 Alright, ya'll let's make this absolutely delicious, easy pumpkin pasta!! And please leave a review if you try this recipe!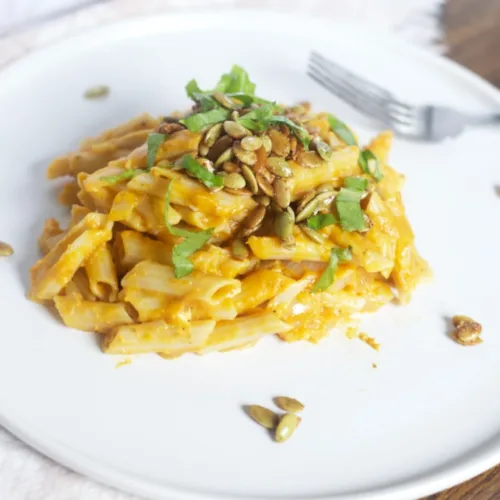 Pumpkin Pasta | Dairy-Free | Gluten-Free
Creamy and savory pasta cooked with a rich pumpkin-based sauce, seasoned with aromatic herbs and spices.
Ingredients
Pumpkin Pasta Sauce
1/2

tablespoon

avocado oil

1/2

small

diced white onion

2

teaspoons

dried thyme

1/4

teaspoon

nutmeg

2

cloves

finely ficed garlic

3/4

cup

pumpkin puree

1/2

cup

coconut cream

the thick part of a can of full fat coconut milk!

1/2

tablespoon

maple syrup

1

teaspoon

sea salt

1/2

teaspoon

black pepper
Pasta
2

cups

uncooked pasta

see post above for reccomendations!

1/2

cup

pasta water

the reserved starchy water leftover after boiling the pasta!
Herby Pumpkin Seed Topping (Optional)
1/4

cup

pumpkin seeds

1/4

teaspoon

garlic powder

1/2

teaspoon

maple syrup

pinch of salt

only if your pumpkin seeds are not already salted!
Instructions
Boil 2 cups of pasta in a pot according to package instructions.

While the pasta is boiling, heat a medium-sized skillet on medium heat with a little bit of avocado oil. Add the diced onion and cook it until it's translucent. Then, add the diced garlic, thyme and nutmeg and stir until fragrant (about 30 seconds).

Add the pumpkin puree, coocnut cream, maple syrup, sea salt and pepper to the mixture, stirring until everything is full combined.

Pour about 1/2 cup pasta water into the sauce to thin it out, stirring and adding more until it is the consistency you like! Taste and season to your liking. Combine cooked and drained pasta with the sauce.

To make the herby pumpkin seed topping: Add a tiny bit of avocado oil to a small saute pan on medium heat. Add the pumpkin seeds, garlic powder, and maple syrup to the pan until it is slightly golden brown and fragrant. (About 2 minutes). Sprinkle on top of your pasta and ENJOY!!!!
Notes
Storage: If you are not planning on eating all of this in one sitting, I suggest not mixing all the pasta with the sauce as it will get pretty mushy in the fridge. Store the pasta and sauce separately, mixing before eating and you will have the best pumpkin pasta leftovers!
Will last 3-5 days in an airtight container in the fridge.
Want Quality Groceries Shipped to Your Front Door at an Unbelievably Great Price?
Thrive Market offers a wide variety of high-quality, non-toxic, and organic products at wholesale prices. By becoming a member, you can save up to 50% off traditional retail prices on everything from pantry staples to beauty and personal care items. Additionally, Thrive Market offers a 30-day risk-free trial, so you can try it out and see the savings for yourself. Signing up for Thrive Market also supports their mission to make healthy living accessible to everyone, including their commitment to providing free memberships to low-income individuals and families. With Thrive Market, you can save money and make a positive impact, all while getting the healthy products you need.
---