*I only recommend products I would use myself and all opinions expressed here are my own. This post may contain affiliate links that earn me a small commission, at no additional cost to you. Read our full site disclaimer HERE.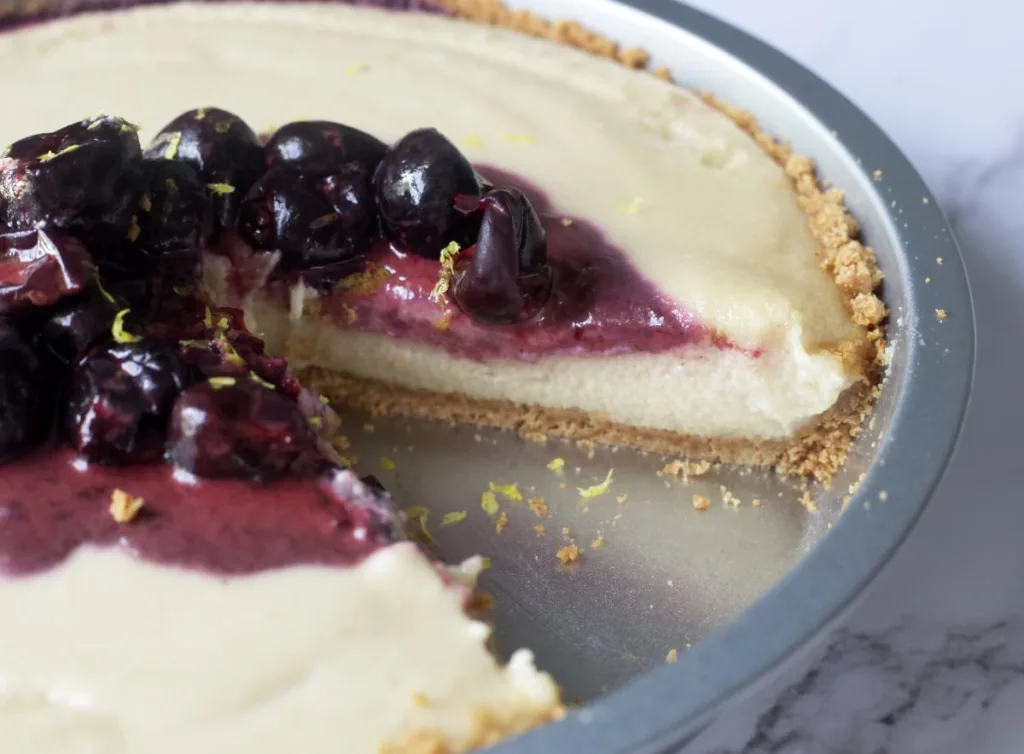 I'm so excited about this healthy cheesecake recipe!! This is a great no-bake cheesecake! Perfect for the summer heat when you do not want to turn your oven on.
It's also vegan, dairy-free, gluten-free, and paleo!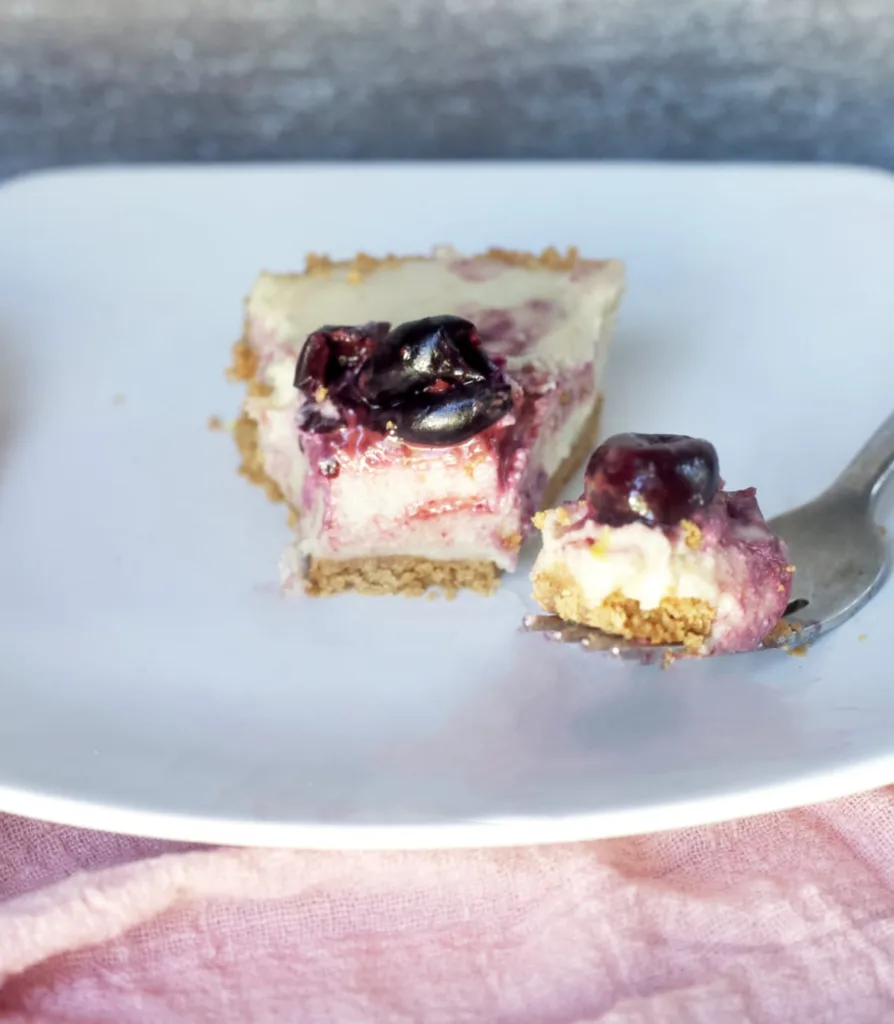 When I had the idea of a healthier cheesecake recipe that was also vegan and dairy-free I thought it would be near impossible. I mean cheese is the main ingredient in cheesecake, it's in most of the name! So like, how??
Well after much testing and failures, I found the how.
By using the perfect ratio of wholesome vegan and dairy-free ingredients.
What exactly is a raw, vegan, dairy-free healthy cheesecake recipe?
This delightful dessert is a creative twist on classic cheesecake, without the traditional loads and loads of dairy and refined sugar. Instead, I've crafted a scrumptious recipe using wholesome, plant-based ingredients that will satisfy your sweet cravings without compromising your health goals.
Health Benefits of this Delicious Dessert
The primary ingredient, cashews, provides a creamy, rich texture while offering essential minerals, healthy fats, and plant-based protein. Furthermore, the absence of dairy makes it a fantastic option for individuals with lactose intolerance or those looking to reduce their dairy intake.
Or this delicious dessert is just for your typical guy or gal who, like me, gets a stomach ache from a huge slice of rich indulgent traditional cheesecake!!
Frequently Asked Questions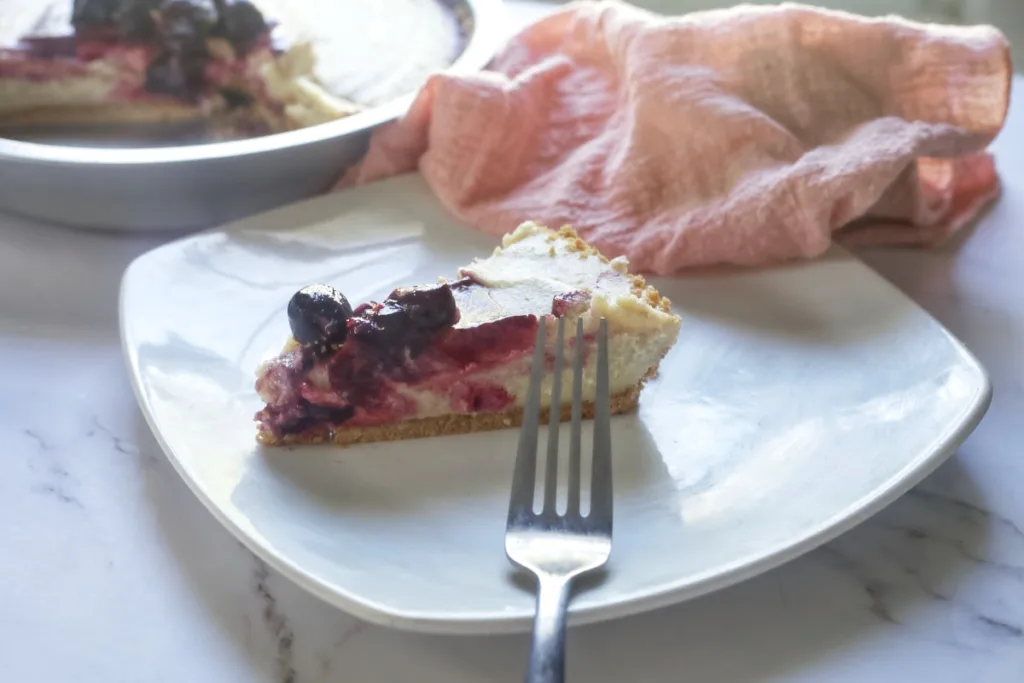 How long does a vegan cheesecake need to set?
Typically, a vegan cheesecake needs to set in the refrigerator for at least 4-6 hours, but overnight is best.
Can I freeze a vegan cheesecake?
Yes, you can freeze a vegan cheesecake for future consumption. Make sure to wrap it tightly in plastic wrap or aluminum foil before placing it in the freezer.
What toppings can I use for a vegan cheesecake?
There are various options for toppings, such as fresh fruit, fruit compote, vegan chocolate ganache, coconut whipped cream, or chopped nuts. I went for the classic cherries on top, but you can swap it for any topping you love, or eat it plain!
Ingredients and Substitutions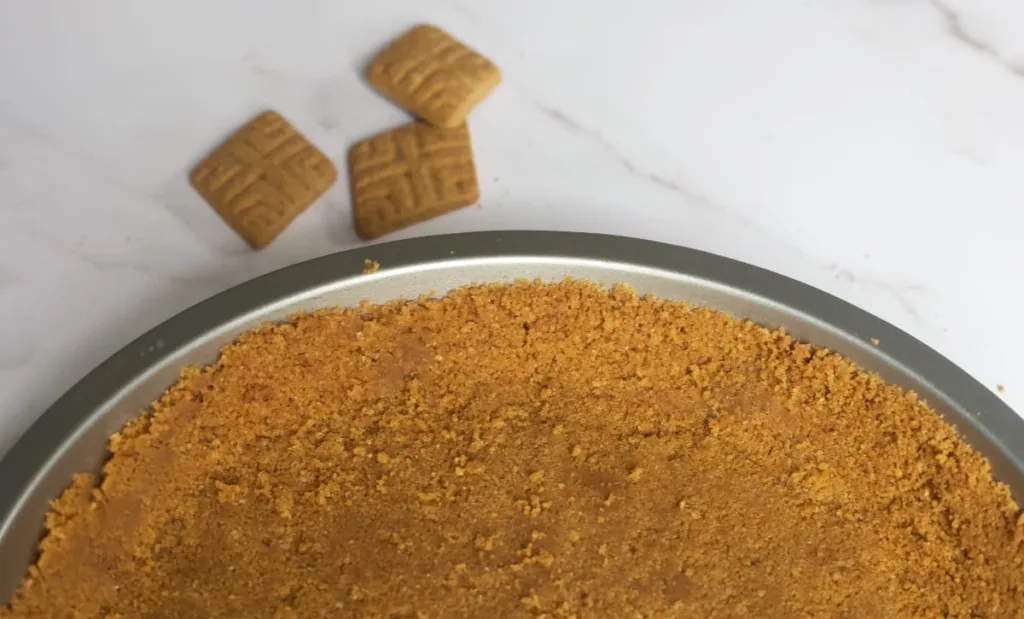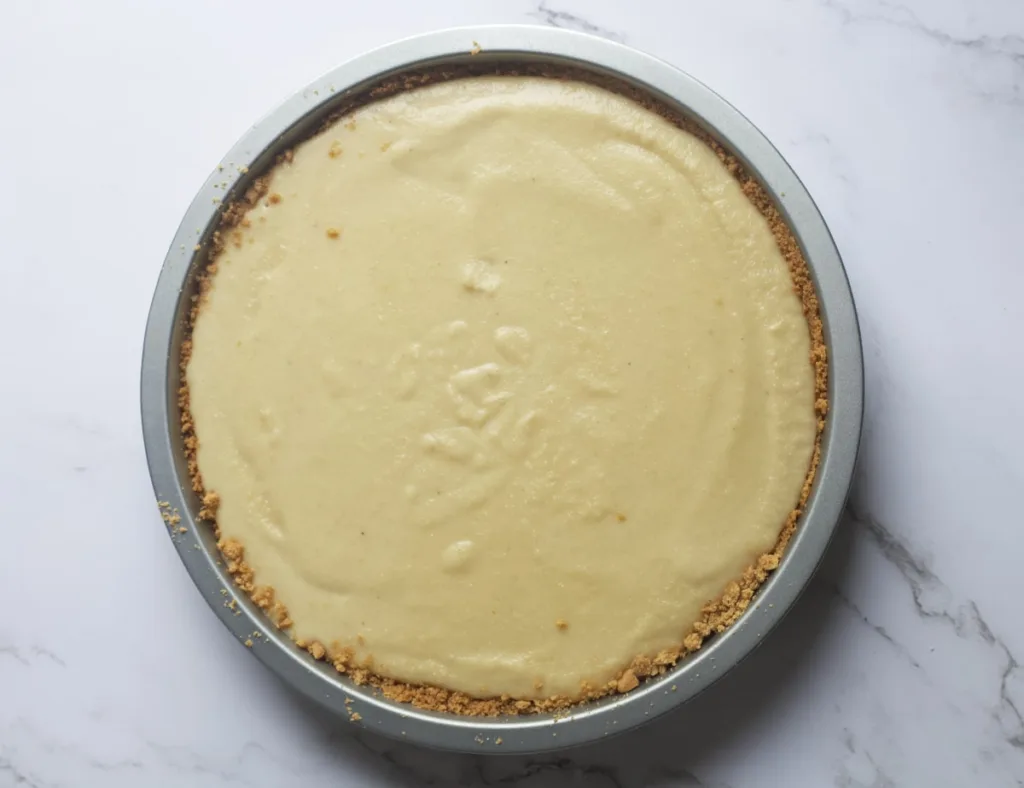 Graham Cracker Crust
crushed graham crackers- To keep it paleo and vegan I used Simple Mills Honey Cinnamon Seed Thins. They are truly the BEST tasting paleo, gluten-free, and vegan graham cracker substitute. They are small cookies which makes it even easier to blitz in the food processor or to crush for the crust. You can also use any graham cracker you like and that suits your dietary preferences! Any graham cracker will work here.
refined coconut oil– Make sure you look for "refined" coconut oil otherwise your cheesecake will have a slight coconut taste.
vanilla– necessary for great flavor, don't skip this!
Filling
raw cashews– make sure they are raw and not roasted or the cheesecake will have a strong cashew taste. I wouldn't subsitute with another nut because cashews are most neutral in flavor.
refined coconut oil
maple syrup– If you aren't vegan you can subsitute with honey.
full-fat coconut cream– You can buy cans of coconut cream or you can buy a can of coconut milk and it is the thick portion that settles on top of the liquid.
lemon juice– Fresh squeezed is always best!!
vanilla
sea salt
Cherry Topping
frozen sweet cherries– you could also do fresh, make sure you pit them. Alternatively, you can use any berry you like!! I love strawberry and blueberry.
Maple syrup– If you aren't vegan you can subsitute with honey.
vanilla
tapioca flour– The only subsitute I would recommend would be arrowroot flour or corn starch if you are not paleo.
Don't skip this tip
Make sure to allow it to set in the fridge for a good 5 hours or overnight if you can!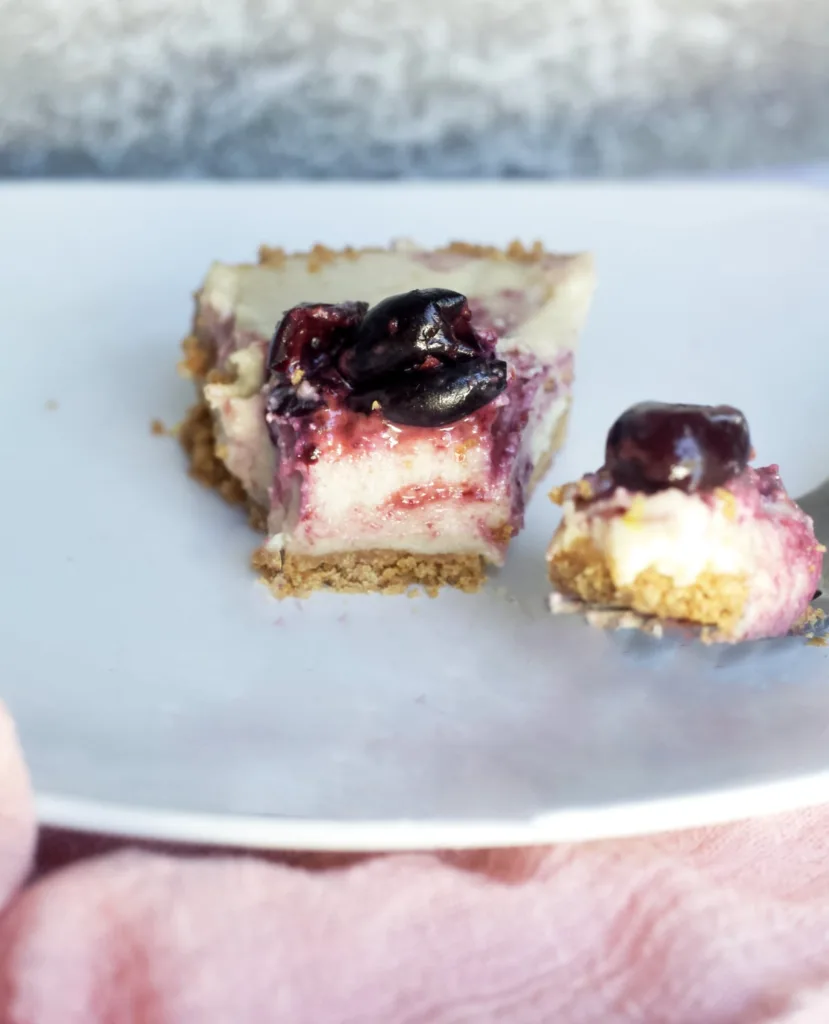 If you love dairy-free and vegan no-bake desserts, you will love my Tahini Chocolate Chunk Ice Cream and my Vegan and paleo Ice Cream Sandwich!!
If you make this cheesecake, please leave a review and let me know how you liked it!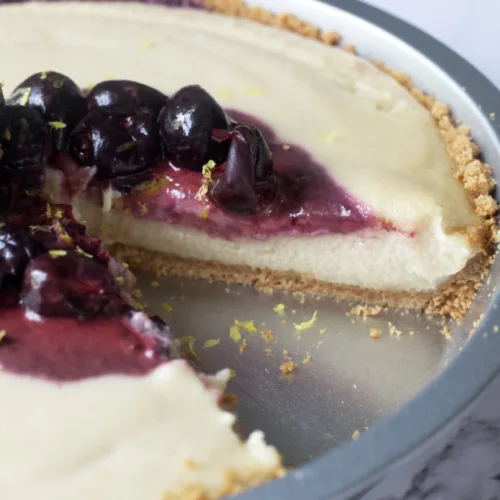 Healthy Cheesecake Recipe- No Bake, Vegan, Dairy-Free, Paleo
Lusciously rich and smooth dessert with a graham cracker crust that is suitable for many dietary restrictions!
Ingredients
Crust
2 1/4

cup

crushed graham crackers

see ingredient list for reccomendations!

3

tablespoons

melted refined coconut oil

1

teaspoon

vanilla
Filling
2

cups

raw cashews

1/3

cup

melted, refined coconut oil

3/4

cup

maple syrup

1/2

cup

full-fat coconut cream

(the hardened top part of a can of coconut milk)

2

tablespoons

lemon juice

freshly squeezed

2

teaspoons

vanilla extract

1

pinch

sea salt
Cherry Topping
1

cup

frozen sweet cherries, thawed

1

tablespoon

maple syrup

1

teaspoon

vanilla

1

tablespoon

tapioca flour
Instructions
Put the cashews in a bowl and pour boiling hot water on top and allow to soak for 1 hour.

While the cashews are soaking, put all the "crust" ingredients in a food processor and process until its a fine crumbly texture. If you don't have a food processor you can put the graham crackers in a ziploc bag and roll them with a rolling pin until it is a crumbly texture. Then, mix the coconut oil and vanilla with the crushed graham crackers in a bowl until it's a crumbly texture.

Grease a 9 inch circle pan with coconut oil. Then, pour the mixture into the greased pan and use the back of a spoon or your fingers to press the crumbs firmly into the bottom of the pan and up the sides. Ensure an even and compact layer. Allow the crust to chill in the fridge for 15 minutes or while you wait for the cashews to be done soaking.

Once the cashews are done soaking, combine all the "filling" ingredients in a food processor or high-speed blender until it is very smooth and creamy. Be sure the cashews are completely blended through. (At least a few minutes of blending!)

Pour the filling onto the chilled crust and spread it so it is smooth and even on top. Cover and chill the cheesecake in the fridge for at least 5 hours, preferably overnight.

Once the cheesecake has chilled for at least 5 hours, make the topping by combining the thawed cherries, maple syrup, vanilla and tapioca flour together. Use a spoon to dallop the cherries onto the middle of the cheesecake. I don't use the liquid of the cherries because it will make your cheesecake a little soggy and liquidy on top.

Slice and enjoy!!!!!
Want Quality Groceries Shipped to Your Front Door at an Unbelievably Great Price?
Thrive Market offers a wide variety of high-quality, non-toxic, and organic products at wholesale prices. By becoming a member, you can save up to 50% off traditional retail prices on everything from pantry staples to beauty and personal care items. Additionally, Thrive Market offers a 30-day risk-free trial, so you can try it out and see the savings for yourself. Signing up for Thrive Market also supports their mission to make healthy living accessible to everyone, including their commitment to providing free memberships to low-income individuals and families. With Thrive Market, you can save money and make a positive impact, all while getting the healthy products you need.
---