*I only recommend products I would use myself and all opinions expressed here are my own. This post may contain affiliate links that earn me a small commission, at no additional cost to you. Read our full site disclaimer HERE.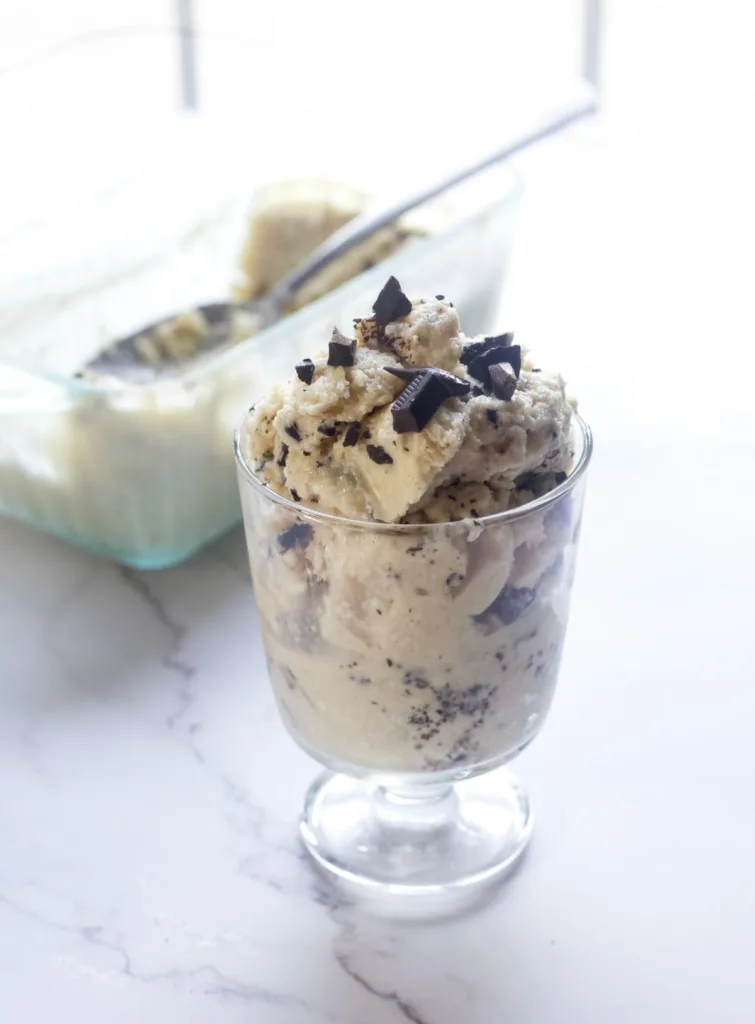 A sweet, creamy slightly nutty ice cream that will satisfy your ice cream craving in a guilt-free way!! This paleo ice cream is dairy-free, gluten-free, vegan, and refined sugar-free! Finding an ice cream shop or store with those labels is nearly impossible.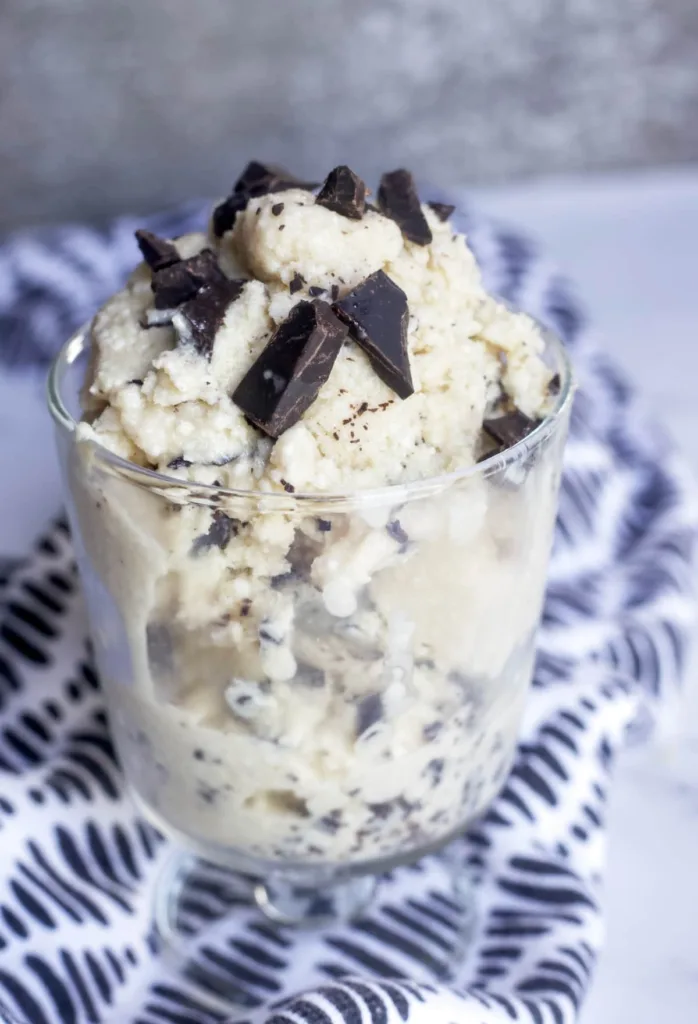 While traditional ice creams often contain refined sugars, dairy, and artificial additives, paleo ice cream is crafted from natural, unprocessed ingredients. By using alternatives like coconut milk, nut butter, and natural sweeteners, this frozen treat satisfies cravings while keeping you on track with your healthy eating goals.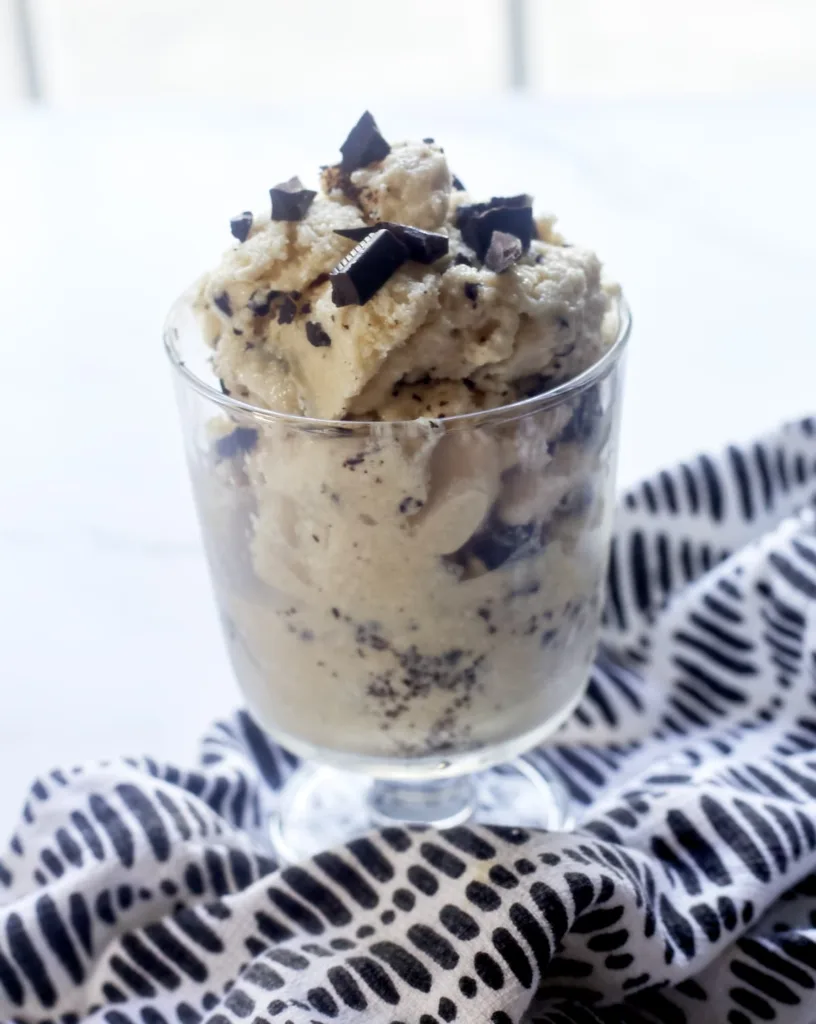 With the rise of more people becoming dairy-free and adopting healthier lifestyles, many are in search of allergen-free ice cream! I can assure you, you are in the right place. This ice cream is not lacking in the decadent creamy, lick-your-spoon vibe that traditional ice cream has. It's so good and so easy to make! All you need is a blender, some whole food ingredients, and a little patient freezer time!
Paleo Ice Cream Ingredients & Substitutions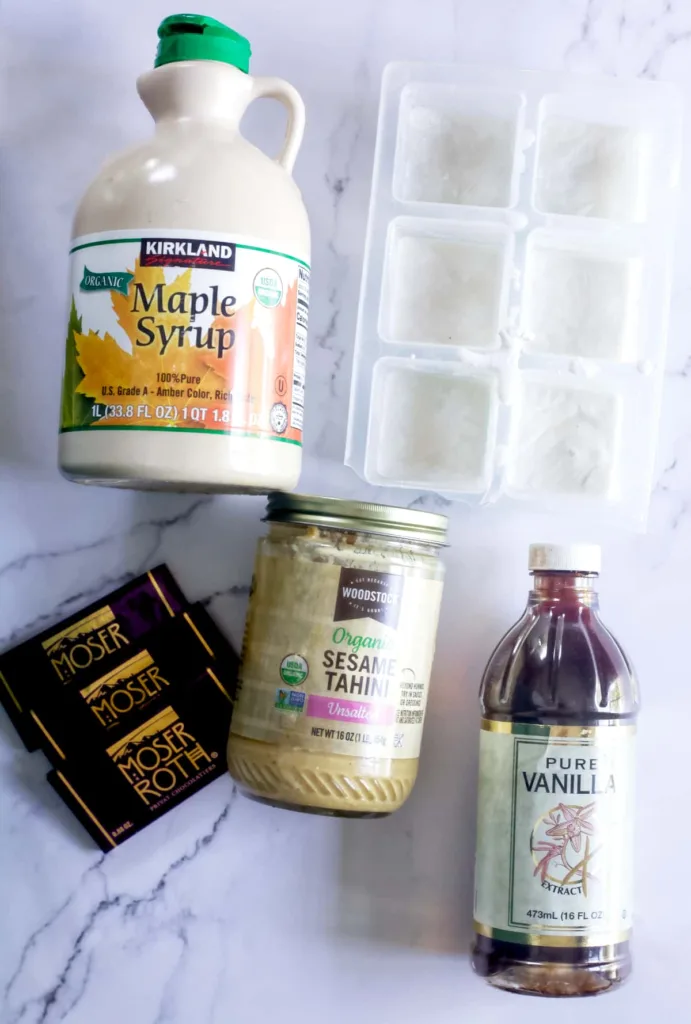 Canned coconut milk- The dairy-free base of this delicious ice cream! And no, it won't taste like coconut. It simply adds a healthy fat and creamy texture.
Vanilla– Necessary for a vanilla ice cream flavor!
Tahini– A nutrient-dense sesame seed paste. You could possibly substitute almond butter for this. I like tahini best for the texture and nutty flavor it contributes to the ice cream!
Maple syrup– Honey works as well!
Sea salt– Don't skip this. Salt brings out the flavor of any recipe, including ice cream!
Chopped dark chocolate- In my opinion, chopped chocolate is best, because I don't like to bite into whole cold chocolate chips. The shards of dark chocolate are so much better!! Feel free to use milk instead of dark or your favorite chocolate bar. My favorite is HU Chocolate Bars.
Frequently Asked Questions about Paleo Ice Cream
Is paleo ice cream truly dairy-free? Yes, paleo ice cream is dairy-free. Traditional dairy products, such as milk and cream, are avoided in the paleo diet. Instead, paleo ice cream recipes use alternatives like coconut milk, almond milk, or cashew milk to achieve a creamy texture.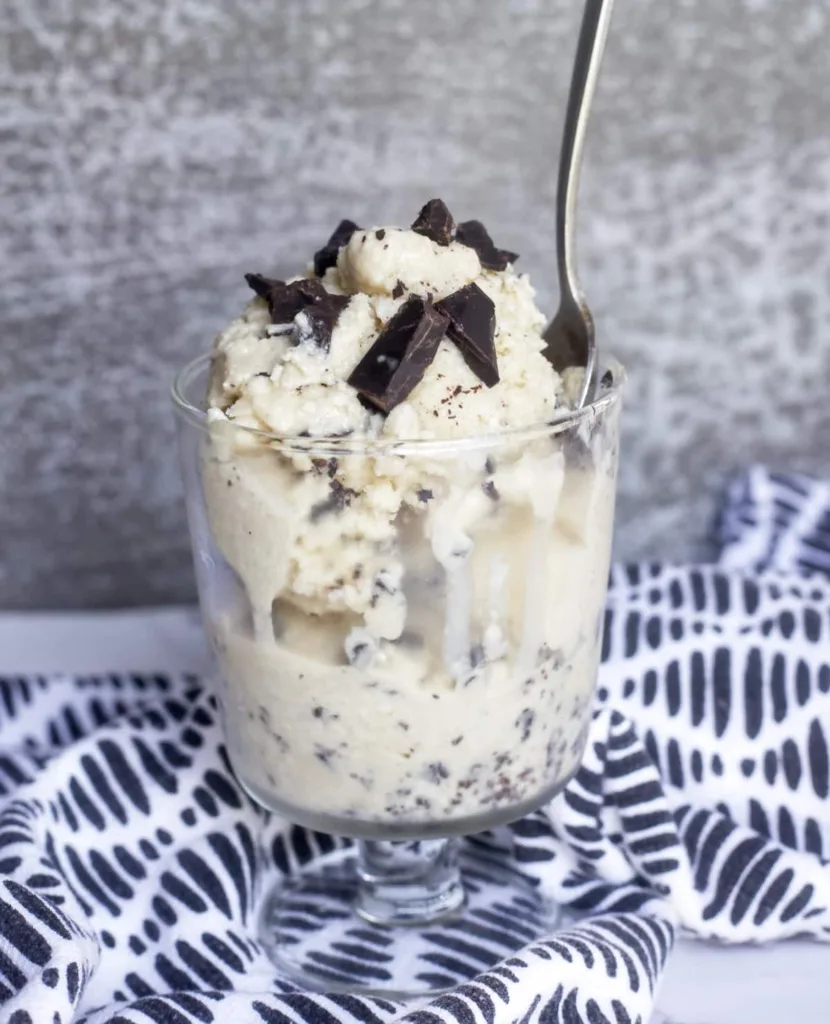 How long can I store paleo ice cream? This ice cream can typically be stored in an airtight container in the freezer for up to two weeks. However, the texture may become harder over time. To prevent excessive freezing, let the ice cream sit at room temperature for a few minutes before serving to allow it to soften slightly.
What do I do if it's not blending properly? Stop and scrape down the sides in between blending, if that doesn't work, add just a touch of dairy-free milk until it starts blending smoothly.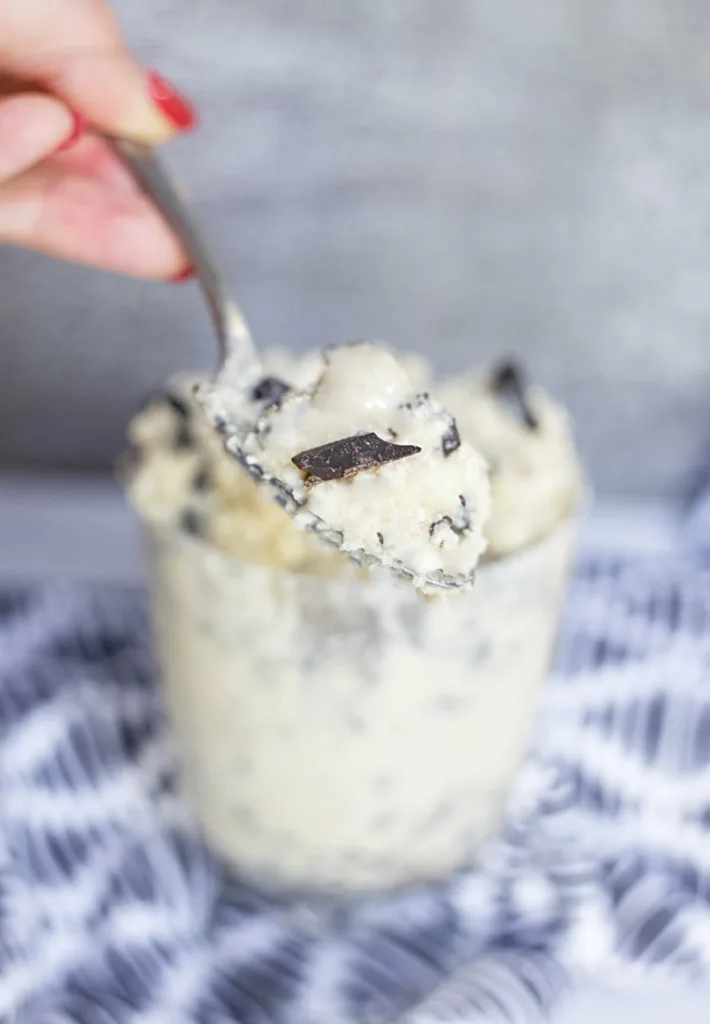 Don't skip these tips!
*Use smaller ice cubes if you can help it blend smoothly.
*Cut your favorite paleo chocolate bar into shards rather than using chocolate chips for a better bite. The texture of the chunks makes the ice cream way better, trust me!!!
Let's make this beautiful, healthy ice cream!! Leave a review if you make this!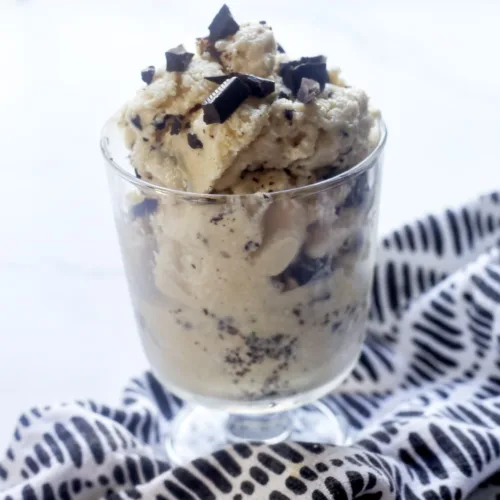 Paleo Ice Cream – Tahini Chocolate Chunk!
Creamy, dairy-free, refined sugar-free coconut based frozen ice cream featuring tahini, chocolate chunks and maple syrup!
Ingredients
1

13.5 ounce can

full fat coconut milk

2

teaspoons

vanilla

1/4

cup

tahini

see above for recommendations

1/2

cup

maple syrup

1/2

cup

chopped dark chocoalte

1

generous pinch of sea salt
Instructions
Using small ice cube trays, pour coconut milk into ice cube trays. Freeze for at least 3 hours or overnight.

In a high speed blender, add the frozen coconut milk ice cubes, vanilla, tahini, maple syrup, and sea salt to a high speed blender. Blend until creamy and smooth. Scrape down the sides as needed for even blending.

Using a loaf pan, pour the mixture into it. Add chopped chocolate chunks and mix until combined. Freeze for at least 5 hours or overnight. Enjoy after thawing for a few minutes!
Notes
SThis is best when enjoyed immediately after the first 5 hours of freezing. If you don't finish it all, you can keep it in the freezer with a lid for up to 2 weeks for the best texture. Allow to thaw for a good 10 minutes or more before enjoying!
Want Quality Groceries Shipped to Your Front Door at an Unbelievably Great Price?
Thrive Market offers a wide variety of high-quality, non-toxic, and organic products at wholesale prices. By becoming a member, you can save up to 50% off traditional retail prices on everything from pantry staples to beauty and personal care items. Additionally, Thrive Market offers a 30-day risk-free trial, so you can try it out and see the savings for yourself. Signing up for Thrive Market also supports their mission to make healthy living accessible to everyone, including their commitment to providing free memberships to low-income individuals and families. With Thrive Market, you can save money and make a positive impact, all while getting the healthy products you need.
---