*I only recommend products I would use myself and all opinions expressed here are my own. This post may contain affiliate links that earn me a small commission, at no additional cost to you. Read our full site disclaimer HERE.
*As an Amazon Associate I earn from qualifying purchases.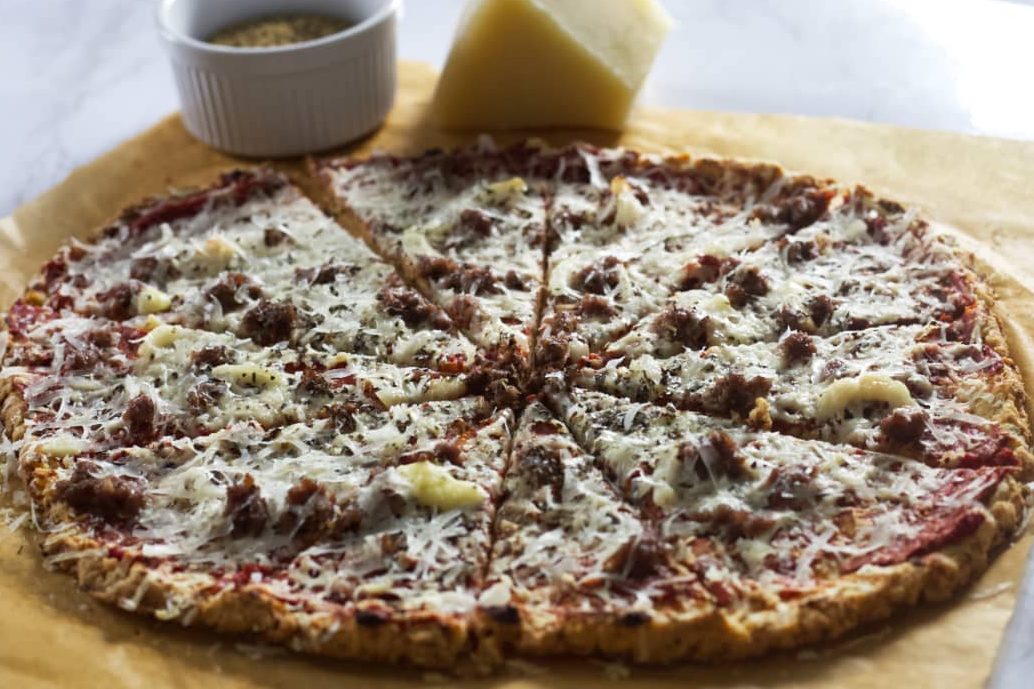 This pizza crust is amazing. If you struggle to get you (or your kids) veggies in, MAKE THIS! This gluten-free and dairy-free pizza crust is veggie packed, sneaking in 3 cups of cauliflower. Cauliflower is such a great vegetable add-in because its virtually tasteless in this crust. It simply adds volume and nutrition.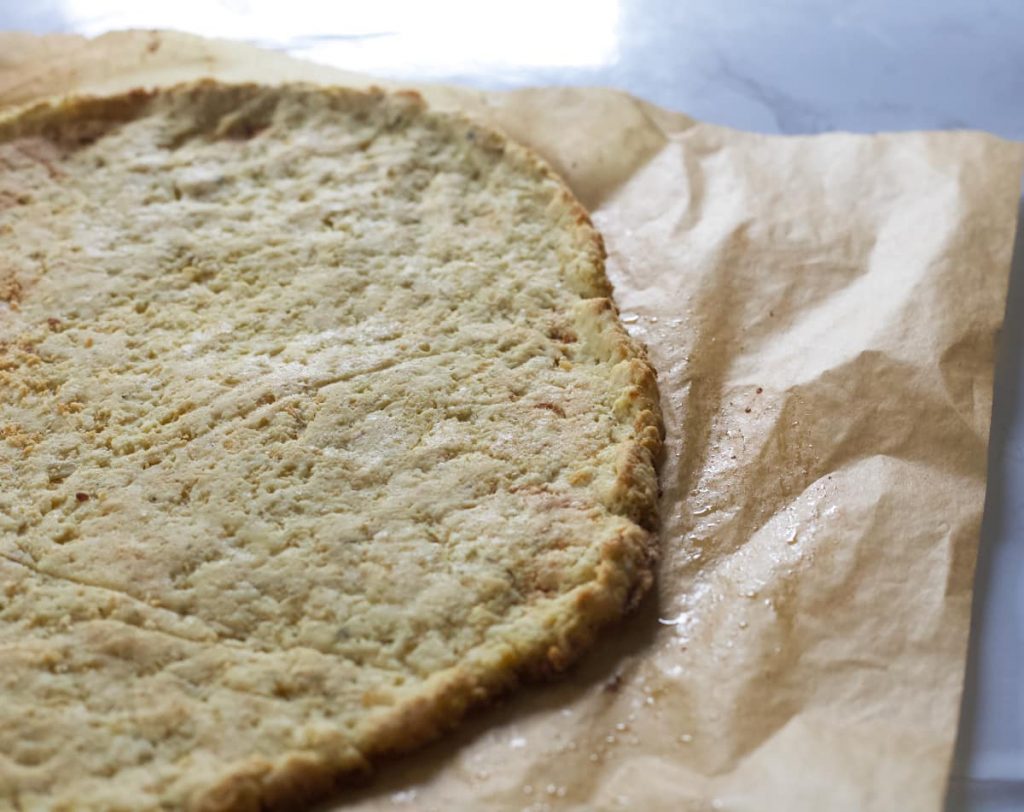 This crust, is thin, crispy, and provides the perfect sturdy base for your favorite toppings! I topped mine with tomato paste, spices, chopped onion, beef and a mixture or pecorino-romano cheese and grass-fed cheddar. But the options are truly endless. Use dairy-free cheese to keep your pizza completely dairy-free. My favorites are the Miyokos and Violife brand.
TIPS
I don't recommend skipping the second step of squeezing the liquid out of the cauliflower. Since cauliflower holds a lot of liquid, this step is very important to ensure your crust is not soggy!
If you use fresh cauliflower, instead of frozen, chop it finely or put it through a food processor so it becomes the size of cauliflower "rice". Then you can squeeze out the liquid as you normally would in step 2.
You can swap oregano for your favorite Italian spice: Italian seasoning, basil, ect. I love adding basil on top of my toppings after the pizza is fully cooked!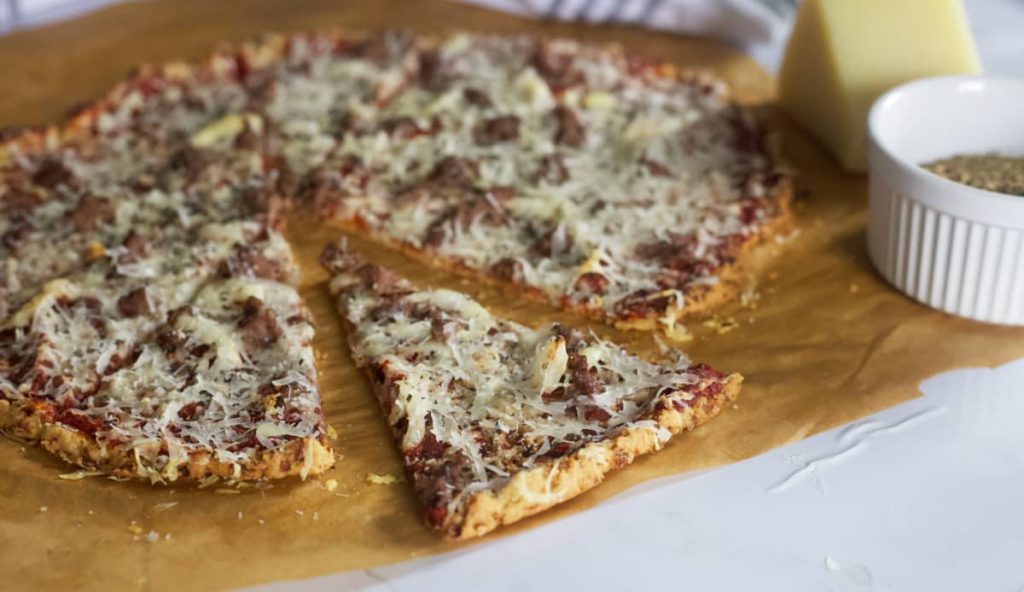 ENJOY your guilt-free pizza and let me know in the comments how you topped yours!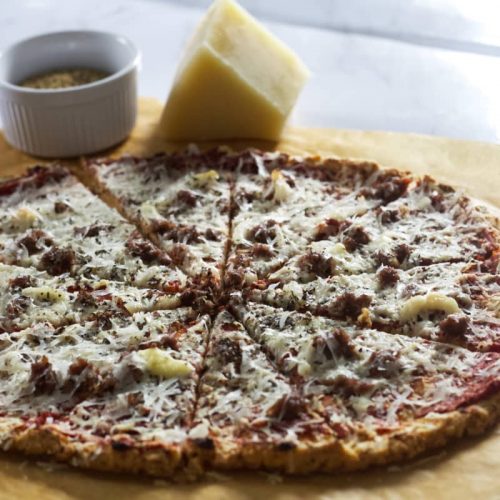 Easy Gluten-Free and Dairy-Free Cauliflower Pizza Crust
Crispy, delicious, veggie-packed base for your pizza!
Ingredients
3

cups

frozen cauliflower rice

(can use fresh as well)

1

egg

1

cup

almond flour

1/4

cup

tapioca flour

2

tbsp

olive oil

1

tsp

garlic powder

1/2

tsp

oregano

1

tsp

sea salt
Instructions
Place frozen cauliflower rice in a bowl and microwave for about 2 minutes, stirring mid way through. It does not need to be warm, just defrosted, so the liquid starts coming out of the cauliflower.

Once the cauliflower is defrosted, wrap it in a dish towel (or nut milk bag) to squeeze out all of the liquid. You want the cauliflower to be very dry. Discard the liquid.

Place the dry cauliflower rice into a bowl with the rest of the ingredients: egg, almond flour, tapioca flour, olive oil, garlic powder, salt and oregano. Combine everything until it is well combined and a dough consistency.

Lay out a piece of parchment paper and spread a small layer of olive oil on top of it.

Place the dough on top of the oiled parchment paper and then place another piece of parchment paper on top of the dough.

Roll the dough out with a rolling pin until it is about 1/2 inch thick. Ensure it is even and some of it is not thinner than the rest.

Remove the top layer of parchment paper and drizzle the dough crust with some olive oil and spread it in a thin layer on top of the dough with your hands.

Place the dough with the bottom layer of parchment paper on a baking sheet and place in the oven at 425 degrees for 15-20 minutes until it is golden. I like mine very crispy so I did the full 20 minutes, but if you want it less crispy, do less time and watch it until it is your desired level of done-ness!

Remove from the oven and put your desired toppings on the crust. Place back in the oven for 7-10 minutes until cheese (if using) is bubbling. Let cool, slice and ENJOY!
Want Quality Groceries Shipped to Your Front Door at an Unbelievably Great Price?
Thrive Market offers a wide variety of high-quality, non-toxic, and organic products at wholesale prices. By becoming a member, you can save up to 50% off traditional retail prices on everything from pantry staples to beauty and personal care items. Additionally, Thrive Market offers a 30-day risk-free trial, so you can try it out and see the savings for yourself. Signing up for Thrive Market also supports their mission to make healthy living accessible to everyone, including their commitment to providing free memberships to low-income individuals and families. With Thrive Market, you can save money and make a positive impact, all while getting the healthy products you need.
Click here to sign up and get 30% OFF your first order and a FREE gift when you join Thrive Market! *Conditions Apply (Affiliate link)
---