*I only recommend products I would use myself and all opinions expressed here are my own. This post may contain affiliate links that earn me a small commission, at no additional cost to you. Read our full site disclaimer HERE.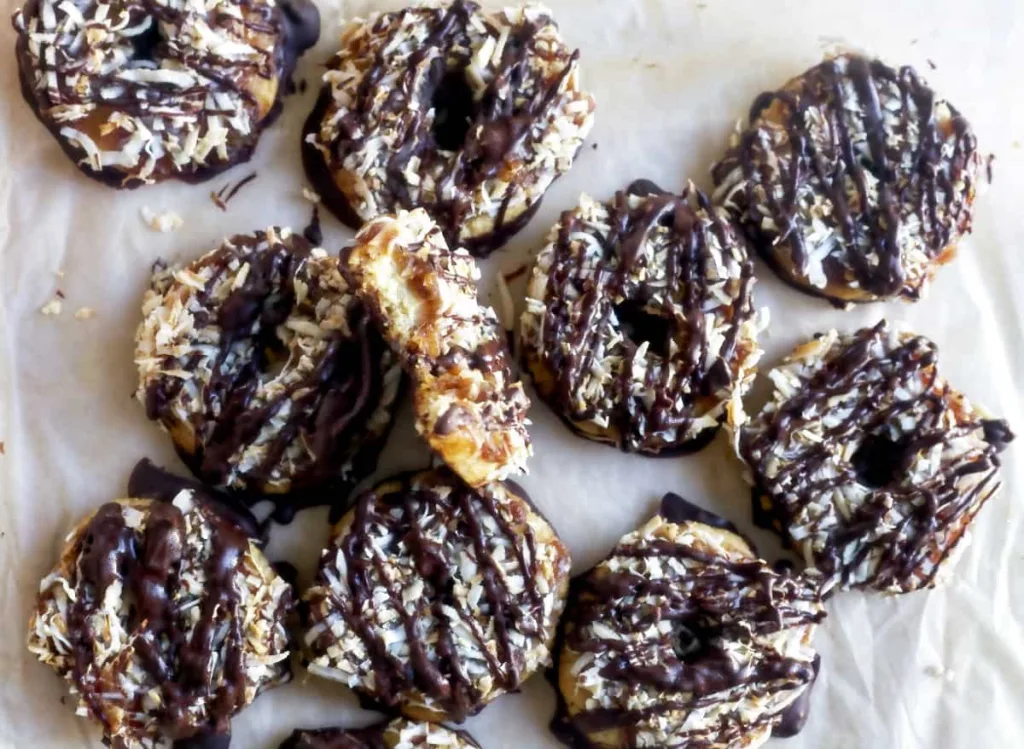 How to make Samoas! My all-time favorite girl scout cookie. (Can't be disputed, I stand my ground.)
It has that round, crisp shortbread cookie base that is topped with a layer of rich, chewy caramel and toasted coconut flakes. *Drool*. I could easily knock out a sleeve of these bad boys in one sitting. I'm so happy because I figured out how to make Samoas healthier! Plus, they are paleo, gluten-free, vegan, and dairy-free.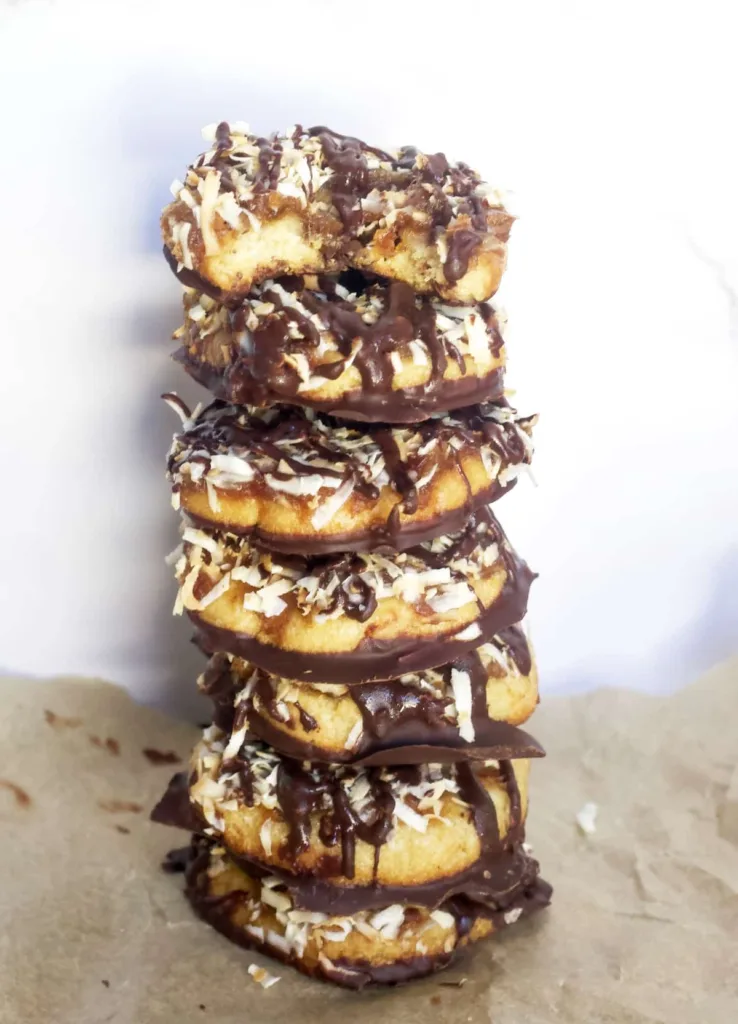 Ingredients & Subsitutions
Dates– AKA nature's caramel!! A wonderful fibrous, whole-food ingredient that is the base of our healthier luscious silky caramel layer.
Almond milk– You can use any plant-based milk you like
Vanilla extract-Obviously
Sea salt– Because we're baking. Necessary.
Almond flour-Almond flour works wonderfully in this recipe but if you don't have access to it, the closest substitution would be oat flour (you may need to add a little more almond milk to get the dough texture you need.)
Maple syrup– You can also use honey, but I do think it honey gives these cookies a bit of a stronger "floral" flavor than honey usually gives. I recommend using pure maple syrup if you have it!
Coconut oil– (Unrefined is best because it retains that lovely coconut flavor!)
Unsweetened coconut flakes– We're gonna toast them on the stove to bring out that sweet flavor.
Chocolate chips (My favorite brands below)
My all-time favorite chocolate chips are "Hu Chocolate Gems" They melt wonderfully while being organic, vegan, and paleo!
I also love Lilys Chocolate chips, they are sugar-free and a great paleo, refined sugar-free option.
How to Make Samoas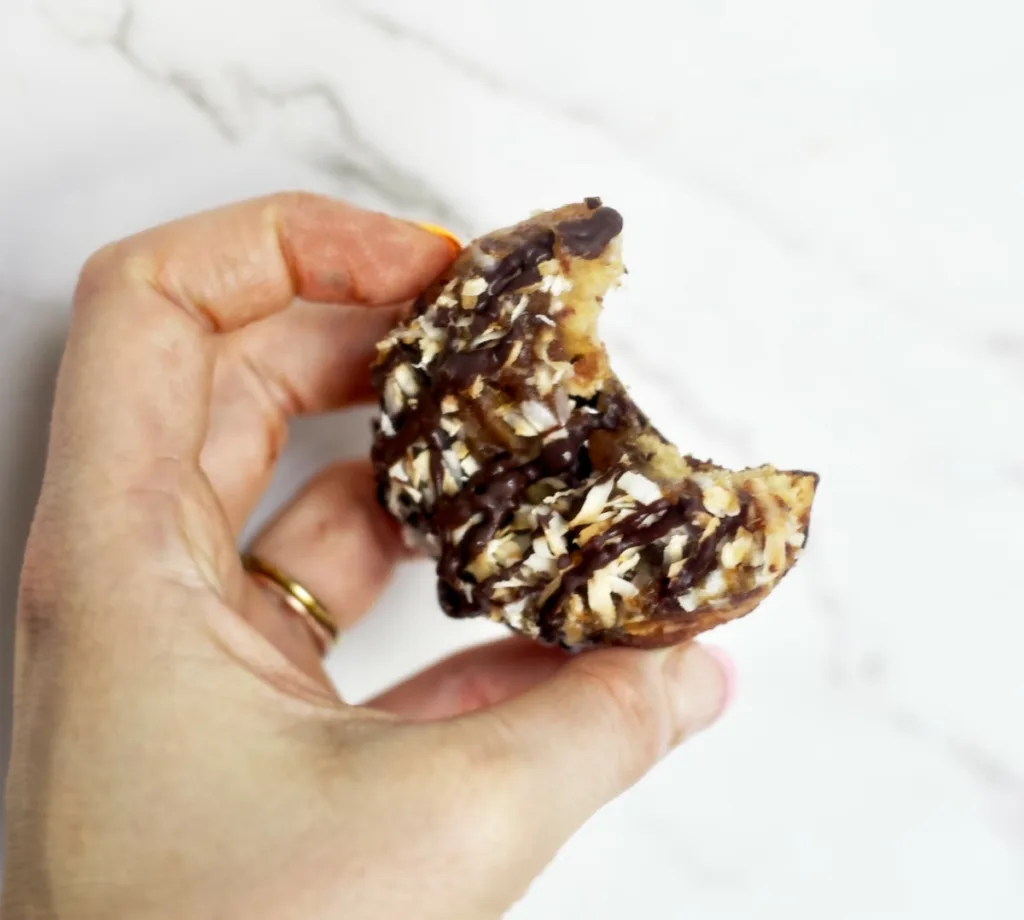 We start by making the simple date caramel layer. Then, make the easy dough that forms the shortbread cookie layer. Next, we toast up the coconut flakes. This step may seem unnecessary, but trust me toasting the coconut flakes really up-levels these cookies and will render that classic "Samoa" cookie taste. It's essential!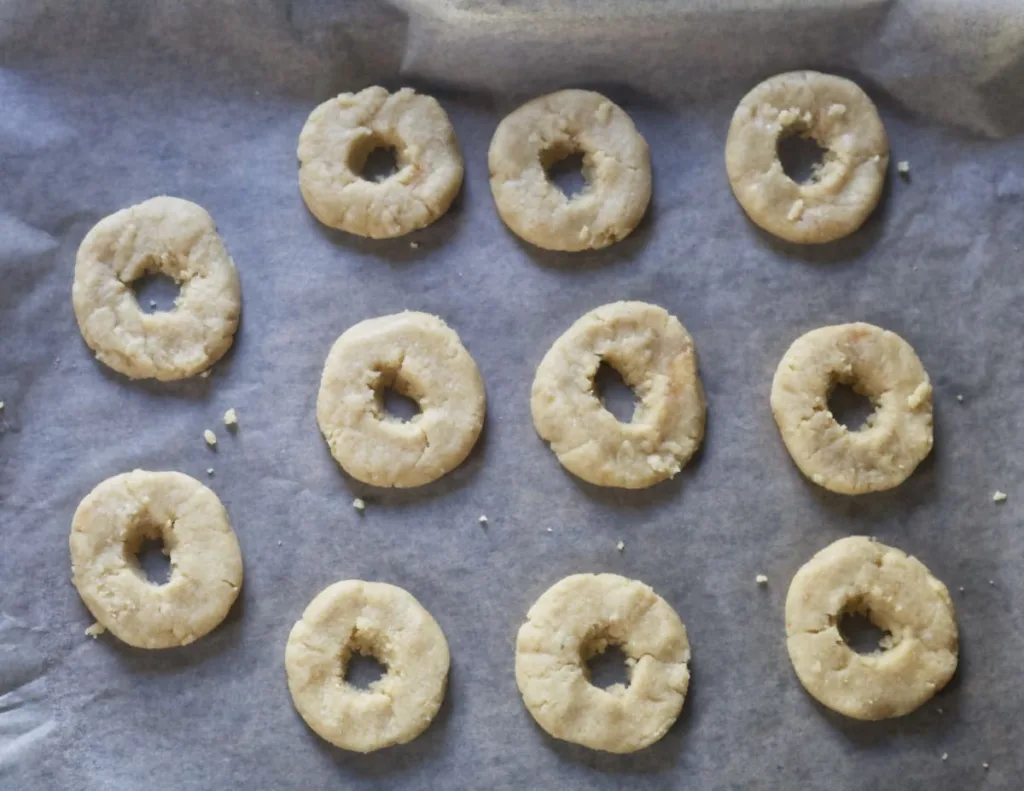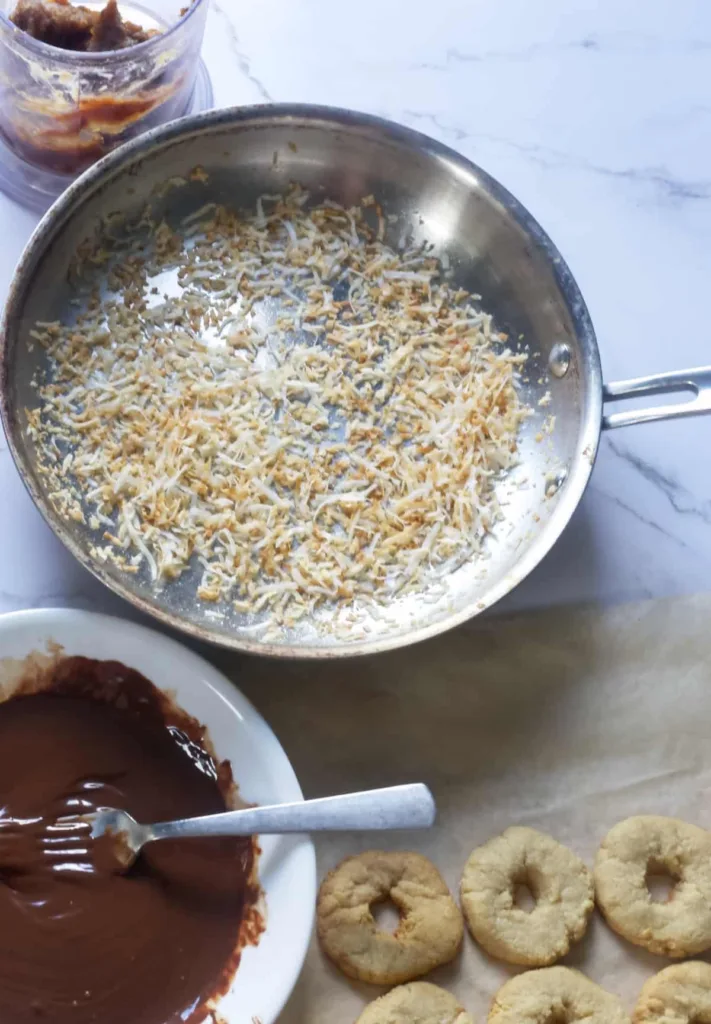 Last, is the fun part: Dip the shortbread cookie into each of the layers (caramel, toasted coconut flakes, and then melted chocolate!) Freeze, allow to harden, then enjoy!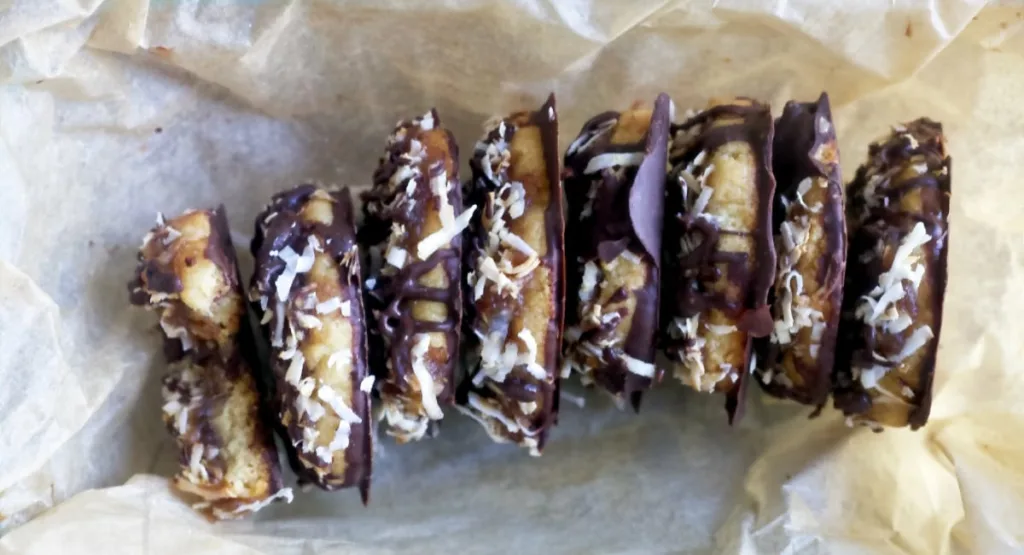 That's it! The perfect coconut caramel cookie of your dreams. It's so nostalgic but won't spike your blood sugar in the same way, and will satisfy your sweet tooth before you eat a whole row.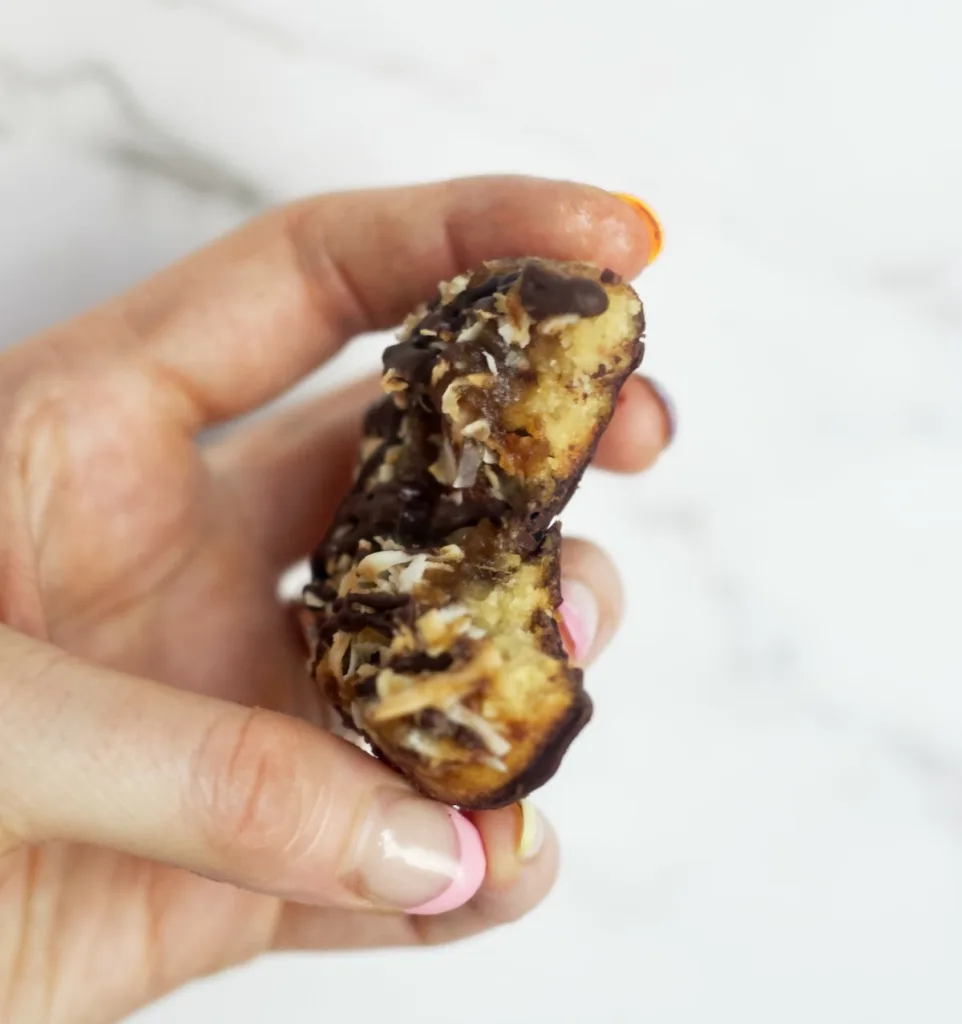 I love to freeze these and pop one out whenever I have a Girl Scout cookie craving!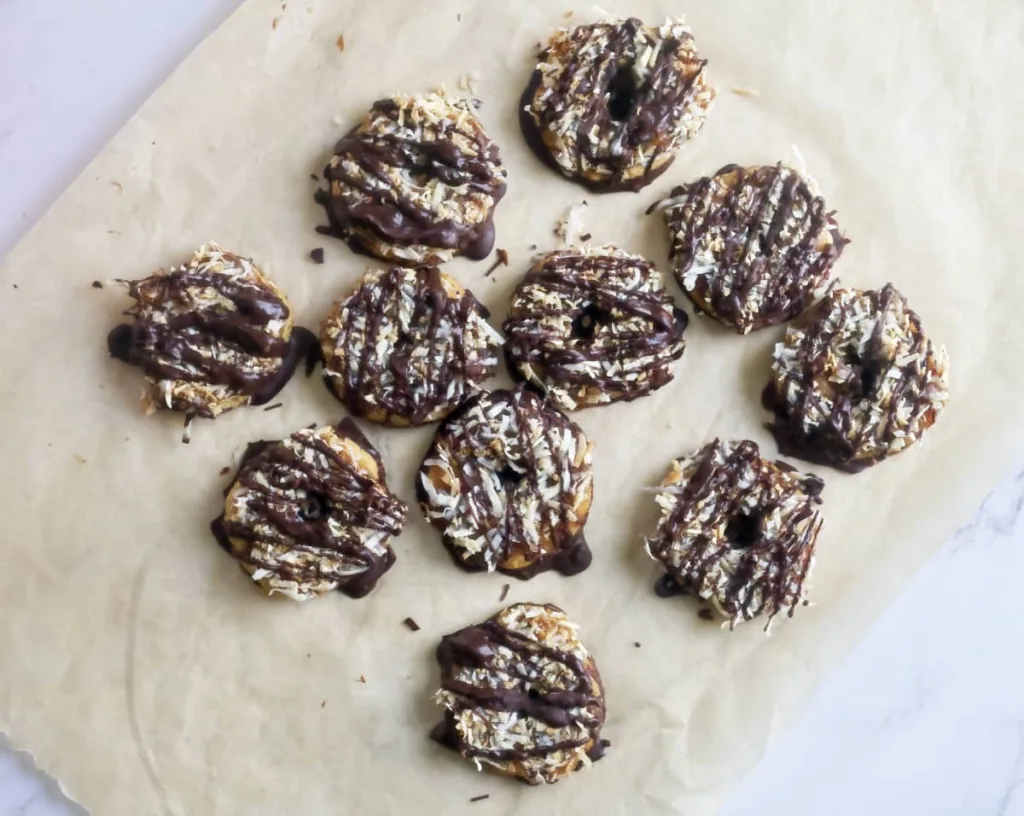 If you love Girl Scout cookies, check out my healthier Thin Mint recipe!
Please leave a review if you tried this recipe and let me know how it went!! ENJOY!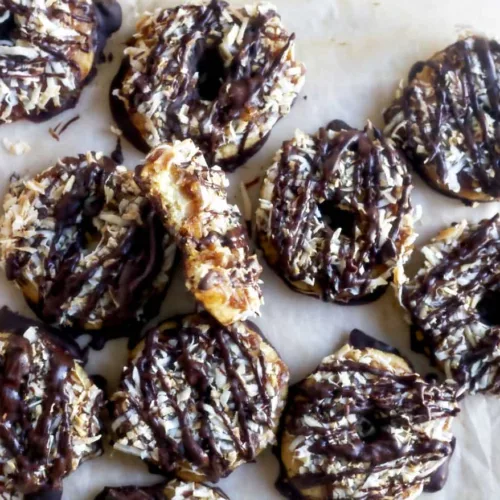 How to Make Samoas | Paleo | Gluten-free | Vegan
How to make healthier Samoa Girl Scout Cookies: round, crisp shortbread cookie base that is topped with a layer of rich, chewy caramel and toasted coconut flakes.
Ingredients
Caramel Layer
8

pitted medjool dates

2 1/2

tablespoons

almond milk

if you don't have it, you can also use the leftover "date water" from soaking the dates

1/2

teaspoon

vanilla

1

pinch

sea salt
Shortbread Layer
1 1/2

cups

almond flour

1

teaspoon

vanilla

1/4

cup

maple syrup

1

tablespoon

melted unrefined coconut oil
Coconut Layer
1/2

cup

shredded unsweetened coconut flakes

1

teaspoon

coconut oil
Chocolate Layer
3/4

cups

chocolate chips

see above for chocolate chip recommendations!

1

teaspoon

coconut oil
Instructions
Soak the pitted dates in hot water for about 10 minutes. While it is soaking, prepare your dough.

Combine the "shortbread layer" ingredients (almond flour, vanilla, maple syrup and coconut oil) together in a bowl until mixed. Place in the fridge for about 20 minutes to allow the dough to full absorb the ingredients.

Drain the soaked dates and add to a food processor with the "caramel layer" ingredients (almond milk, vanilla and sea salt). Process until it becomes a smooth consitency. (Add a tiny bit more almond milk if it is not blending properly). Set aside.

Preheat the oven to 350 degrees ferenheit.

Once the dough has chilled for 20 minutes, remove it from the fridge and roll it into small balls with your hands. Then, flatten the ball and poke a hole in the middle with your finger to make that classic Samoa cookie shape! Mold it as needed to get the shape you want. (The dough may be sticky, so you can use damply wet hands to shape it to make it easier).

Place each cookie on a parchment-lined baking sheet and bake for 10-11 minutes until they are just slightly golden brown around the edges. (Watch that they don't burn!)

While the cookies are baking, toast the coconut flakes on the stovetop. Place about a teaspoon of coocnut oil in a pan over medium high heat with the coconut flakes and toast them, stirring frequently until they are starting to turn a gorgeous golden brown color. Remove from the heart and set aside.

Once the cookies are done baking, set them on a cooling rack and allow them to cool for a good 20 minutes.

Melt the chocolate chips and coconut oil from the "chocolate" layer ingredients in the microwave, stirring in 30-second increments.

Assemble the cookies (the fun part!!). Using a knife, smear the date "caramel" onto the cookie, then dip the caramel layer in the toasted coconut flakes. Next, dip the bottom of the cookie into the melted chocolate. Last, drizzle the top of the cookie in chocolate, using a fork or knife.

Place the cookies in the freezer for about 20 minutes until hardened. ENJOY!!!
Notes
Storage: Store in the fridge for up to a week. 3 months in the freezer. 
Want Quality Groceries Shipped to Your Front Door at an Unbelievably Great Price?
Thrive Market offers a wide variety of high-quality, non-toxic, and organic products at wholesale prices. By becoming a member, you can save up to 50% off traditional retail prices on everything from pantry staples to beauty and personal care items. Additionally, Thrive Market offers a 30-day risk-free trial, so you can try it out and see the savings for yourself. Signing up for Thrive Market also supports their mission to make healthy living accessible to everyone, including their commitment to providing free memberships to low-income individuals and families. With Thrive Market, you can save money and make a positive impact, all while getting the healthy products you need.
---