*I only recommend products I would use myself and all opinions expressed here are my own. This post may contain affiliate links that earn me a small commission, at no additional cost to you. Read our full site disclaimer HERE.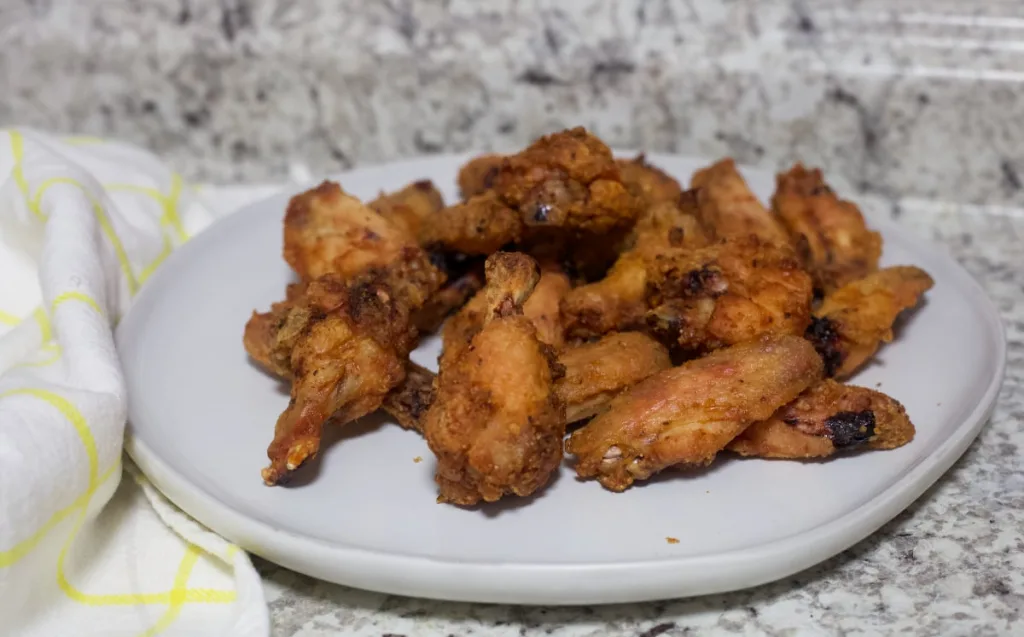 Wings, wings, wings! The ultimate party food, game-day snack, and guilty pleasure all rolled into one. But, let's face it, there's nothing worse than a soggy wing. Eww! So, to ensure you never have to experience this tragedy again, I'm here to share my secret recipe for oven-baked crispy wings that will make you the wing master of your kitchen or party.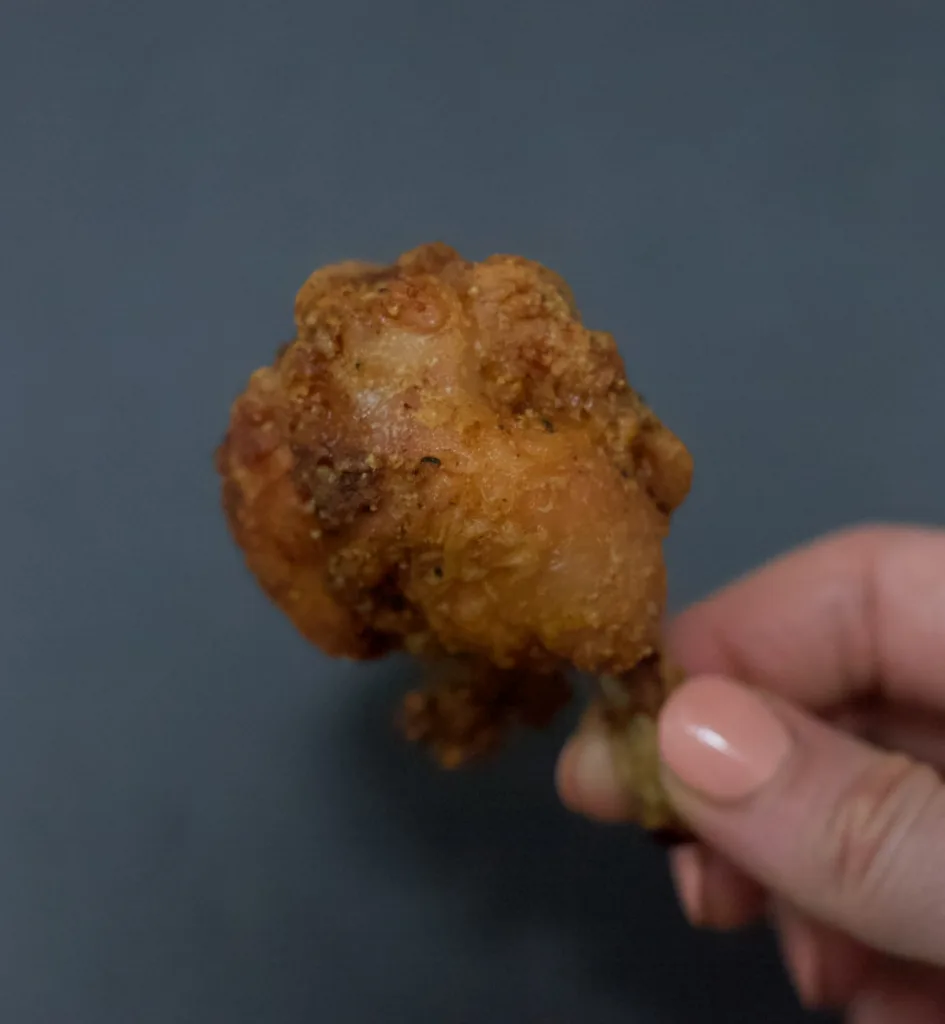 These wings have the simplest ingredients, plus are gluten-free, dairy-free, keto, and whole30!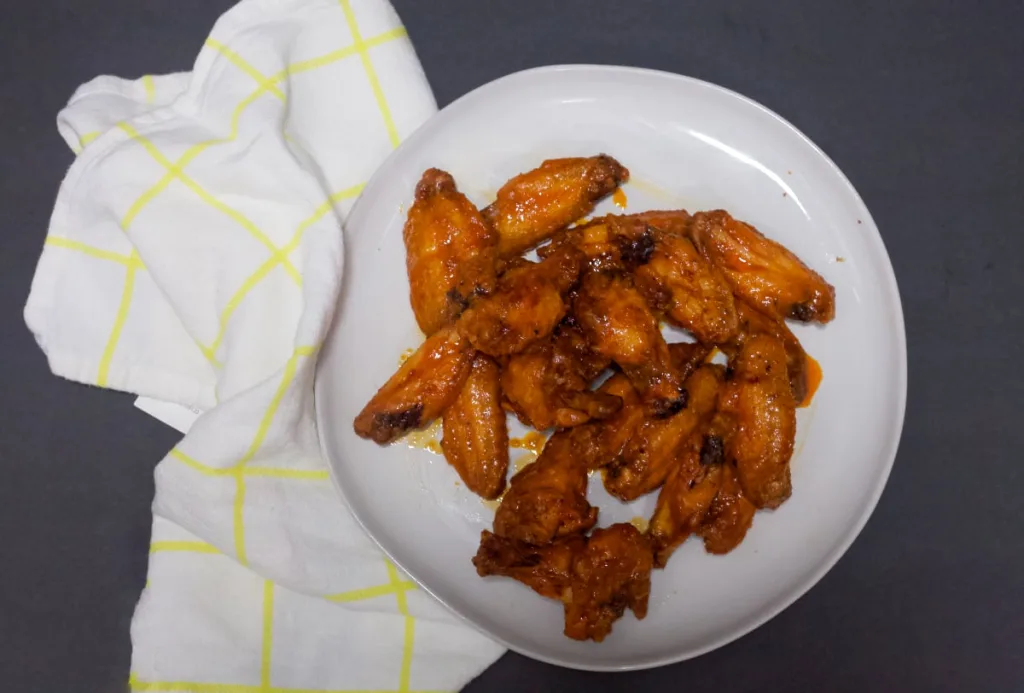 Let's get on with the hot tips, shall we?
Here's how to get those mouth-watering, finger-licking, crispy oven-baked wings!
How to Make Crispy Wings in the Oven
Step 1: DRY DRY DRY.
Before baking, pat the wings dry with a paper towel. I mean, really dry. Make sure to get rid of any excess moisture, as this will help them become extra crispy.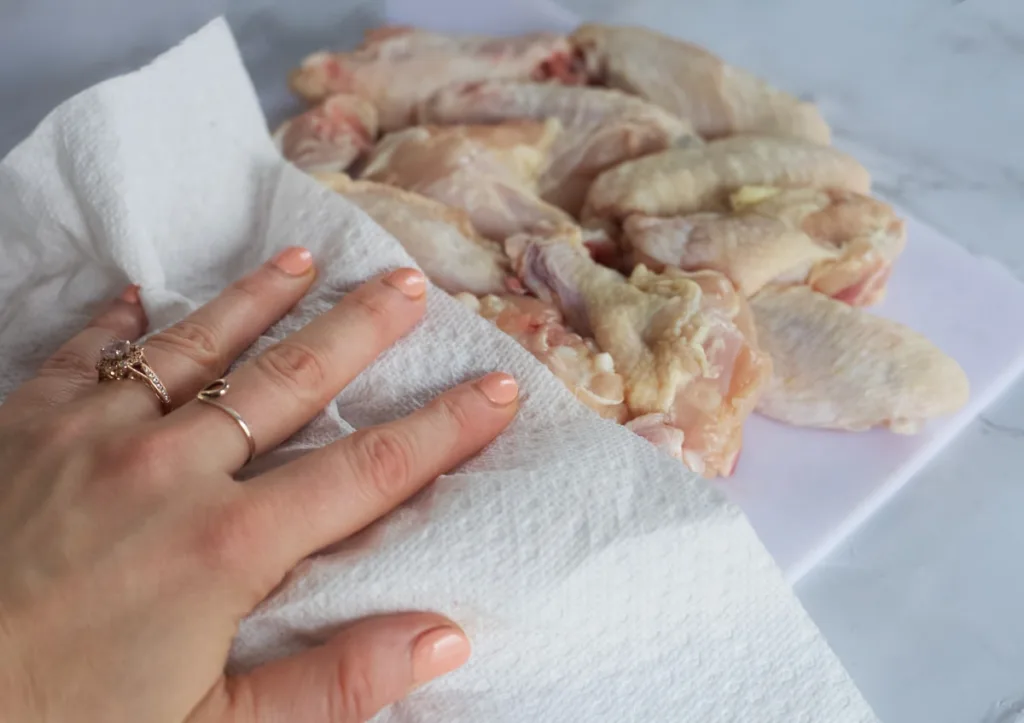 Step 2: Baking powder
Yes, you heard that right. Baking powder is the key to ultra-crispy skin!! Combine the dry wings with the spices, tapioca flour, and baking powder. Don't skip this step. The baking powder is crucial to making the skin puff up and crisp when in the oven.
Step 3: Divide and conquer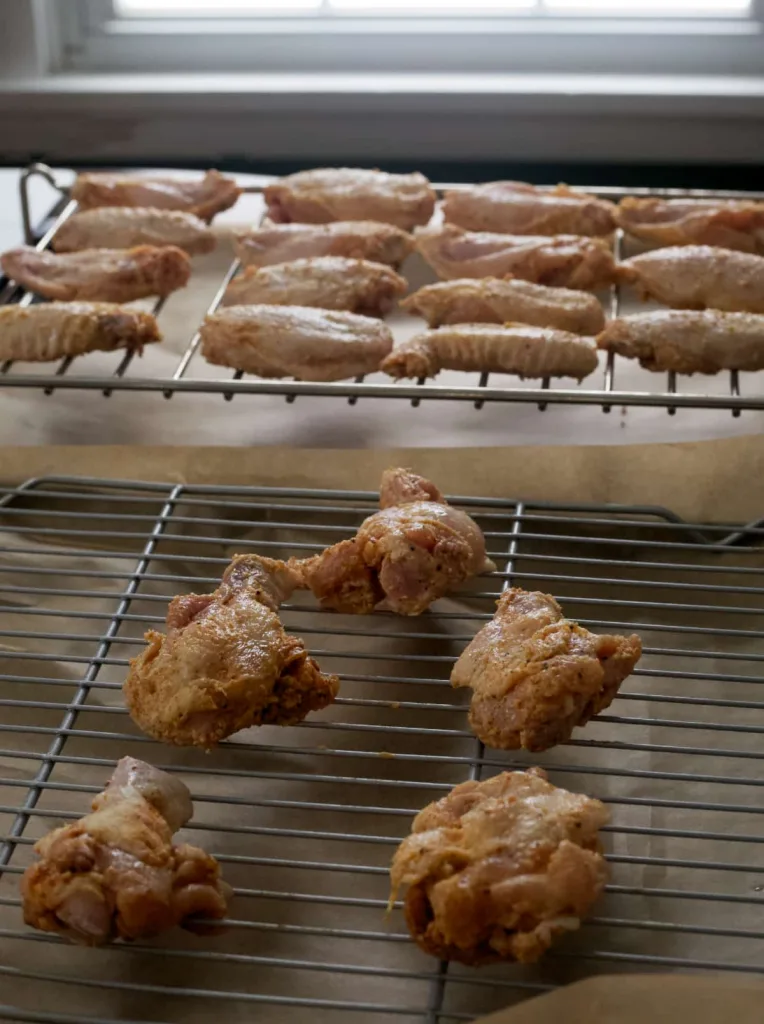 Separate the drumettes from the wingettes and put them on a separate baking sheet. (This allows you to take out the wingettes a bit earlier than the drummettes to prevent them from drying out. This step is relatively optional, it just helps the wingettes not be drier than the drumettes. But, if you are feeling very lazy you can skip this step and still get some killer wings.
Step 4: Flip halfway
At 20 minutes, flip the wings to allow them to fully crisp up on both sides. Basic, but essential.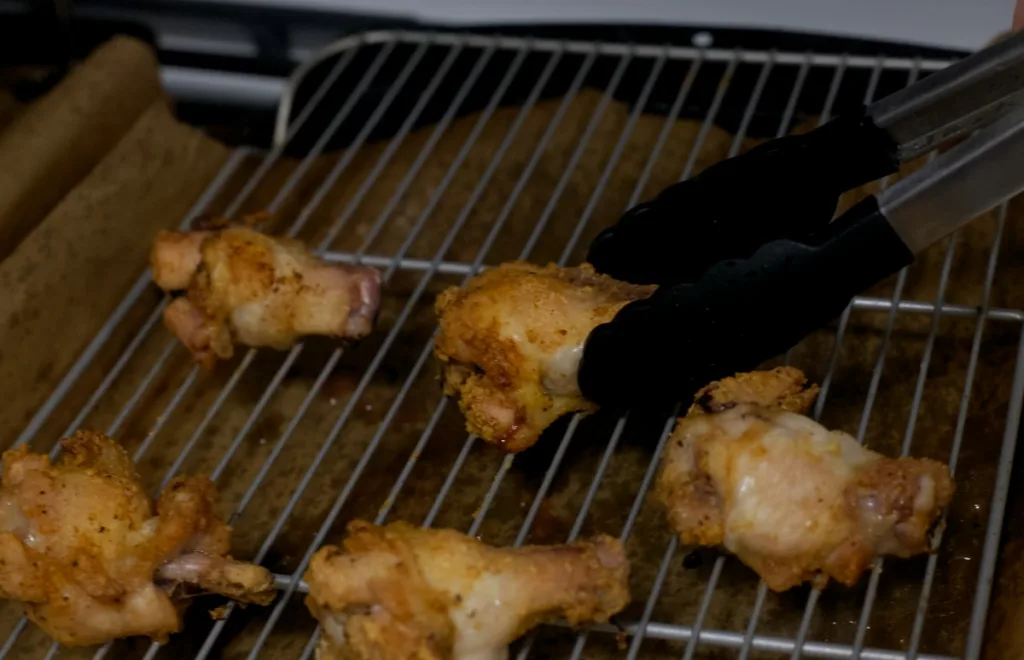 To sauce or not to sauce?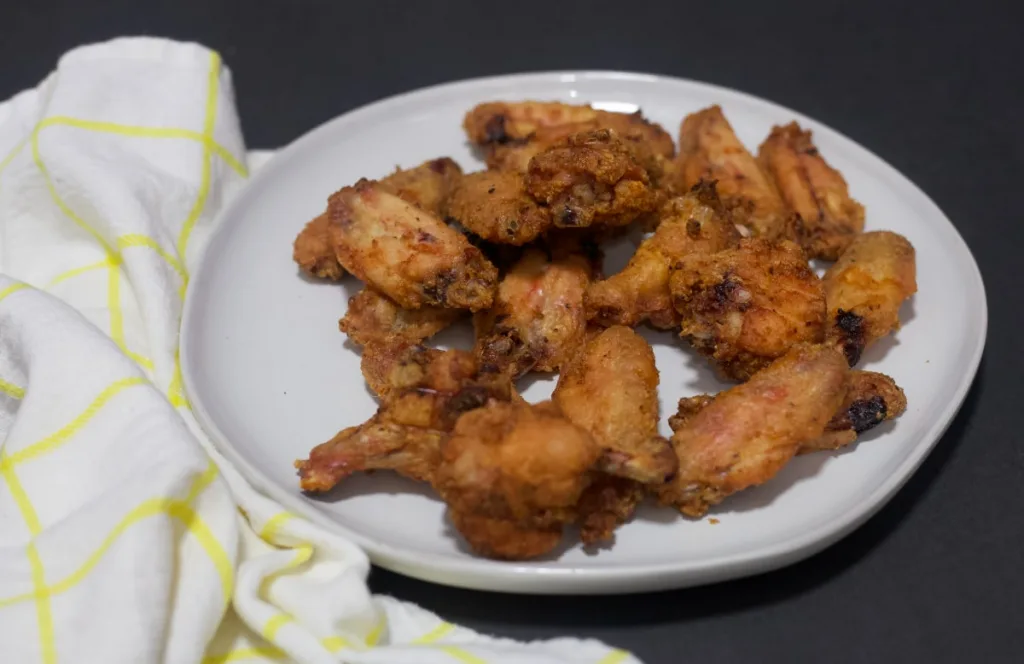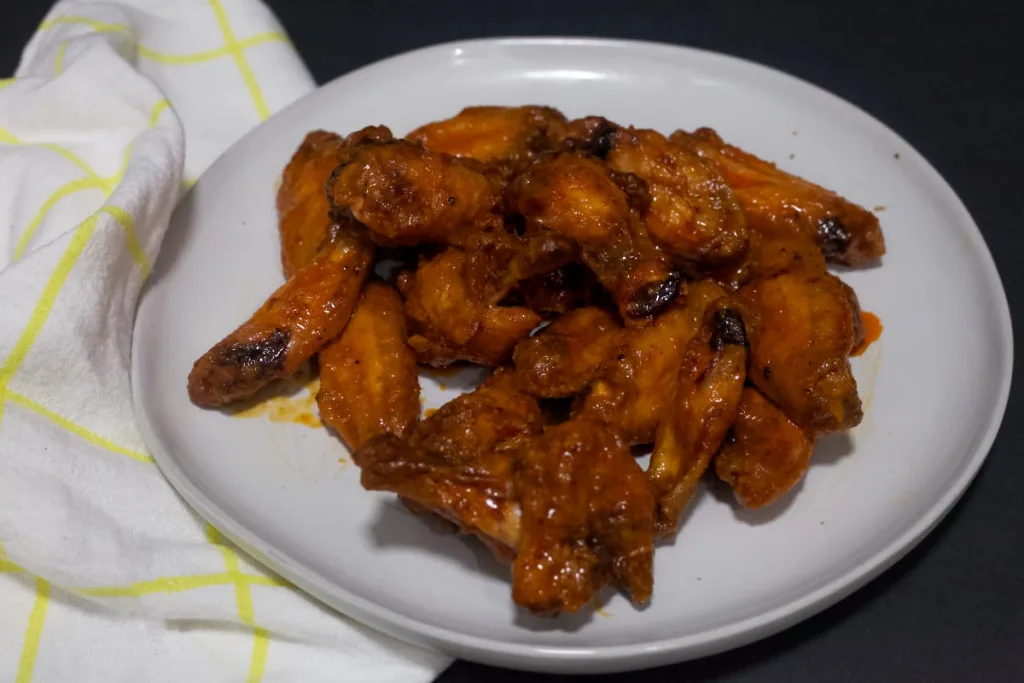 This is a personal choice. I love my wings fully coated in a sticky sauce. If you choose to toss your crispy wings in a sauce it's important to note that they will get relatively soggy pretty quickly after this, so it is best to serve them immediately after tossing them in the sauce.
Alternatively, you can leave them as is and dunk them in the sauce instead of coating them if you want to keep the crisp factor at a 10/10.
I love tossing mine in my paleo buffalo sauce. It's got a spicy kick but is toned down with a little sweetness. (perfection)
With these four simple steps, you'll never have to settle for soggy wings again. You'll be the talk of the town, the wing king or queen, and the one everyone turns to for the best wings around. Happy baking!
Let me know in the comments if you make this recipe!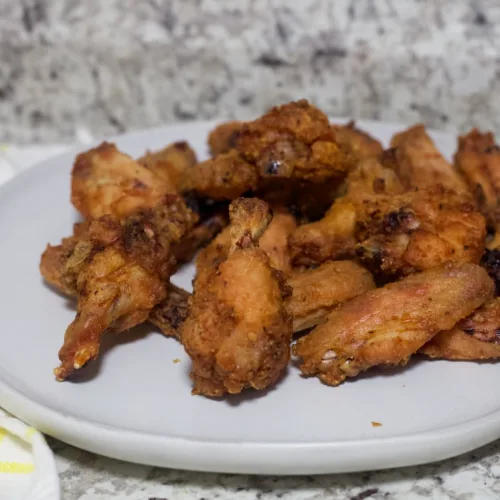 Crispy Oven-Baked Chicken Wings
Perfectly juicy center, crispy wings made in the oven!
Ingredients
2

pounds

party chicken wings

about 20 small wings

1/2

tablespoon

avocado oil

1

tablespoon

tapioca flour

or arrowroot flour

1

tablespoon

baking powder

1

teaspoon

sea salt

1/2

teaspoon

black pepper

1/2

teaspoon

garlic powder

optional

1/4

teaspoon

paprika

optional
Instructions
Preheat your oven to 425 degrees.

Pat your wings very dry with a paper towel. Do this several times to ensure they are very dry and have no moisture! (This will help them crisp up)

Place your dried wings into a large bowl, add the avocado oil and mix until every wing is lightly coated.

Add the baking powder, tapioca flour, salt, pepper and optional spices to the wings and mix until they are fully coated.

Line two baking sheets with parchment paper (for easier cleanup), and place a cooling rack on top. Separate the wingettes from the drummettes by putting the wingettes on one baking sheet and the drummettes on the other.

Place your wings in the oven for 20 minutes. Flip the wings with tongs, then bake for another 20 minutes. Watch the wingettes because they will likely be done sooner than the drummettes. Remove the wingettes when they look crispy and golden! (My wingettes portions were done 5 minutes before the drumettes)

*If your wings are very large, it may take longer for them to get crispy. Simply keep flipping them every 20 minutes until they look crispy and then add an extra 5 minutes of broiling at the end.

Once the drummettes are crispy and golden, Place the wingettes back in the oven and broil both the wingettes and drumettes for abother 5 minutes to supercharge the crispy skin! (**Don't skip this step)

Enjoy the wings with dipping sauce, or toss in a sauce and serve immediately! (The longer the wings sit in the sauce, they will get a little bit soggy, so be sure to serve immedately before enjoying.)
Notes
These will stay good for 5 days in the fridge. I recommend storing them with no sauce on them and then reheating them in the oven at 425 degrees until warmed and crisp and then tossing in the desired sauce. 
Want Quality Groceries Shipped to Your Front Door at an Unbelievably Great Price?
Thrive Market offers a wide variety of high-quality, non-toxic, and organic products at wholesale prices. By becoming a member, you can save up to 50% off traditional retail prices on everything from pantry staples to beauty and personal care items. Additionally, Thrive Market offers a 30-day risk-free trial, so you can try it out and see the savings for yourself. Signing up for Thrive Market also supports their mission to make healthy living accessible to everyone, including their commitment to providing free memberships to low-income individuals and families. With Thrive Market, you can save money and make a positive impact, all while getting the healthy products you need.
---