*I only recommend products I would use myself and all opinions expressed here are my own. This post may contain affiliate links that earn me a small commission, at no additional cost to you. Read our full site disclaimer HERE.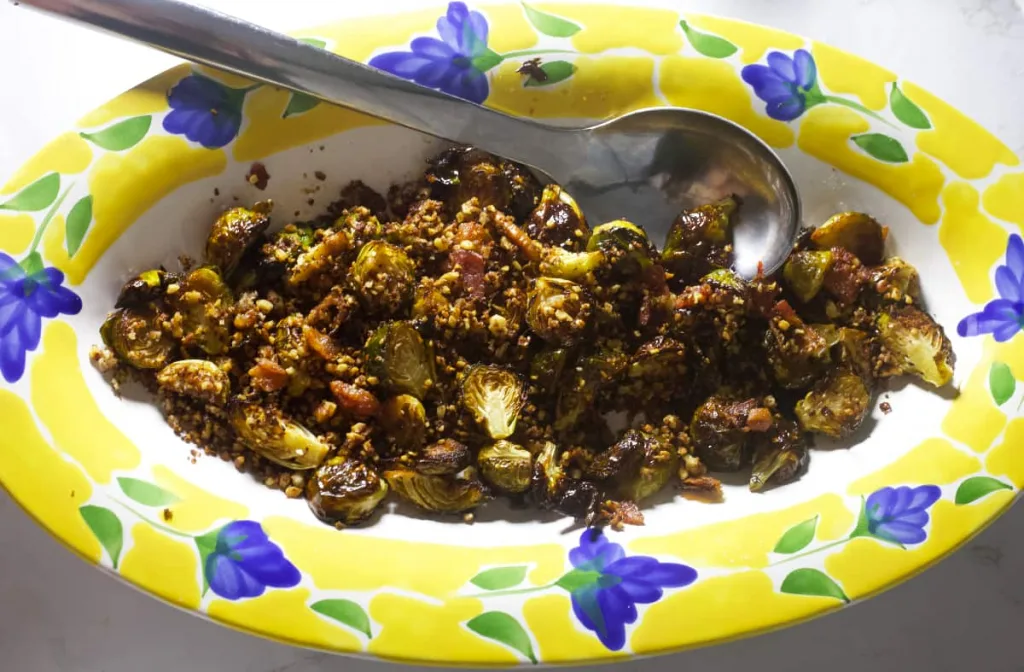 This is the only brussel sprout recipe you need. Seriously. It turns a very unloved and highly underrated vegetable into a fantastic side dish.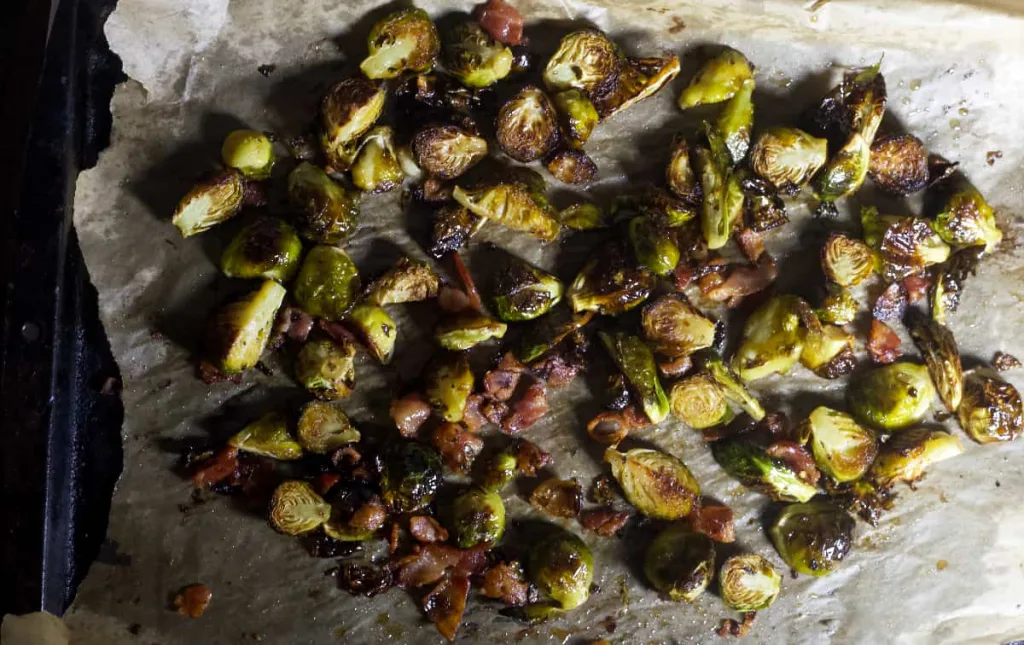 If you have a bag of brussel sprouts glaring back at you from the fridge, you need a side dish that will impress, or you just want more green in your diet (both hands raised) this is for you!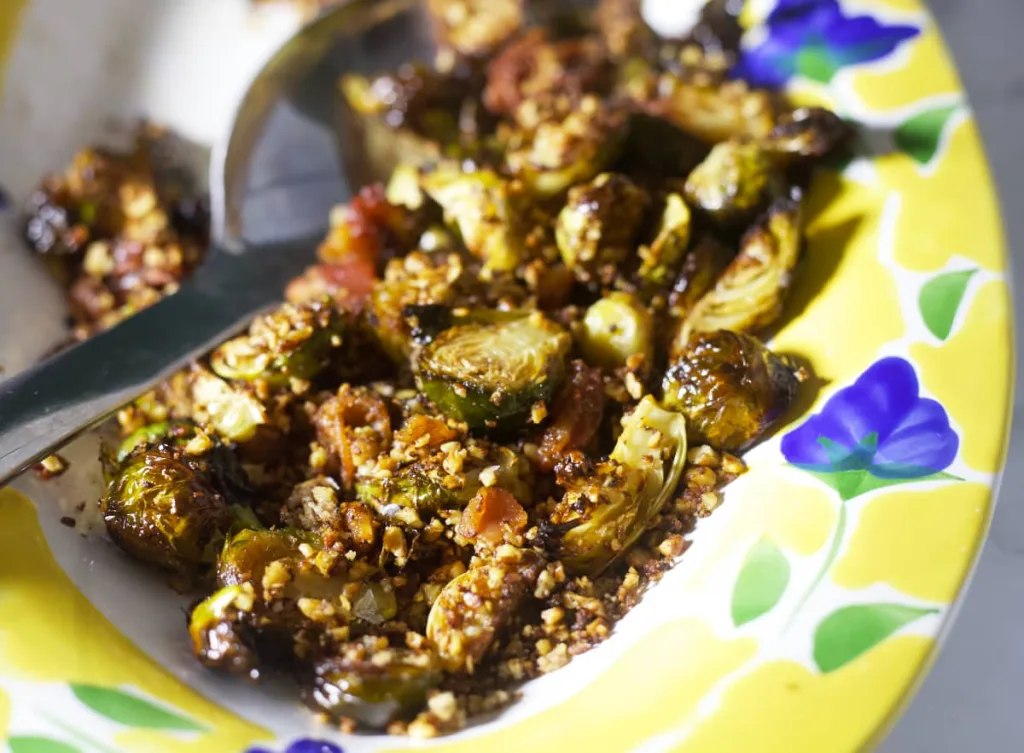 If you grew up on steamed brussel sprouts, you know the horrors and awful smell of mushy bland brussel sprouts.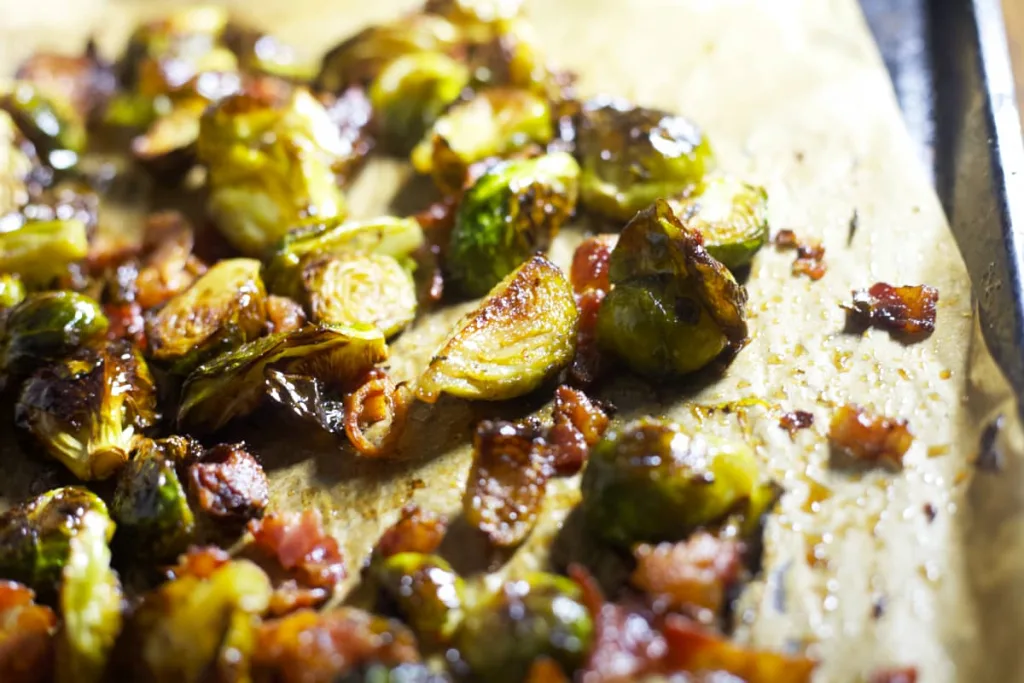 This recipe is not that. It is full of flavor. It starts with roasting brussel sprouts, which caramelizes the outside of the brussels. Then, we add bacon to the roasting process, which adds flavor and gives the final product that crunchy, salty bite in every forkful. Next, we add a sticky, sweet balsamic glaze to really brighten up the brussels.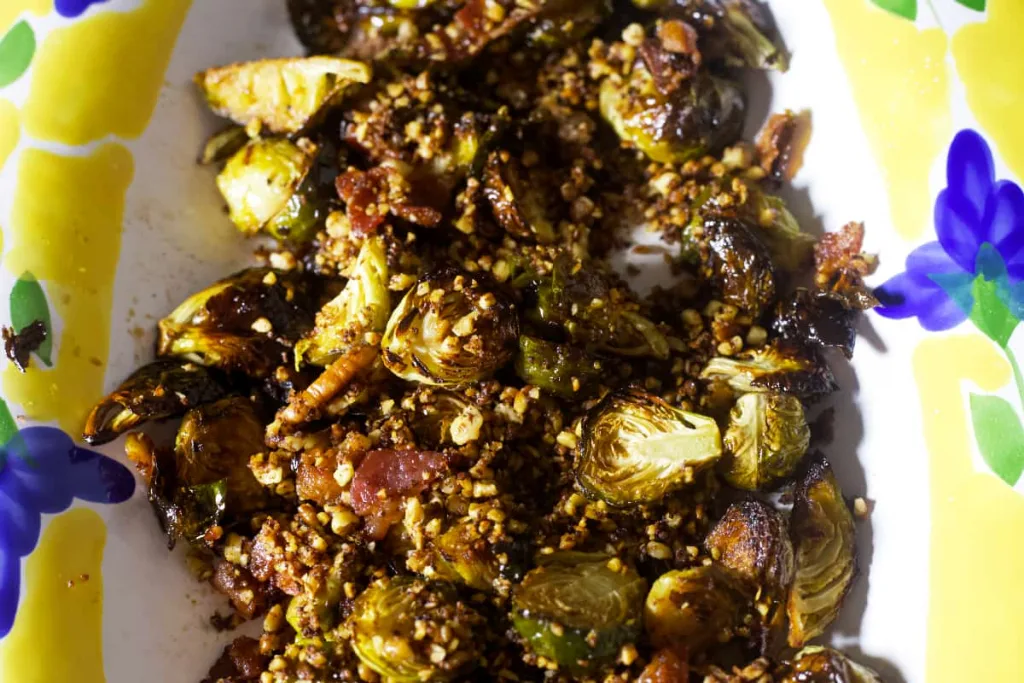 Last, and most important (I do not recommend skipping this step!!!) is making a simple, beautiful pecan crumb topping, this adds a heavenly crunch and nutty flavor that literally makes these brussel sprouts explode with flavor.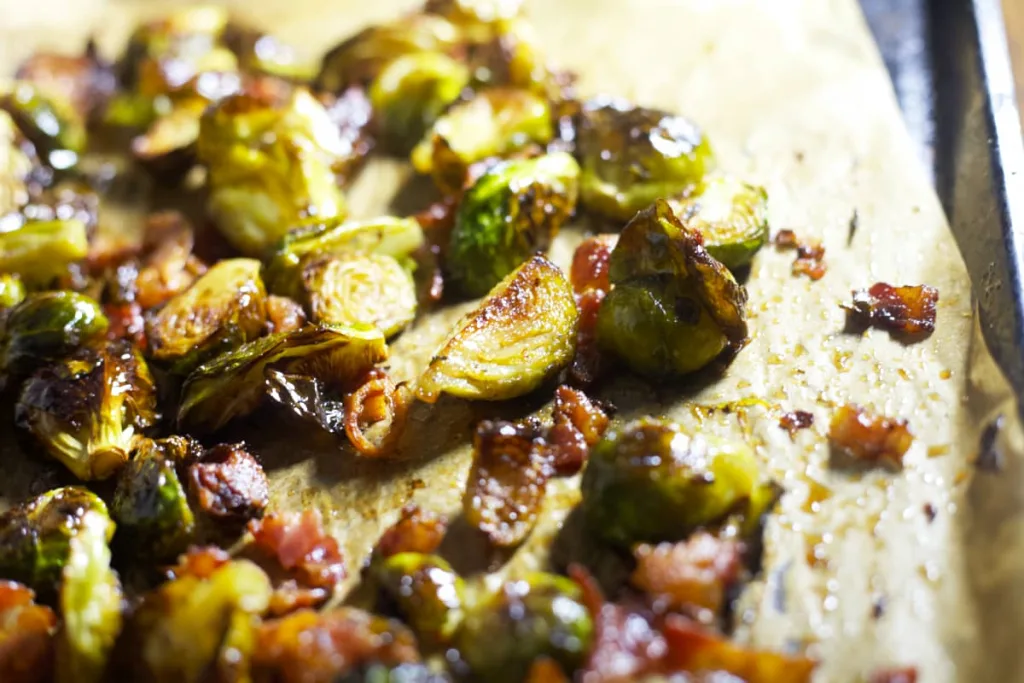 A few tips:
If washing your brussel sprouts before baking them, be sure they are dried very well! Any moisture will hinder them from crisping up in the oven.
If you want absolutely perfect brussel sprouts, trim off the brown dead leaves (if any) on the outside of each brussel sprout. You can also trim the hard tip just slightly. If you trim it too much the brussel sprouts tend to fall apart a little bit. This prevents biting into the hard, tough tip of the brussel sprouts after its cooked.
For maximum crispy brussel sprouts, be sure every brussel sprout is face down on the cooking sheet so the pan is touching the most surface area on the brussel sprouts.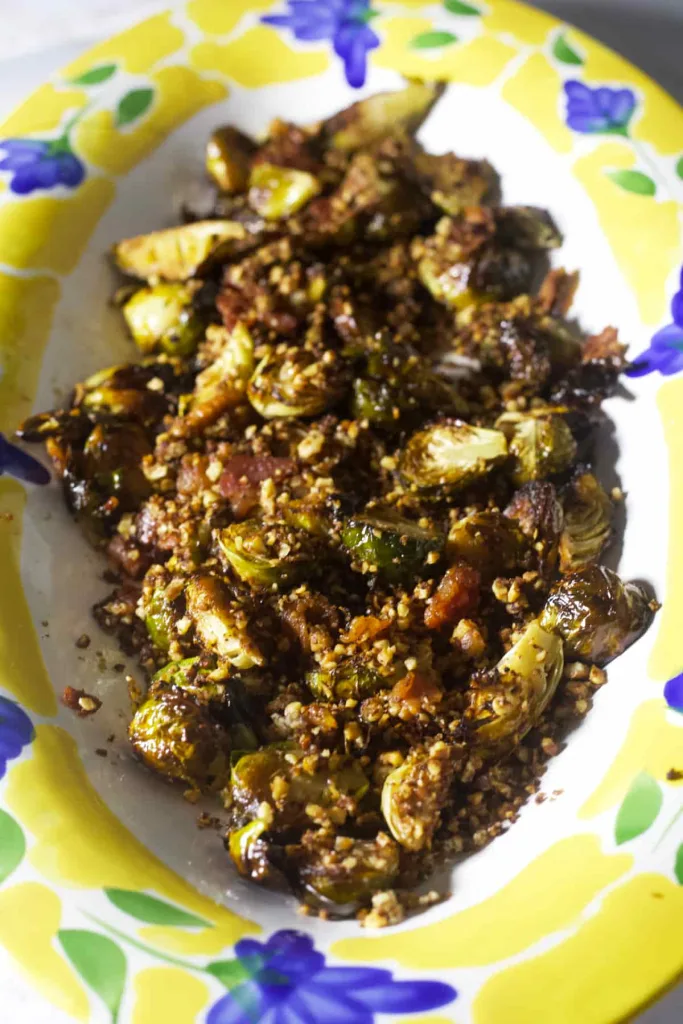 Let's make these finger-licking good brussels! Seriously, my husband and I eat this like candy and can polish off this whole-pound recipe in one sitting. I hope you love it!
Let me know in the comments if you make this recipe!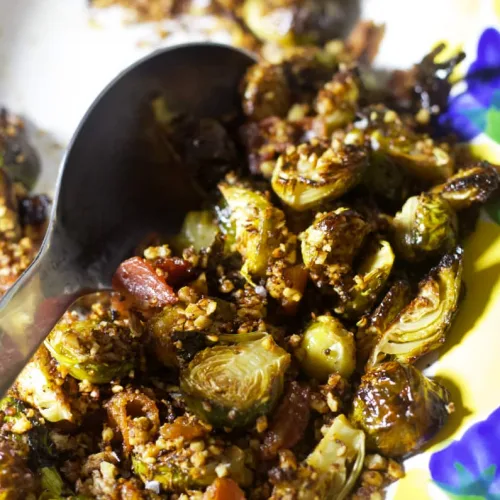 Brussel Sprouts
Crispy, salty and slightly sweet brussel sprouts with a delicious gluten-free pecan breadcrumb
Ingredients
1

pound

raw whole brussel sprouts

1 1/2

tablespoon

avocado oil

1/2

teaspoon

fine grain sea salt

3

strips

uncooked bacon
Balsamic Glaze
1

teaspoon

balsamic vinegar

2

teaspoons

honey

1

tablespoon

avocado oil

1/4

teaspoon

garlic powder

1

pinch

fine grain sea salt
Pecan Crumble topping
1/2

cup

un roasted, unsalted pecans

1

teaspoon

honey

1/2

teaspoon

garlic powder

1

pinch

fine grain sea salt
Instructions
Preheat the oven to 425 degrees.

Cut each brussel sprout in half. (Quarter the larger pieces)

Place the cut brussel sprouts on a parchment lined cooking sheet. Add the avocado oil and sea salt. Mix with your hands until every brussel sprout is coated evenly.

Roughly chop or use kitchen sheers to cut the bacon into bite sized pieces. Mix the chopped bacon into the brussel sprout mixture until the bacon is evenly distrubted among the brussel sprouts on the cooking sheet. Make sure the brussel sprouts aren't touchiing each other for maximum crispiness.

Place in the oven for 35 minutes.

While the brussel sprouts are baking, whisk together the balsamic vinegar, honey, avocado oil, sea salt and garlic powder in a small bowl. Set aside.

Place the pecans, honey, garlic powder, and sea salt into a food processor. Blend for a few pulses, just until it resembles rough bread crumbs. If you pulse it any longer, it will become pecan butter (not the goal!).

Heat a skillet up on medium high heat with some avocado oil. Add the pecan crumb topping mixture to the pan and toast in the pan for about 3 minutes until its just golden brown and fragrant. Remove from the pan to stop the cooking process and set aside.

Once the brussel sprouts are done baking for 35 minutes, broil for one last minute. (They will be relatively dark!)

Drizzle the balamic glaze on top of the roasted brussel sprout and bacon. Mix together to coat everything evenly. (Place on serving platter if desired.)

Add the pecan crumble topping on top. Enjoy immediately!
Notes
Storage: These will keep for 4-5 days in an airtight container in the fridge. They will get soggy so I recommend reheating them in the air fryer or oven until heated through and crispy again. 
Want Quality Groceries Shipped to Your Front Door at an Unbelievably Great Price?
Thrive Market offers a wide variety of high-quality, non-toxic, and organic products at wholesale prices. By becoming a member, you can save up to 50% off traditional retail prices on everything from pantry staples to beauty and personal care items. Additionally, Thrive Market offers a 30-day risk-free trial, so you can try it out and see the savings for yourself. Signing up for Thrive Market also supports their mission to make healthy living accessible to everyone, including their commitment to providing free memberships to low-income individuals and families. With Thrive Market, you can save money and make a positive impact, all while getting the healthy products you need.
---