*I only recommend products I would use myself and all opinions expressed here are my own. This post may contain affiliate links that earn me a small commission, at no additional cost to you. Read our full site disclaimer HERE.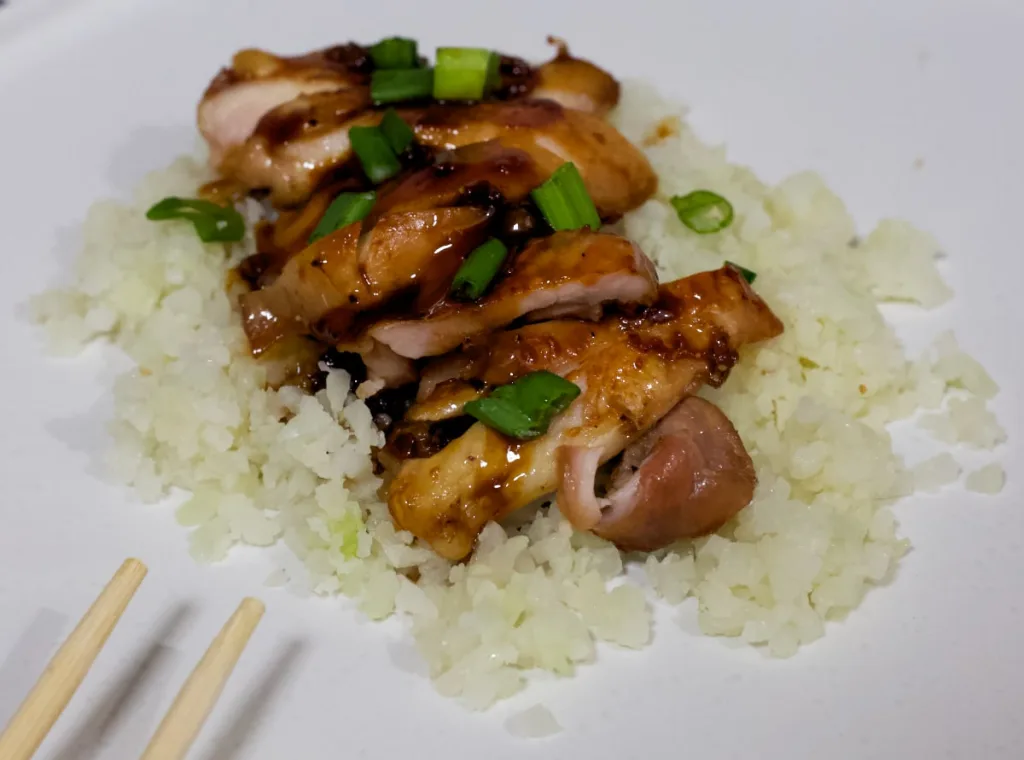 Your new weeknight dinner staple. If you're looking for a delicious and healthy meal that's easy to prepare, you can't go wrong with a chicken teriyaki recipe.
This paleo chicken teriyaki recipe is a great way to enjoy a classic Japanese dish while being healthy, paleo, gluten-free, dairy-free, and soy-free!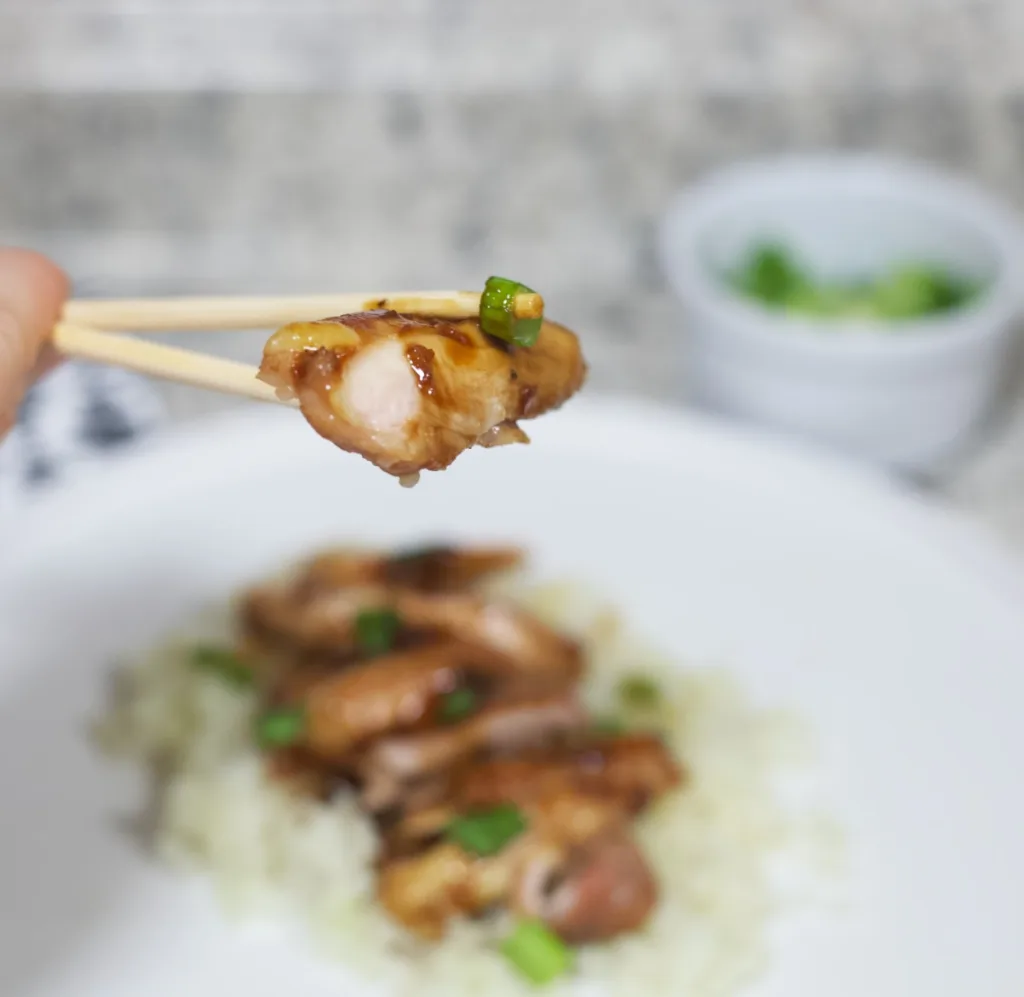 Typical teriyaki chicken is full of refined sugar, msg, and soy. This paleo version will leave you licking your plate clean and feeling satisfied instead of groggy from takeout.
To make this recipe paleo, I used coconut aminos to replace soy sauce, coconut sugar instead of cane sugar, and a touch of balsamic vinegar to replace sake. This helps give the sauce that sweet and savory flavor we all love. And don't worry, the coconut aminos and sugar absolutely don't leave a coconut taste!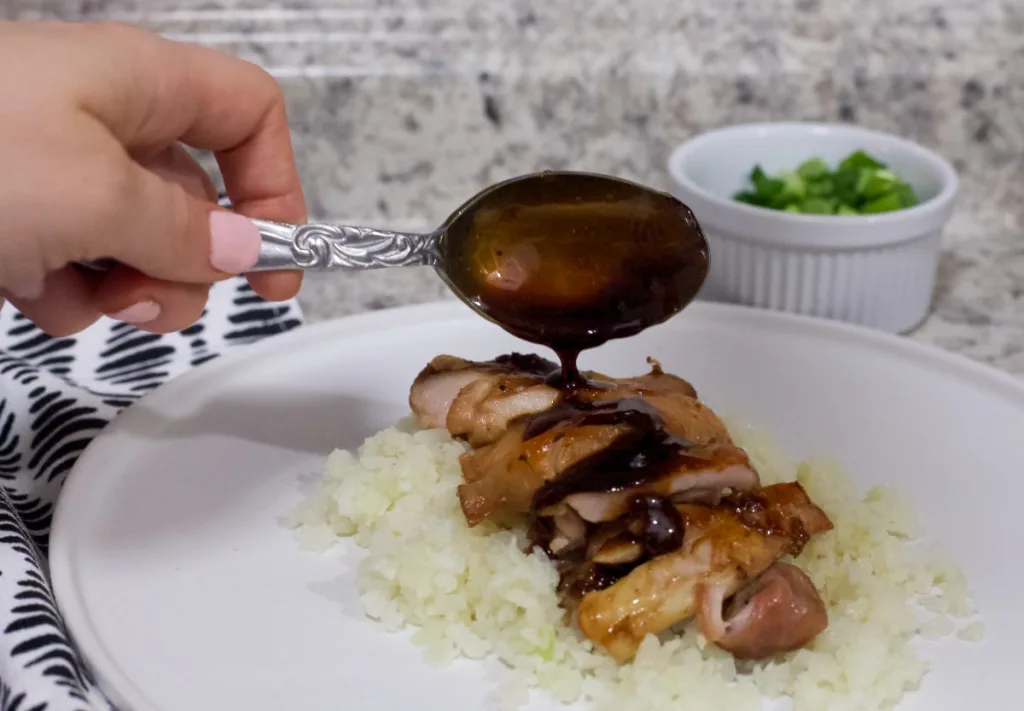 I love this recipe because it is so easy! The longest part of the process is marinating the chicken. But this is obviously hands-off. You can throw an extra load of laundry in or bake a batch of cookies for dessert while you wait. Highly recommend the latter. 😉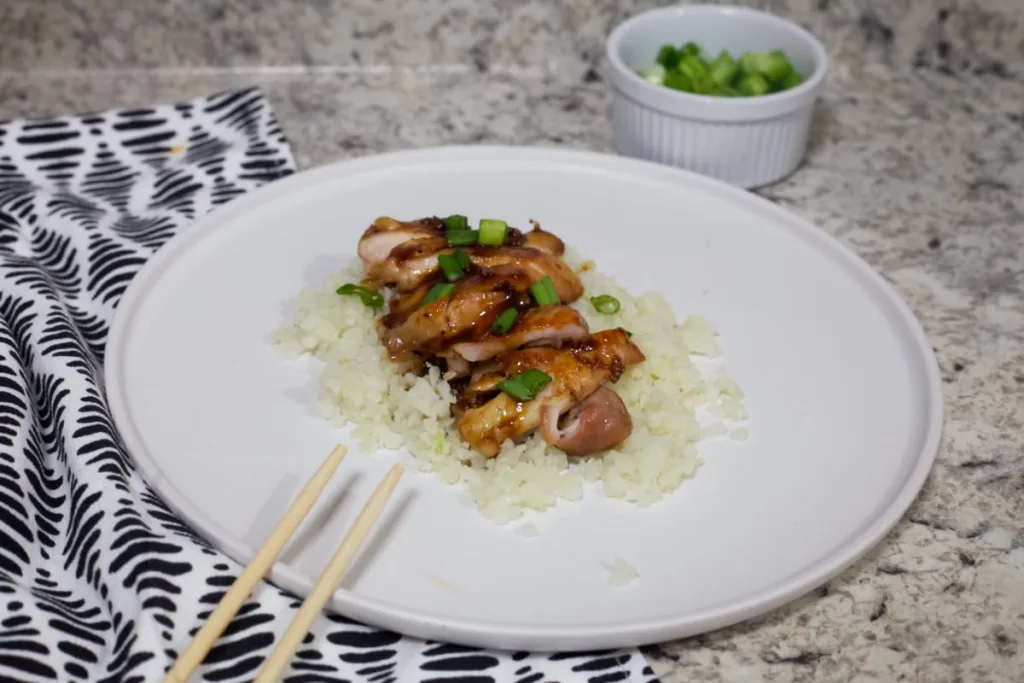 Chicken Breasts or Thighs?
In my opinion, chicken thighs are best in this recipe. I have tried it with breasts, but the chicken was too dry and didn't cook evenly. Chicken thighs are much more forgiving (often a lot cheaper!) and make this dish perfect.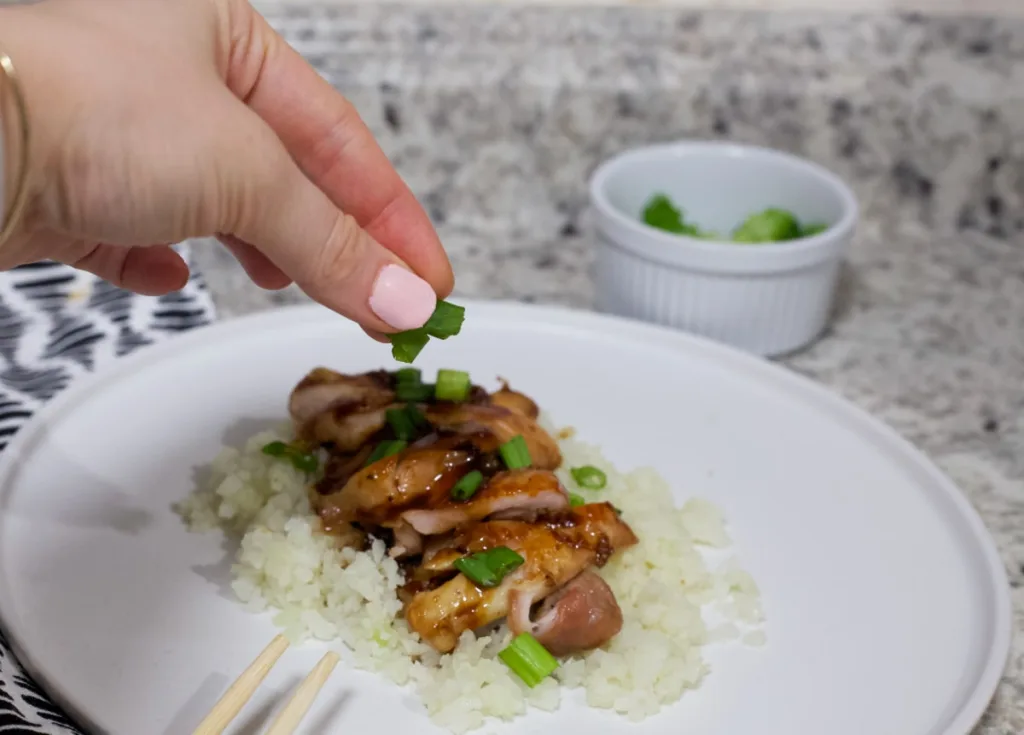 If you only have chicken breasts and absolutely must use them, I recommend pounding them out with a meat mallet or heavy-bottomed pan and then cutting it into cutlets. This will allow them to cook more evenly. Watch them carefully, so you don't overcook them!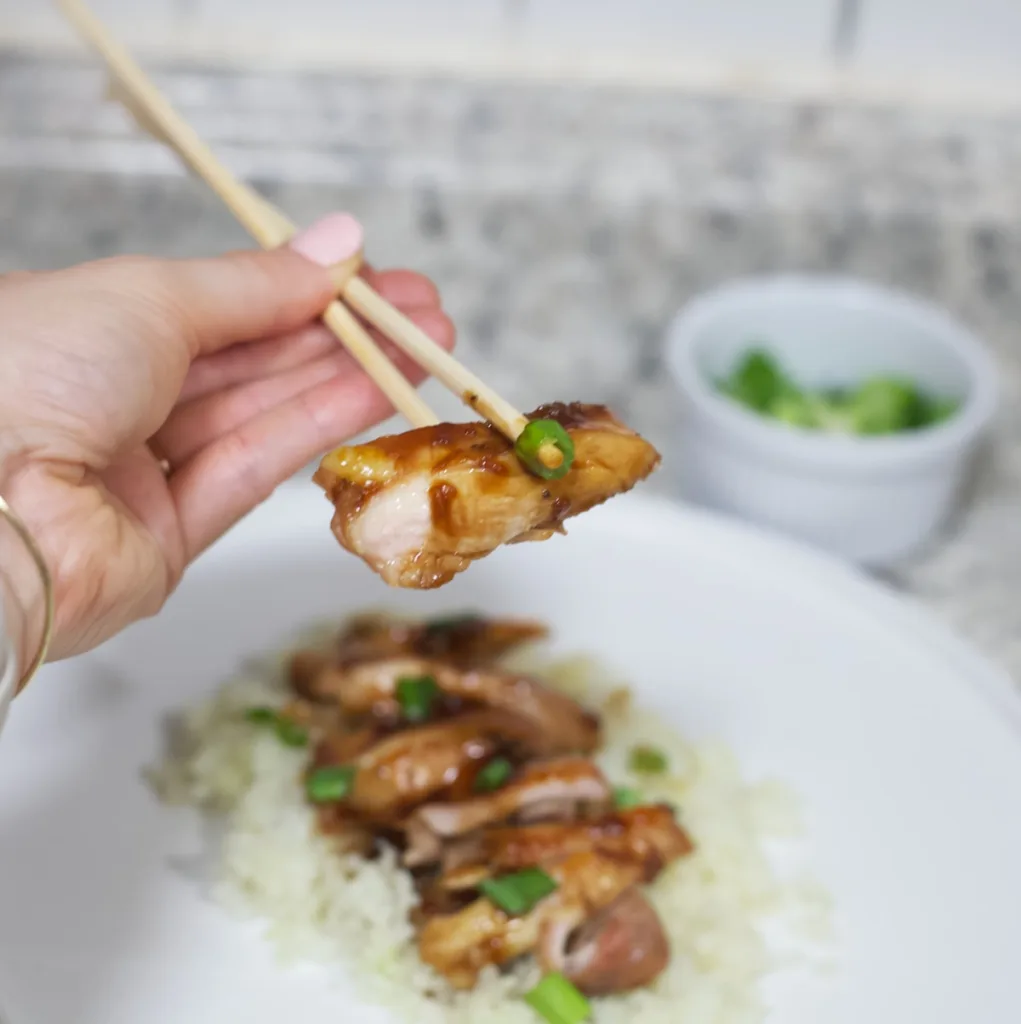 What are coconut aminos?
Coconut aminos is a dark brown liquid sauce made from the sap of coconut blossoms and sea salt. It has a sweet and salty flavor, similar to soy sauce but with a milder taste. Trust me, there is no coconut taste.
Coconut aminos is a popular soy sauce alternative for people allergic to soy or following a soy-free diet. It is also often used in paleo and gluten-free cooking as a substitute for traditional soy sauce.
What can I serve with my teriyaki chicken?
If you are paleo, cauliflower rice, zucchini noodles, or sauteed veggies is so good, making it a complete, healthy meal.
If you are not paleo, this meal is fantastic with steamed white rice and a side of veggies.
My husband and I love to do a mix of cauliflower rice and white rice together. That way, you get the texture of the white rice with the added volume and nutrients of cauliflower rice.
Substitutions
Coconut aminos – soy sauce would be the best alternative (Although I haven't tried it) if you are not paleo. I recommend scaling back the salt or not using it at all until the very end when you can taste, as soy sauce is very salty already!
Tamari (a gluten-free soy sauce) could also be substituted. It has a slightly thicker texture and richer flavor than regular soy sauce and coconut aminos.
Coconut sugar– Brown sugar would be the best substitute for this if you are not paleo.
Balsamic vinegar– You can use the traditional Japanese alcohol "sake" to replace this if you are not paleo.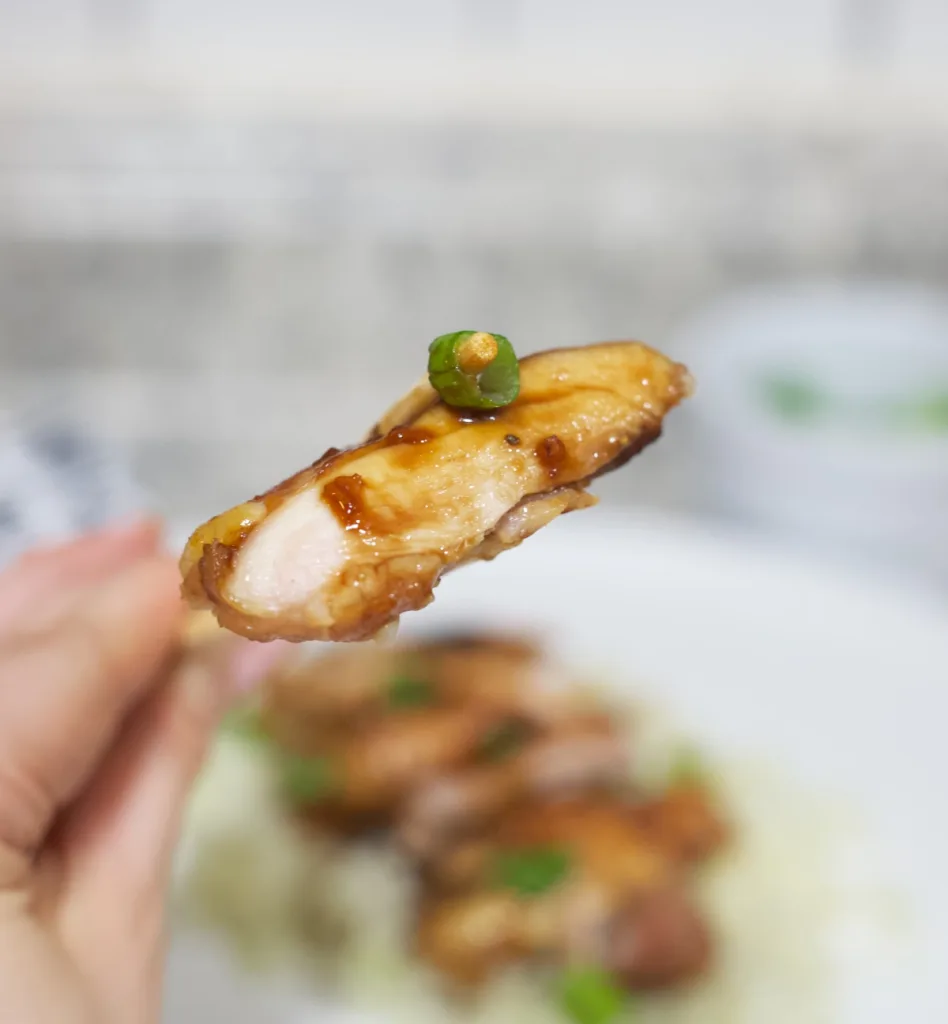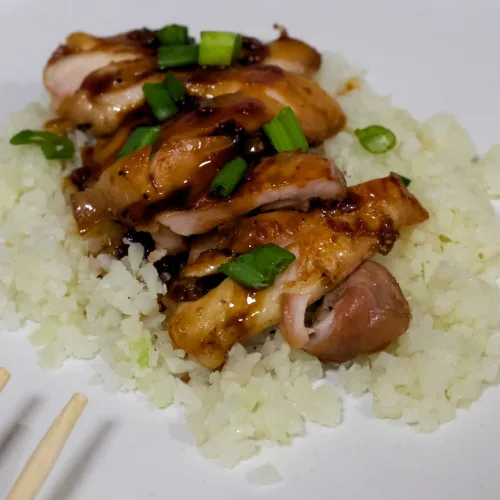 Paleo Teriyaki Chicken
A delicious, thick, sticky, sweet sauce coating perfectly marinated and tender chicken thighs.
Ingredients
8

skinless, boneless chicken thighs

about 2 pounds

1

cup

coconut aminos

see post above for brand recommendations!

1

tablespon

balsamic vinegar

1/2

cup

coconut sugar

4

cloves

garlic, minced

using a garlic press is best here!

1

tablespoon (about 1 inch knob)

fresh ginger, minced

1 1/2

teaspoon

sea salt

1/2

teaspoon

pepper

1

teaspoon

tapioca flour

arrowroot or cassava flour also works!
Garnish
chopped green onion

necessary

sesame seeds

optional
Instructions
Place the chicken thighs into a bowl or glass container with a lid. Pour the coconut aminos, balsalmic vinegar, coconut sugar, garlic, ginger, sea salt, and pepper (not the tapioca flour) on top of the chicken. Give it a good mix and then place plastic wrap or a lid on top of the bowl/container and place it in the fridge for at least 30 minutes. (Up to 24 hours!)

Remove the marinated chicken from the fridge and place the chicken thighs on a cutting board or plate. Reserve the marinated liquid. Pat dry the chicken thighs with a paper towel so most of the moisture is removed. (Don't worry, the flavor of the marinade is already absorbed in the chicken, patting dry will just help get a nice sear on the chicken!)

Pour about 1/2 tablespoon of avocado oil into a large stainless steel pan and heat it until it is hot at medium-high heat.

Place the chicken thighs down on the pan so they aren't crowding each other. Let it cook until it self-releases easily from the pan and has a nice sear, about 3-4 minutes per side. Flip and cook until all the chicken thighs are completely cooked through. Remove the chicken and place it on a plate to cool down while you make the sauce.

Using the same pan that was used for the chicken, pour the reserved marinade liquid directly into the pan. Heat it at medium heat, whisking frequently (scraping up the chicken brown bits from the pan and incorporating them into the sauce). Allow it to come to a boil and then gently simmer for 5 minutes. (It is important to let it simmer for 5 minutes to kill off any harmful bacteria.)

After 5 minutes, whisk in the tapioca flour until the sauce becomes thick.

Plate the chicken on top of white rice or cauliflower rice and drizzle the sauce atop the chicken. Garnish with green onions and/or sesame seeds. ENJOY!
Notes
*If there is any leftover sauce in the pan, save it in a small container in the fridge and use it for stir-fries or to top on sauteed veggies! You may need to thin it out with some water if you are using it from the fridge.
**This recipe will keep in the fridge in an airtight container for about 3 days.
Want Quality Groceries Shipped to Your Front Door at an Unbelievably Great Price?
Thrive Market offers a wide variety of high-quality, non-toxic, and organic products at wholesale prices. By becoming a member, you can save up to 50% off traditional retail prices on everything from pantry staples to beauty and personal care items. Additionally, Thrive Market offers a 30-day risk-free trial, so you can try it out and see the savings for yourself. Signing up for Thrive Market also supports their mission to make healthy living accessible to everyone, including their commitment to providing free memberships to low-income individuals and families. With Thrive Market, you can save money and make a positive impact, all while getting the healthy products you need.
---