*I only recommend products I would use myself and all opinions expressed here are my own. This post may contain affiliate links that earn me a small commission, at no additional cost to you. Read our full site disclaimer HERE.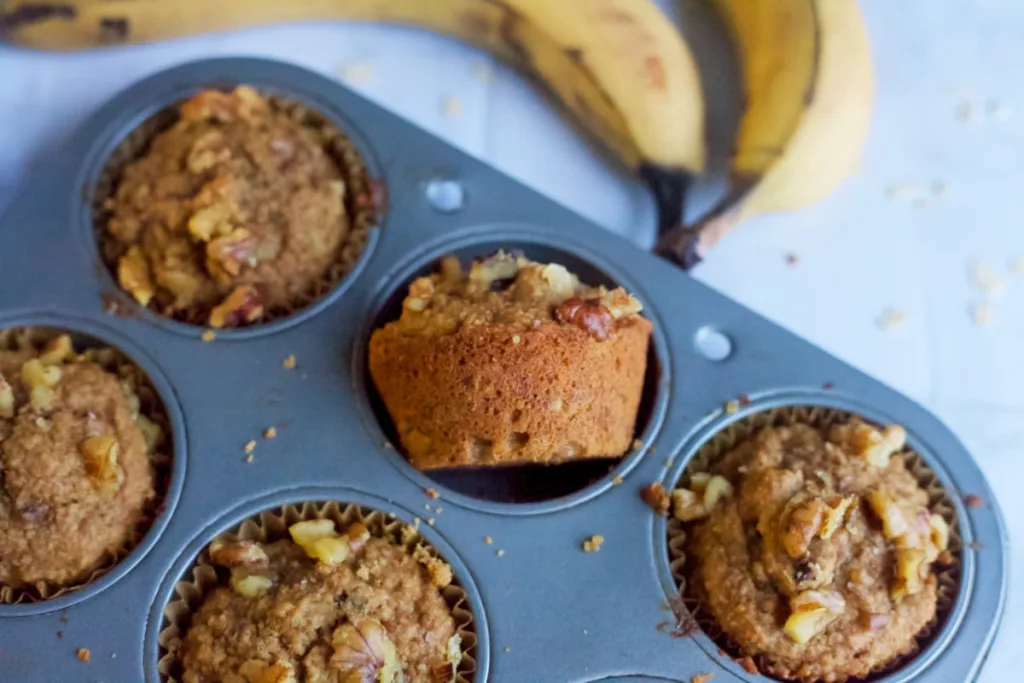 The best fluffy, moist, yet crumbly banana nut muffins. Slightly sweetened with ripe bananas and a touch of coconut sugar. This is basically your oats for breakfast in a more delicious, fun form!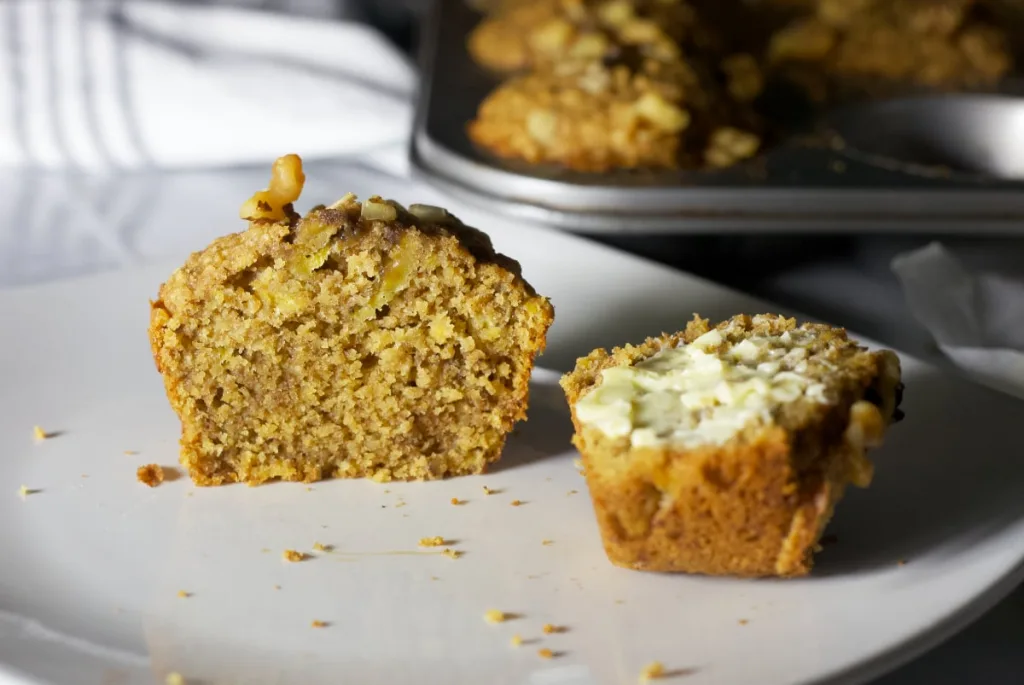 These muffins are gluten-free and refined-sugar-free, although you would absolutely never tell.
These are fantastic muffins to have on hand or in the freezer for those rushed mornings running out the door. For slower mornings, I love putting peanut butter on top and enjoying it with a side of eggs for a complete breakfast.
For all my gluten-free-ers, let's talk "rise."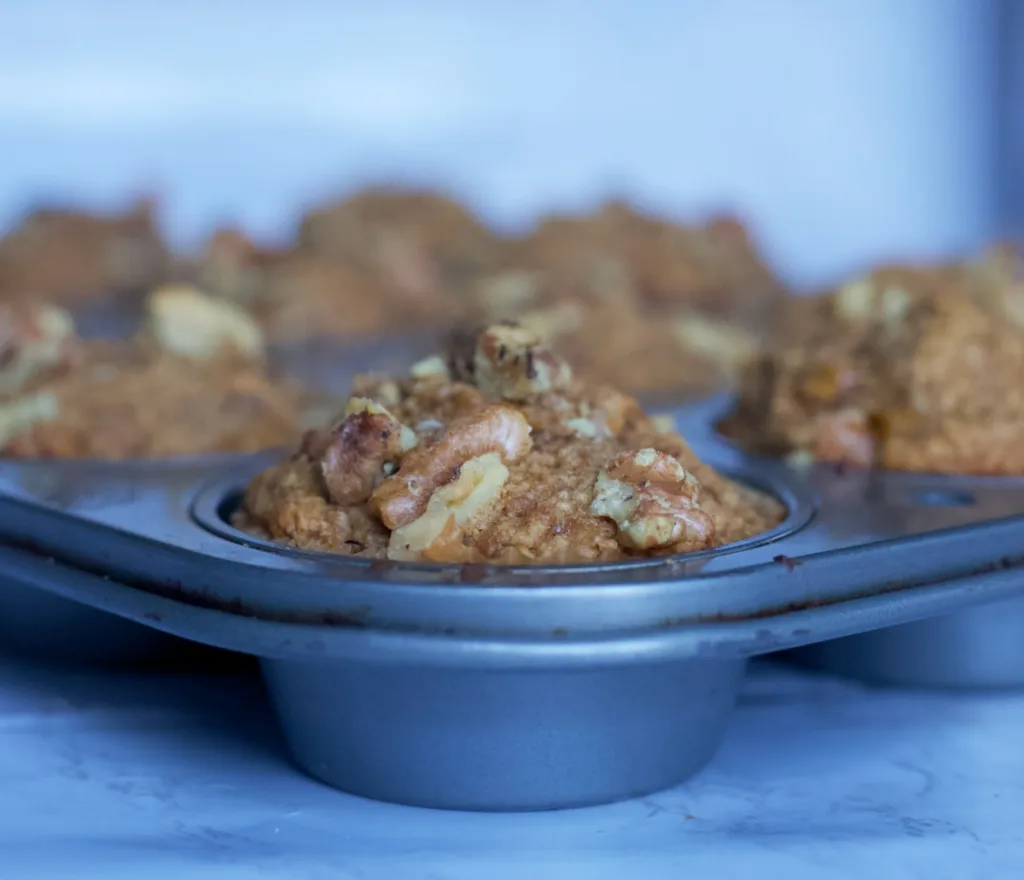 The rise you get in traditional baked goods is usually thanks to gluten in the flour.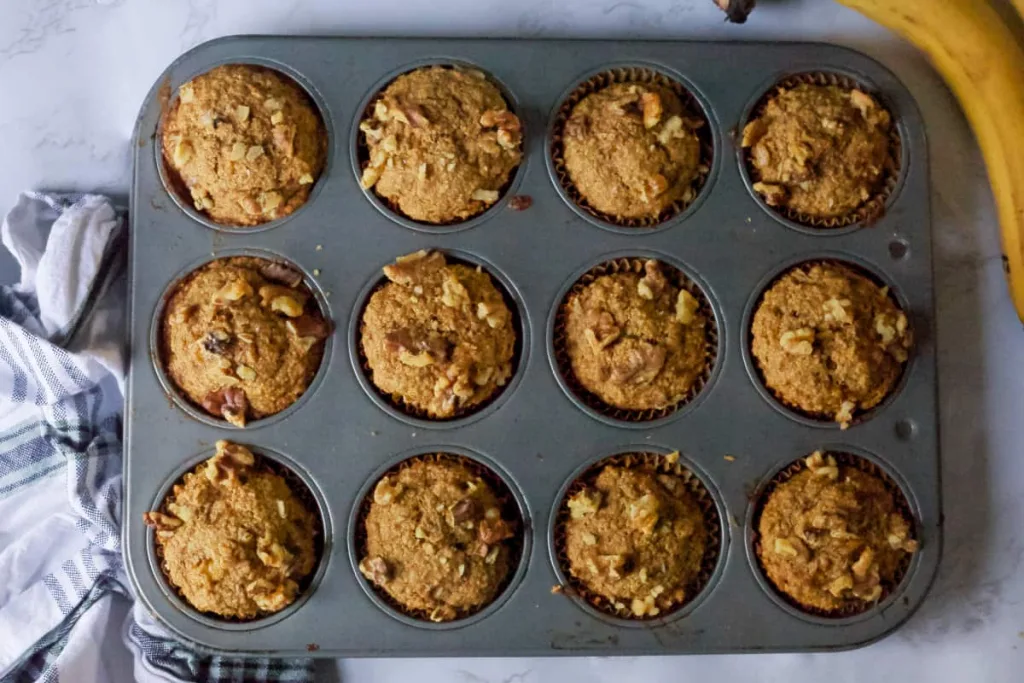 Last year I tried making muffins only to give up because they deflated and the middle of them sunk to the bottom instead of having the light, fluffy rise that muffins should have.
I was determined to get them right this year.
Gluten-free baking is such a science experiment. I tried again and found some secrets for light, fluffy muffins that actually rise!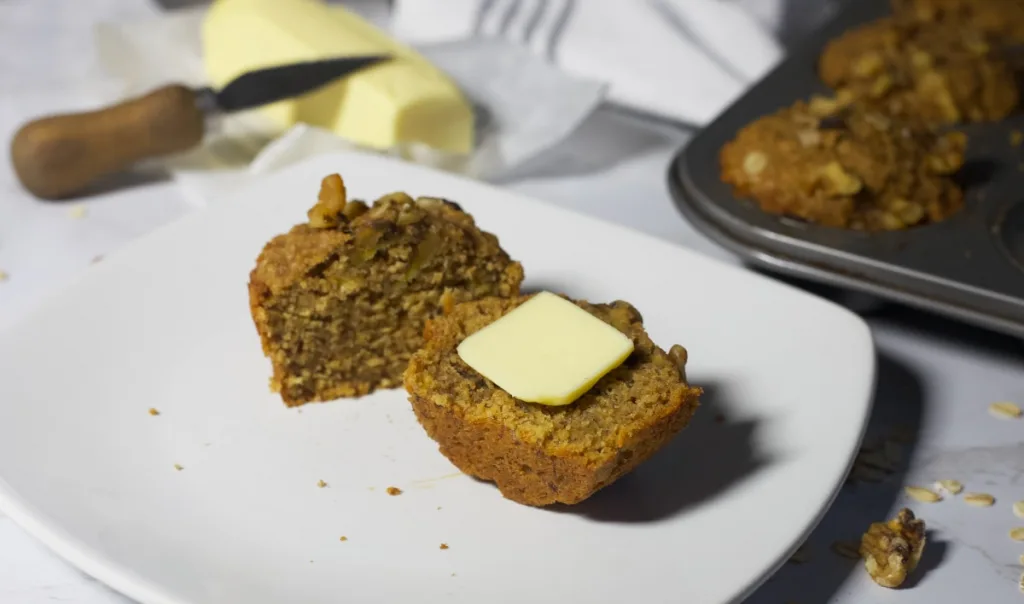 The first secret is using oat flour. It mimics all-purpose white flour. Second, I used ground psyllium seed husk powder! (Affiliate links to products I highly recommend!)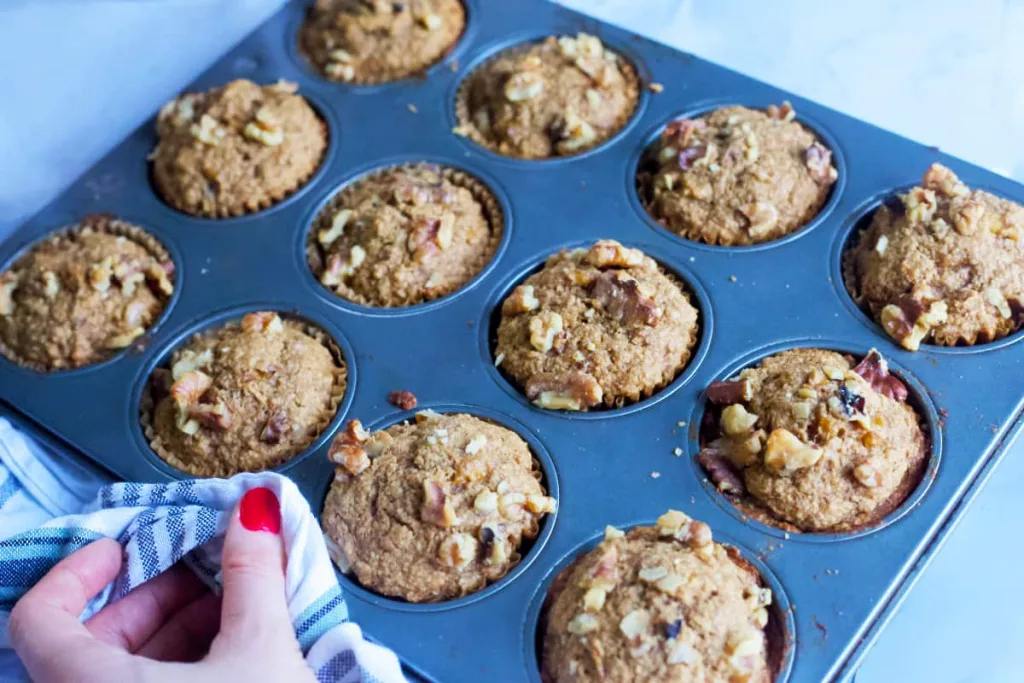 I love psyllium seed husk powder because it becomes gelatinous when mixed with liquid and gives a stretchy, binding quality to baked treats that is lacking in gluten-free goods. It's a healthy fiber that is tasteless, I use it solely for texture purposes.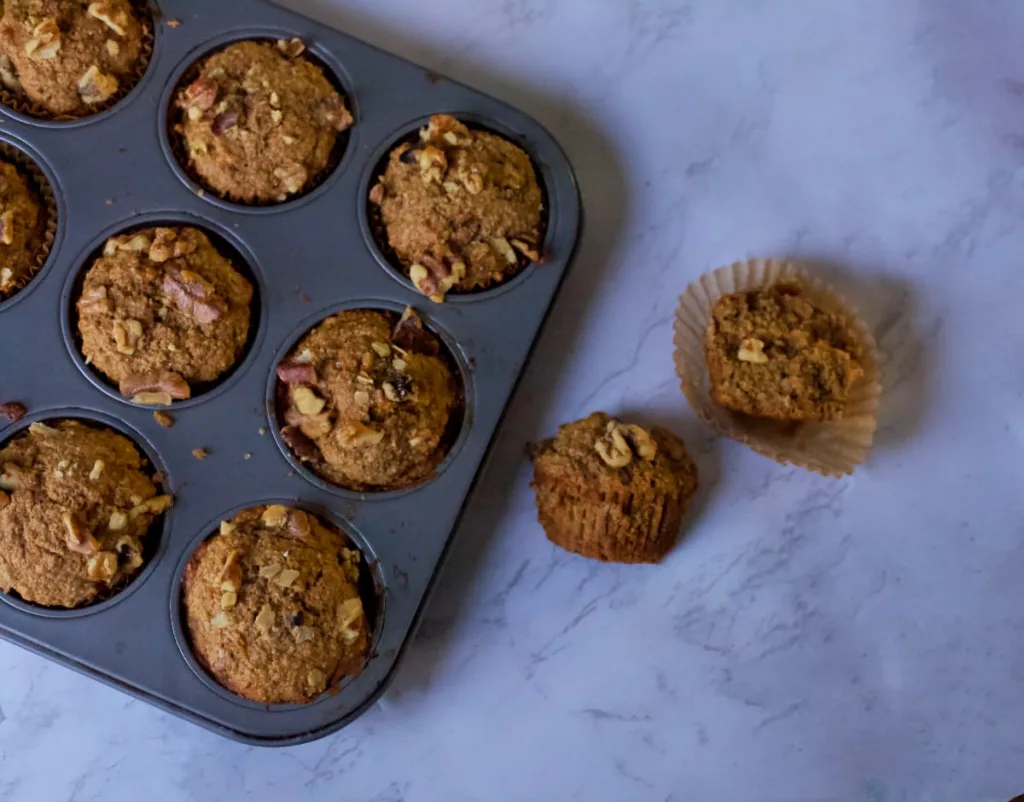 Where can I buy ground psyllium seed husk powder?
It can easily be found at your local supermarket. It is usually in the baking aisle or gluten-free/health food section. Sometimes it is in the section with supplements and nuts and seeds. Be sure to look for "ground" psyllium seed husk powder. If you can only find whole, simply grind yourself in a blender until it is a fine powder. You can also buy it by clicking HERE and have it shipped to you! (Affiliate link)
If you are in a pinch or can't find it, you may be able to use ground flax seeds. I have not tried this swap in my recipe, but if you try it, let me know in the comments how it turns out!
How do I make oat flour?
This may be the world's easiest flour to make. Simply take old-fashioned rolled oats and put them in a blender, and blend for a few seconds until it becomes a fine ground flour. Beyond easy.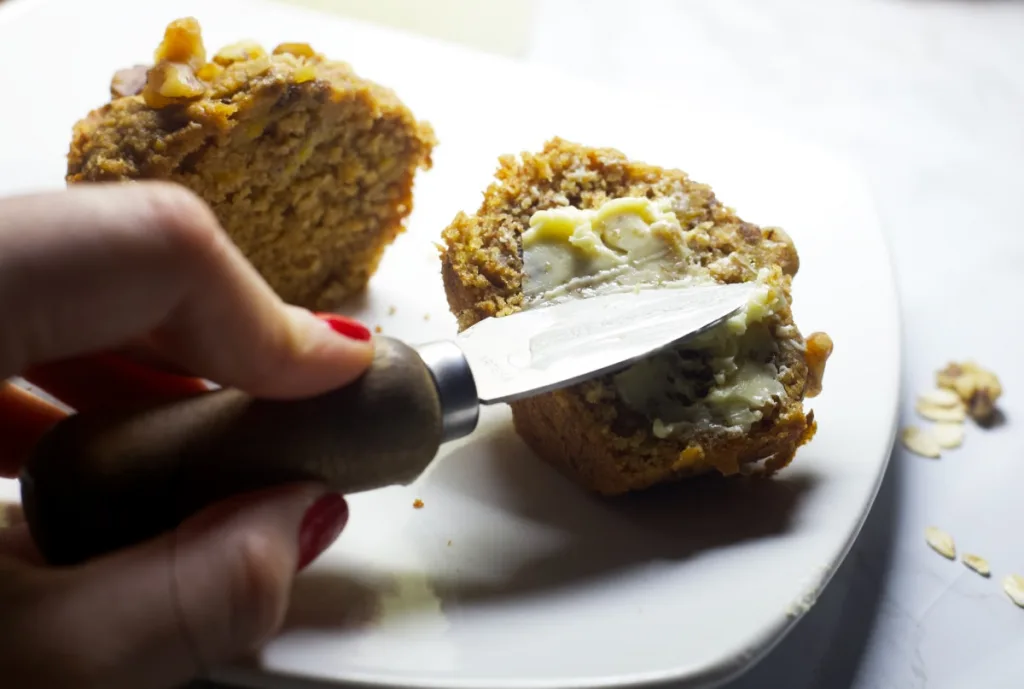 You can also buy oat flour online pre-made. I find making it myself tastes a little better and is way more cost-effective! But, using already-made oat flour works great as well!
Okay, now that all the deets are hammered out, let's do this!! Grab your ripe bananas and supplies, and be ready for some great mornings ahead!
Let me know in the comments if you make this recipe.
Looking for a place to buy healthy ingredients?
Consider signing up for Thrive Market! One of the main benefits is access to a wide variety of healthy and sustainable products at discounted prices. This includes access to the oat flour and ground psyllium seed husk powder recommended above, as well as a wide selection of gluten-free, vegetarian, and vegan options. Signing up allows you to filter products based on your dietary preferences, making it easy to find the perfect ingredients for any recipe. Additionally, by becoming a member of Thrive Market, you are also supporting a mission-driven company working to make healthy living accessible to everyone.
Click HERE to sign up and get 30% OFF your first order and a FREE gift when you join Thrive Market! *Conditions Apply (Affiliate link)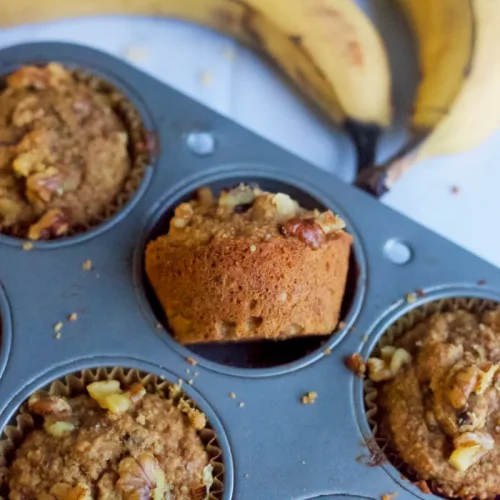 gluten-free banana nut muffins
Moist, fluffy banana nut muffins that are refined-sugar free and gluten-free!
Ingredients
4

very ripe brown bananas

3/4

cup

coconut sugar

1

tsp

vanilla

2

eggs

room temperature

2

cups

oat flour

3/4

cup

chopped pecans or walnuts

1

stick

unsalted butter, melted and slightly cooled

1

teaspoon

cinnamon

1

tablespoon

ground psyllium seed husk powder

2.5

teaspoons

baking powder

1

pinch

sea salt
Instructions
Preheat the oven to 400 degrees.

Mash the 4 ripe bananas and set aside.

In a mixing bowl, cream together the melted butter and coconut sugar for about 1 minute with a hand mixer. Then add in the 2 eggs and cream for another minute.

Add the vanilla and mashed bananas to the butter, eggs and coconut sugar. Continue to mix for another 30 seconds with the hand mixer until everything is combined. (The more bubbles the better!)

Mix in the oat flour, cinnamon, baking powder, psyllium seed husk powder and sea salt to the wet mixture until just combined. Fold in the chopped pecans (reserve some for topping if you like!).

Using a 1/4 cup measuring cup, spoon the batter into a lined muffin pan until all 12 are filled. Top with some crushed pecans/walnuts if you like.

Bake the muffins at 400 degrees for 6 minutes, then drop the temperature to 350 degrees for 17 minutes.

Allow to cool for 30 minutes before enjoying!
Notes
Store these in an airtight container on the counter for 4 days.
After 4 days, I recommend freezing for up to 2 months. You can wrap them individually in some plastic wrap and freeze them. This makes such a great grab-and- go breakfast when you are out the door! (Future you will thank you.)
Want Quality Groceries Shipped to Your Front Door at an Unbelievably Great Price?
Thrive Market offers a wide variety of high-quality, non-toxic, and organic products at wholesale prices. By becoming a member, you can save up to 50% off traditional retail prices on everything from pantry staples to beauty and personal care items. Additionally, Thrive Market offers a 30-day risk-free trial, so you can try it out and see the savings for yourself. Signing up for Thrive Market also supports their mission to make healthy living accessible to everyone, including their commitment to providing free memberships to low-income individuals and families. With Thrive Market, you can save money and make a positive impact, all while getting the healthy products you need.
---